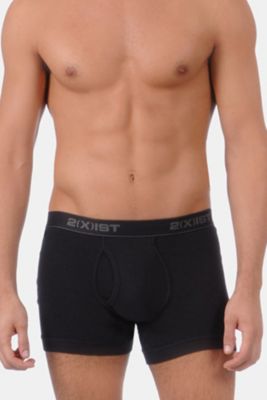 {"imageName":"http://s7d2.scene7.com/is/image/UnderGear/AM168_BL_A13?$dwpp$"}
{"imageName":"http://s7d2.scene7.com/is/image/UnderGear/AM168_BLB_A13?$dwpp$"}
{"imageName":"http://s7d2.scene7.com/is/image/UnderGear/AM168_WH_A13?$dwpp$"}
{"imageName":"http://s7d2.scene7.com/is/image/UnderGear/AM168_WHB_A13?$dwpp$"}
{"imageName":"http://s7d2.scene7.com/is/image/UnderGear/AM168_GY_A13?$dwpp$"}
{"imageName":"http://s7d2.scene7.com/is/image/UnderGear/AM168_GYB_A13?$dwpp$"}
{"imageName":"http://s7d2.scene7.com/is/image/UnderGear/AM168_RD_A13?$dwpp$"}
2(X)Ist® Essentials 3Pk Boxer Brief
UG # AM168
Special Offer:
20% OFF 3 OR MORE ITEMS (Details)
Select Quantity
Print
3-pack of men's boxer briefs
Men's underwear made from nylon / spandex
Machine wash
Imported
2(x)ist underwear style 3102030403
Stock up on the gear you need to look great in your clothes and even better without them. In soft, supportive nylon/spandex, the 2(x)ist Essentials Boxer Briefs maximize every muscle and bulge in manly comfort. A convenient 3-pack of 2(x)ist boxer briefs gives you stylish new options to choose from throughout the week. Waistband showcases the signature 2(x)ist logo.
{ "variations": { "variants": [ {"id": "AM168_L_BRC", "attributes": { "color": "Black/Red/Charcoal" , "size": "L" }, "avLevels": {"IN_STOCK": 0.0, "PREORDER": 0.0, "BACKORDER": 0.0, "NOT_AVAILABLE": 1.0}, "avStatus":"NOT_AVAILABLE", "inStock":false, "ATS": 0.0, "inStockDate": "Sun Apr 14 12:00:00 GMT 2013" , "pricing": {"standard": "36.0", "sale": "36.0", "isPromoPrice": false, "quantities": [ {"unit": "", "value": "1.0"} ]} }, {"id": "AM168_L_WBG", "attributes": { "color": "White/Black/Grey" , "size": "L" }, "avLevels": {"IN_STOCK": 0.0, "PREORDER": 0.0, "BACKORDER": 0.0, "NOT_AVAILABLE": 1.0}, "avStatus":"NOT_AVAILABLE", "inStock":false, "ATS": 0.0, "inStockDate": "Sat May 24 12:00:00 GMT 2014" , "pricing": {"standard": "36.0", "sale": "36.0", "isPromoPrice": false, "quantities": [ {"unit": "", "value": "1.0"} ]} }, {"id": "AM168_M_BRC", "attributes": { "color": "Black/Red/Charcoal" , "size": "M" }, "avLevels": {"IN_STOCK": 0.0, "PREORDER": 0.0, "BACKORDER": 0.0, "NOT_AVAILABLE": 1.0}, "avStatus":"NOT_AVAILABLE", "inStock":false, "ATS": 0.0, "inStockDate": "Tue Dec 31 12:00:00 GMT 2030" , "pricing": {"standard": "36.0", "sale": "36.0", "isPromoPrice": false, "quantities": [ {"unit": "", "value": "1.0"} ]} }, {"id": "AM168_M_WBG", "attributes": { "color": "White/Black/Grey" , "size": "M" }, "avLevels": {"IN_STOCK": 0.0, "PREORDER": 0.0, "BACKORDER": 0.0, "NOT_AVAILABLE": 1.0}, "avStatus":"NOT_AVAILABLE", "inStock":false, "ATS": 0.0, "inStockDate": "Wed Apr 23 12:00:00 GMT 2014" , "pricing": {"standard": "36.0", "sale": "36.0", "isPromoPrice": false, "quantities": [ {"unit": "", "value": "1.0"} ]} }, {"id": "AM168_S_BRC", "attributes": { "color": "Black/Red/Charcoal" , "size": "S" }, "avLevels": {"IN_STOCK": 0.0, "PREORDER": 0.0, "BACKORDER": 0.0, "NOT_AVAILABLE": 1.0}, "avStatus":"NOT_AVAILABLE", "inStock":false, "ATS": 0.0, "inStockDate": "Tue Dec 31 12:00:00 GMT 2030" , "pricing": {"standard": "36.0", "sale": "36.0", "isPromoPrice": false, "quantities": [ {"unit": "", "value": "1.0"} ]} }, {"id": "AM168_S_WBG", "attributes": { "color": "White/Black/Grey" , "size": "S" }, "avLevels": {"IN_STOCK": 1.0, "PREORDER": 0.0, "BACKORDER": 0.0, "NOT_AVAILABLE": 0.0}, "avStatus":"IN_STOCK", "inStock":true, "ATS": 2.0, "inStockDate": "Sat May 24 12:00:00 GMT 2014" , "pricing": {"standard": "36.0", "sale": "36.0", "isPromoPrice": false, "quantities": [ {"unit": "", "value": "1.0"} ]} }, {"id": "AM168_XL_BRC", "attributes": { "color": "Black/Red/Charcoal" , "size": "XL" }, "avLevels": {"IN_STOCK": 0.0, "PREORDER": 0.0, "BACKORDER": 0.0, "NOT_AVAILABLE": 1.0}, "avStatus":"NOT_AVAILABLE", "inStock":false, "ATS": 0.0, "inStockDate": "Sat Apr 13 12:00:00 GMT 2013" , "pricing": {"standard": "36.0", "sale": "36.0", "isPromoPrice": false, "quantities": [ {"unit": "", "value": "1.0"} ]} }, {"id": "AM168_XL_WBG", "attributes": { "color": "White/Black/Grey" , "size": "XL" }, "avLevels": {"IN_STOCK": 0.0, "PREORDER": 0.0, "BACKORDER": 0.0, "NOT_AVAILABLE": 1.0}, "avStatus":"NOT_AVAILABLE", "inStock":false, "ATS": 0.0, "inStockDate": "Sat May 24 12:00:00 GMT 2014" , "pricing": {"standard": "36.0", "sale": "36.0", "isPromoPrice": false, "quantities": [ {"unit": "", "value": "1.0"} ]} } ] }}