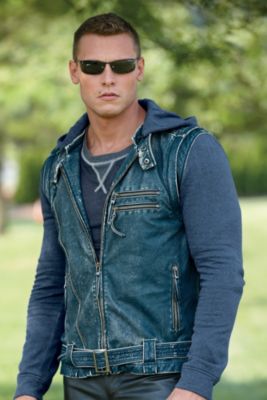 Andres Velasco® Manhattan Jacket
UG # F743
Special Offer:
20% OFF 3 OR MORE ITEMS (Details)
Select Quantity
Print
Men's jacket
Men's leather jacket mimics the look of denim
Dry clean
Imported
This isn't your ordinary men's jean jacket – because it's not made from jean material at all. Offering a rugged look that's always ready to hit the streets, the Andres Velasco Manhattan men's jacket is actually made from leather – distressed to look like denim. Remove the hood and sleeves of this ultra cool leather jacket and voila! A leather vest appears. The hood and sleeves on this Andres Velasco jacket are made from soft cotton knit fleece, and they unzip in an instant. The jacket is also loaded with edgy details like a belted waist and lots of zippers.
{ "variations": { "variants": [ {"id": "F743_L_DEN", "attributes": { "color": "Denim" , "size": "L" }, "avLevels": {"IN_STOCK": 0.0, "PREORDER": 0.0, "BACKORDER": 0.0, "NOT_AVAILABLE": 1.0}, "avStatus":"NOT_AVAILABLE", "inStock":false, "ATS": 0.0, "inStockDate": "Sat Dec 21 12:00:00 GMT 2013" , "pricing": {"standard": "329.0", "sale": "99.99", "isPromoPrice": false, "quantities": [ {"unit": "", "value": "1.0"} ]} }, {"id": "F743_M_DEN", "attributes": { "color": "Denim" , "size": "M" }, "avLevels": {"IN_STOCK": 0.0, "PREORDER": 0.0, "BACKORDER": 0.0, "NOT_AVAILABLE": 1.0}, "avStatus":"NOT_AVAILABLE", "inStock":false, "ATS": 0.0, "inStockDate": "Sat Dec 21 12:00:00 GMT 2013" , "pricing": {"standard": "329.0", "sale": "99.99", "isPromoPrice": false, "quantities": [ {"unit": "", "value": "1.0"} ]} }, {"id": "F743_S_DEN", "attributes": { "color": "Denim" , "size": "S" }, "avLevels": {"IN_STOCK": 0.0, "PREORDER": 0.0, "BACKORDER": 0.0, "NOT_AVAILABLE": 1.0}, "avStatus":"NOT_AVAILABLE", "inStock":false, "ATS": 0.0, "inStockDate": "Sat Dec 21 12:00:00 GMT 2013" , "pricing": {"standard": "329.0", "sale": "99.99", "isPromoPrice": false, "quantities": [ {"unit": "", "value": "1.0"} ]} }, {"id": "F743_XL_DEN", "attributes": { "color": "Denim" , "size": "XL" }, "avLevels": {"IN_STOCK": 0.0, "PREORDER": 0.0, "BACKORDER": 0.0, "NOT_AVAILABLE": 1.0}, "avStatus":"NOT_AVAILABLE", "inStock":false, "ATS": 0.0, "inStockDate": "Sat Dec 21 12:00:00 GMT 2013" , "pricing": {"standard": "329.0", "sale": "99.99", "isPromoPrice": false, "quantities": [ {"unit": "", "value": "1.0"} ]} }, {"id": "F743_XXL_DEN", "attributes": { "color": "Denim" , "size": "XXL" }, "avLevels": {"IN_STOCK": 0.0, "PREORDER": 0.0, "BACKORDER": 0.0, "NOT_AVAILABLE": 1.0}, "avStatus":"NOT_AVAILABLE", "inStock":false, "ATS": 0.0, "inStockDate": "Sat Dec 21 12:00:00 GMT 2013" , "pricing": {"standard": "329.0", "sale": "99.99", "isPromoPrice": false, "quantities": [ {"unit": "", "value": "1.0"} ]} } ] }}