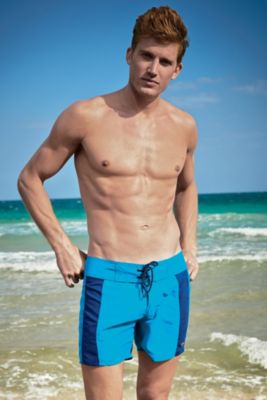 {"imageName":"http://s7d2.scene7.com/is/image/UnderGear/MA722_M_E13?$dwpp$"}
{"imageName":"http://s7d2.scene7.com/is/image/UnderGear/MA722_B_E13?$dwpp$"}
{"imageName":"http://s7d2.scene7.com/is/image/UnderGear/MA722_F_E12?$dwpp$"}
{"imageName":"http://s7d2.scene7.com/is/image/UnderGear/MA722_B_E12?$dwpp$"}
Body Tech® Classico Swim Trunk
UG # MA722
Special Offer:
20% OFF 3 OR MORE ITEMS (Details)
Select Quantity
Print
Men's swim trunks
Men's swimwear made from polyester with nylon mesh liner
Machine wash
Imported
Dive into the resort season in style with these sporty men's swim trunks from Body Tech. Noted for bold underwear designs, Body Tech plunges into men's swimwear with upbeat colors and a hip muscle-beach style. The Body Tech Classico men's swim trunks feature clever color blocking and a trim fit that give the bathing suit a vibrant poolside personality. Made from woven polyester with nylon mesh liner. These functional swim trunks also feature a Velcro fly with lace-up ties. Back Velcro-close patch pockets.
{ "variations": { "variants": [ {"id": "MA722_L_NV", "attributes": { "color": "Navy" , "size": "L" }, "avLevels": {"IN_STOCK": 1.0, "PREORDER": 0.0, "BACKORDER": 0.0, "NOT_AVAILABLE": 0.0}, "avStatus":"IN_STOCK", "inStock":true, "ATS": 62.0, "inStockDate": "Tue Dec 31 12:00:00 GMT 2030" , "pricing": {"standard": "39.0", "sale": "18.99", "isPromoPrice": false, "quantities": [ {"unit": "", "value": "1.0"} ]} }, {"id": "MA722_M_NV", "attributes": { "color": "Navy" , "size": "M" }, "avLevels": {"IN_STOCK": 0.0, "PREORDER": 0.0, "BACKORDER": 0.0, "NOT_AVAILABLE": 1.0}, "avStatus":"NOT_AVAILABLE", "inStock":false, "ATS": 0.0, "inStockDate": "Tue Dec 31 12:00:00 GMT 2030" , "pricing": {"standard": "39.0", "sale": "18.99", "isPromoPrice": false, "quantities": [ {"unit": "", "value": "1.0"} ]} }, {"id": "MA722_XL_NV", "attributes": { "color": "Navy" , "size": "XL" }, "avLevels": {"IN_STOCK": 1.0, "PREORDER": 0.0, "BACKORDER": 0.0, "NOT_AVAILABLE": 0.0}, "avStatus":"IN_STOCK", "inStock":true, "ATS": 4.0, "inStockDate": "Tue Dec 31 12:00:00 GMT 2030" , "pricing": {"standard": "39.0", "sale": "18.99", "isPromoPrice": false, "quantities": [ {"unit": "", "value": "1.0"} ]} }, {"id": "MA722_XL_BU", "attributes": { "color": "Blue" , "size": "XL" }, "avLevels": {"IN_STOCK": 1.0, "PREORDER": 0.0, "BACKORDER": 0.0, "NOT_AVAILABLE": 0.0}, "avStatus":"IN_STOCK", "inStock":true, "ATS": 55.0, "inStockDate": "Sat Dec 21 12:00:00 GMT 2013" , "pricing": {"standard": "39.0", "sale": "18.99", "isPromoPrice": false, "quantities": [ {"unit": "", "value": "1.0"} ]} }, {"id": "MA722_L_BU", "attributes": { "color": "Blue" , "size": "L" }, "avLevels": {"IN_STOCK": 1.0, "PREORDER": 0.0, "BACKORDER": 0.0, "NOT_AVAILABLE": 0.0}, "avStatus":"IN_STOCK", "inStock":true, "ATS": 39.0, "inStockDate": "Sat Dec 21 12:00:00 GMT 2013" , "pricing": {"standard": "39.0", "sale": "18.99", "isPromoPrice": false, "quantities": [ {"unit": "", "value": "1.0"} ]} }, {"id": "MA722_S_BU", "attributes": { "color": "Blue" , "size": "S" }, "avLevels": {"IN_STOCK": 0.0, "PREORDER": 0.0, "BACKORDER": 0.0, "NOT_AVAILABLE": 1.0}, "avStatus":"NOT_AVAILABLE", "inStock":false, "ATS": 0.0, "inStockDate": "Sat Dec 21 12:00:00 GMT 2013" , "pricing": {"standard": "39.0", "sale": "18.99", "isPromoPrice": false, "quantities": [ {"unit": "", "value": "1.0"} ]} }, {"id": "MA722_M_BU", "attributes": { "color": "Blue" , "size": "M" }, "avLevels": {"IN_STOCK": 1.0, "PREORDER": 0.0, "BACKORDER": 0.0, "NOT_AVAILABLE": 0.0}, "avStatus":"IN_STOCK", "inStock":true, "ATS": 30.0, "inStockDate": "Sat Dec 21 12:00:00 GMT 2013" , "pricing": {"standard": "39.0", "sale": "18.99", "isPromoPrice": false, "quantities": [ {"unit": "", "value": "1.0"} ]} } ] }}