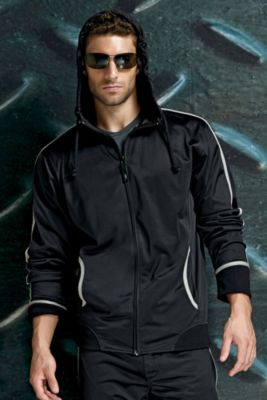 {"imageName":"http://s7d2.scene7.com/is/image/UnderGear/RX374_BFV_T13?$dwpp$"}
{"imageName":"http://s7d2.scene7.com/is/image/UnderGear/RX374_BBV_T13?$dwpp$"}
{"imageName":"http://s7d2.scene7.com/is/image/UnderGear/RX374_GFV_A14?$dwpp$"}
{"imageName":"http://s7d2.scene7.com/is/image/UnderGear/RX374_WFV_A14?$dwpp$"}
Body Tech® Motion Zip Hoodie
UG # RX374
Special Offer:
20% OFF 3 OR MORE ITEMS (Details)
Select Quantity
Print
Men's workout jacket
Polyester athletic shirt for men
Machine wash
Imported
Sweat in style with this new men's workout shirt from Body Tech. Made from moisture-wicking polyester, the Body Tech Motion Zip Hoodie is designed for guys on the move. It's the perfect shirt for lifting weights, running or other athletics, and its sleek, attractive design makes it a versatile piece you can wear almost anywhere. Available in three great color options: Black/Grey, White/Grey or Grey/Black.
{ "variations": { "variants": [ {"id": "RX374_L_BGY", "attributes": { "color": "Black/Grey" , "size": "L" }, "avLevels": {"IN_STOCK": 1.0, "PREORDER": 0.0, "BACKORDER": 0.0, "NOT_AVAILABLE": 0.0}, "avStatus":"IN_STOCK", "inStock":true, "ATS": 10192.0, "inStockDate": "Sat May 24 12:00:00 GMT 2014" , "pricing": {"standard": "39.0", "sale": "24.99", "isPromoPrice": false, "quantities": [ {"unit": "", "value": "1.0"} ]} }, {"id": "RX374_L_GBA", "attributes": { "color": "Grey/Black" , "size": "L" }, "avLevels": {"IN_STOCK": 1.0, "PREORDER": 0.0, "BACKORDER": 0.0, "NOT_AVAILABLE": 0.0}, "avStatus":"IN_STOCK", "inStock":true, "ATS": 10218.0, "inStockDate": "Sat May 24 12:00:00 GMT 2014" , "pricing": {"standard": "39.0", "sale": "24.99", "isPromoPrice": false, "quantities": [ {"unit": "", "value": "1.0"} ]} }, {"id": "RX374_L_WGY", "attributes": { "color": "White/Grey" , "size": "L" }, "avLevels": {"IN_STOCK": 1.0, "PREORDER": 0.0, "BACKORDER": 0.0, "NOT_AVAILABLE": 0.0}, "avStatus":"IN_STOCK", "inStock":true, "ATS": 10192.0, "inStockDate": "Sat May 24 12:00:00 GMT 2014" , "pricing": {"standard": "39.0", "sale": "24.99", "isPromoPrice": false, "quantities": [ {"unit": "", "value": "1.0"} ]} }, {"id": "RX374_M_BGY", "attributes": { "color": "Black/Grey" , "size": "M" }, "avLevels": {"IN_STOCK": 1.0, "PREORDER": 0.0, "BACKORDER": 0.0, "NOT_AVAILABLE": 0.0}, "avStatus":"IN_STOCK", "inStock":true, "ATS": 10165.0, "inStockDate": "Sat May 24 12:00:00 GMT 2014" , "pricing": {"standard": "39.0", "sale": "24.99", "isPromoPrice": false, "quantities": [ {"unit": "", "value": "1.0"} ]} }, {"id": "RX374_M_GBA", "attributes": { "color": "Grey/Black" , "size": "M" }, "avLevels": {"IN_STOCK": 1.0, "PREORDER": 0.0, "BACKORDER": 0.0, "NOT_AVAILABLE": 0.0}, "avStatus":"IN_STOCK", "inStock":true, "ATS": 10182.0, "inStockDate": "Sat May 24 12:00:00 GMT 2014" , "pricing": {"standard": "39.0", "sale": "24.99", "isPromoPrice": false, "quantities": [ {"unit": "", "value": "1.0"} ]} }, {"id": "RX374_M_WGY", "attributes": { "color": "White/Grey" , "size": "M" }, "avLevels": {"IN_STOCK": 1.0, "PREORDER": 0.0, "BACKORDER": 0.0, "NOT_AVAILABLE": 0.0}, "avStatus":"IN_STOCK", "inStock":true, "ATS": 10169.0, "inStockDate": "Sat May 24 12:00:00 GMT 2014" , "pricing": {"standard": "39.0", "sale": "24.99", "isPromoPrice": false, "quantities": [ {"unit": "", "value": "1.0"} ]} }, {"id": "RX374_S_BGY", "attributes": { "color": "Black/Grey" , "size": "S" }, "avLevels": {"IN_STOCK": 1.0, "PREORDER": 0.0, "BACKORDER": 0.0, "NOT_AVAILABLE": 0.0}, "avStatus":"IN_STOCK", "inStock":true, "ATS": 10026.0, "inStockDate": "Sat May 24 12:00:00 GMT 2014" , "pricing": {"standard": "39.0", "sale": "24.99", "isPromoPrice": false, "quantities": [ {"unit": "", "value": "1.0"} ]} }, {"id": "RX374_S_GBA", "attributes": { "color": "Grey/Black" , "size": "S" }, "avLevels": {"IN_STOCK": 1.0, "PREORDER": 0.0, "BACKORDER": 0.0, "NOT_AVAILABLE": 0.0}, "avStatus":"IN_STOCK", "inStock":true, "ATS": 10055.0, "inStockDate": "Sat May 24 12:00:00 GMT 2014" , "pricing": {"standard": "39.0", "sale": "24.99", "isPromoPrice": false, "quantities": [ {"unit": "", "value": "1.0"} ]} }, {"id": "RX374_S_WGY", "attributes": { "color": "White/Grey" , "size": "S" }, "avLevels": {"IN_STOCK": 1.0, "PREORDER": 0.0, "BACKORDER": 0.0, "NOT_AVAILABLE": 0.0}, "avStatus":"IN_STOCK", "inStock":true, "ATS": 10044.0, "inStockDate": "Sat May 24 12:00:00 GMT 2014" , "pricing": {"standard": "39.0", "sale": "24.99", "isPromoPrice": false, "quantities": [ {"unit": "", "value": "1.0"} ]} }, {"id": "RX374_XL_BGY", "attributes": { "color": "Black/Grey" , "size": "XL" }, "avLevels": {"IN_STOCK": 1.0, "PREORDER": 0.0, "BACKORDER": 0.0, "NOT_AVAILABLE": 0.0}, "avStatus":"IN_STOCK", "inStock":true, "ATS": 10094.0, "inStockDate": "Sat May 24 12:00:00 GMT 2014" , "pricing": {"standard": "39.0", "sale": "24.99", "isPromoPrice": false, "quantities": [ {"unit": "", "value": "1.0"} ]} }, {"id": "RX374_XL_GBA", "attributes": { "color": "Grey/Black" , "size": "XL" }, "avLevels": {"IN_STOCK": 1.0, "PREORDER": 0.0, "BACKORDER": 0.0, "NOT_AVAILABLE": 0.0}, "avStatus":"IN_STOCK", "inStock":true, "ATS": 10109.0, "inStockDate": "Sat May 24 12:00:00 GMT 2014" , "pricing": {"standard": "39.0", "sale": "24.99", "isPromoPrice": false, "quantities": [ {"unit": "", "value": "1.0"} ]} }, {"id": "RX374_XL_WGY", "attributes": { "color": "White/Grey" , "size": "XL" }, "avLevels": {"IN_STOCK": 1.0, "PREORDER": 0.0, "BACKORDER": 0.0, "NOT_AVAILABLE": 0.0}, "avStatus":"IN_STOCK", "inStock":true, "ATS": 10093.0, "inStockDate": "Sat May 24 12:00:00 GMT 2014" , "pricing": {"standard": "39.0", "sale": "24.99", "isPromoPrice": false, "quantities": [ {"unit": "", "value": "1.0"} ]} } ] }}