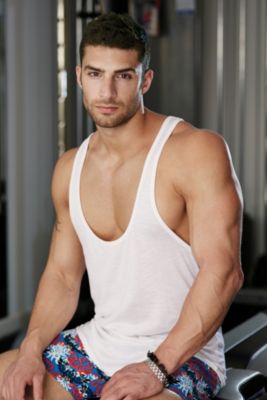 {"imageName":"http://s7d2.scene7.com/is/image/UnderGear/RX351_NEWWH?$dwpp$"}
{"imageName":"http://s7d2.scene7.com/is/image/UnderGear/RX351_WHB_J13?$dwpp$"}
{"imageName":"http://s7d2.scene7.com/is/image/UnderGear/RX351_NEWBL?$dwpp$"}
{"imageName":"http://s7d2.scene7.com/is/image/UnderGear/RX351_BLB_J13?$dwpp$"}
{"imageName":"http://s7d2.scene7.com/is/image/UnderGear/RX351_NEWBU?$dwpp$"}
{"imageName":"http://s7d2.scene7.com/is/image/UnderGear/RX351_BLUB_J13?$dwpp$"}
Body Tech® Racer Tank
UG # RX351
Special Offer:
20% OFF 3 OR MORE ITEMS (Details)
Select Quantity
Print
Men's tank top
Viscose / cotton muscle shirt for men
Machine wash
Imported
Show off the results of your hard work at the gym with this peck-flaunting men's tank top from Body Tech. In a soft, slubbed blend of viscose and cotton, the Body Tech Racer muscle shirt is designed with exaggerated racerback shaping and a deep scoop neckline to highlight your physique. While working out, or just hanging out, this Body Tech men's tank top is comfortable to wear and ensures you look good no matter what.
{ "variations": { "variants": [ {"id": "RX351_L_BLA", "attributes": { "color": "Black" , "size": "L" }, "avLevels": {"IN_STOCK": 0.0, "PREORDER": 0.0, "BACKORDER": 0.0, "NOT_AVAILABLE": 1.0}, "avStatus":"NOT_AVAILABLE", "inStock":false, "ATS": 0.0, "inStockDate": "Thu Nov 21 12:00:00 GMT 2013" , "pricing": {"standard": "15.0", "sale": "12.99", "isPromoPrice": false, "quantities": [ {"unit": "", "value": "1.0"} ]} }, {"id": "RX351_L_BLU", "attributes": { "color": "Blue" , "size": "L" }, "avLevels": {"IN_STOCK": 1.0, "PREORDER": 0.0, "BACKORDER": 0.0, "NOT_AVAILABLE": 0.0}, "avStatus":"IN_STOCK", "inStock":true, "ATS": 1.0, "inStockDate": "Thu Nov 21 12:00:00 GMT 2013" , "pricing": {"standard": "15.0", "sale": "12.99", "isPromoPrice": false, "quantities": [ {"unit": "", "value": "1.0"} ]} }, {"id": "RX351_L_WHI", "attributes": { "color": "White" , "size": "L" }, "avLevels": {"IN_STOCK": 0.0, "PREORDER": 0.0, "BACKORDER": 0.0, "NOT_AVAILABLE": 1.0}, "avStatus":"NOT_AVAILABLE", "inStock":false, "ATS": 0.0, "inStockDate": "Thu Nov 21 12:00:00 GMT 2013" , "pricing": {"standard": "15.0", "sale": "12.99", "isPromoPrice": false, "quantities": [ {"unit": "", "value": "1.0"} ]} }, {"id": "RX351_M_BLA", "attributes": { "color": "Black" , "size": "M" }, "avLevels": {"IN_STOCK": 0.0, "PREORDER": 0.0, "BACKORDER": 0.0, "NOT_AVAILABLE": 1.0}, "avStatus":"NOT_AVAILABLE", "inStock":false, "ATS": 0.0, "inStockDate": "Wed Nov 06 12:00:00 GMT 2013" , "pricing": {"standard": "15.0", "sale": "12.99", "isPromoPrice": false, "quantities": [ {"unit": "", "value": "1.0"} ]} }, {"id": "RX351_M_BLU", "attributes": { "color": "Blue" , "size": "M" }, "avLevels": {"IN_STOCK": 0.0, "PREORDER": 0.0, "BACKORDER": 0.0, "NOT_AVAILABLE": 1.0}, "avStatus":"NOT_AVAILABLE", "inStock":false, "ATS": 0.0, "inStockDate": "Wed Nov 06 12:00:00 GMT 2013" , "pricing": {"standard": "15.0", "sale": "12.99", "isPromoPrice": false, "quantities": [ {"unit": "", "value": "1.0"} ]} }, {"id": "RX351_M_WHI", "attributes": { "color": "White" , "size": "M" }, "avLevels": {"IN_STOCK": 0.0, "PREORDER": 0.0, "BACKORDER": 0.0, "NOT_AVAILABLE": 1.0}, "avStatus":"NOT_AVAILABLE", "inStock":false, "ATS": 0.0, "inStockDate": "Wed Nov 06 12:00:00 GMT 2013" , "pricing": {"standard": "15.0", "sale": "12.99", "isPromoPrice": false, "quantities": [ {"unit": "", "value": "1.0"} ]} }, {"id": "RX351_S_BLA", "attributes": { "color": "Black" , "size": "S" }, "avLevels": {"IN_STOCK": 0.0, "PREORDER": 0.0, "BACKORDER": 0.0, "NOT_AVAILABLE": 1.0}, "avStatus":"NOT_AVAILABLE", "inStock":false, "ATS": 0.0, "inStockDate": "Wed Nov 06 12:00:00 GMT 2013" , "pricing": {"standard": "15.0", "sale": "12.99", "isPromoPrice": false, "quantities": [ {"unit": "", "value": "1.0"} ]} }, {"id": "RX351_S_BLU", "attributes": { "color": "Blue" , "size": "S" }, "avLevels": {"IN_STOCK": 0.0, "PREORDER": 0.0, "BACKORDER": 0.0, "NOT_AVAILABLE": 1.0}, "avStatus":"NOT_AVAILABLE", "inStock":false, "ATS": 0.0, "inStockDate": "Wed Nov 06 12:00:00 GMT 2013" , "pricing": {"standard": "15.0", "sale": "12.99", "isPromoPrice": false, "quantities": [ {"unit": "", "value": "1.0"} ]} }, {"id": "RX351_S_WHI", "attributes": { "color": "White" , "size": "S" }, "avLevels": {"IN_STOCK": 0.0, "PREORDER": 0.0, "BACKORDER": 0.0, "NOT_AVAILABLE": 1.0}, "avStatus":"NOT_AVAILABLE", "inStock":false, "ATS": 0.0, "inStockDate": "Wed Nov 06 12:00:00 GMT 2013" , "pricing": {"standard": "15.0", "sale": "12.99", "isPromoPrice": false, "quantities": [ {"unit": "", "value": "1.0"} ]} }, {"id": "RX351_XL_BLA", "attributes": { "color": "Black" , "size": "XL" }, "avLevels": {"IN_STOCK": 0.0, "PREORDER": 0.0, "BACKORDER": 0.0, "NOT_AVAILABLE": 1.0}, "avStatus":"NOT_AVAILABLE", "inStock":false, "ATS": 0.0, "inStockDate": "Thu Nov 21 12:00:00 GMT 2013" , "pricing": {"standard": "15.0", "sale": "12.99", "isPromoPrice": false, "quantities": [ {"unit": "", "value": "1.0"} ]} }, {"id": "RX351_XL_BLU", "attributes": { "color": "Blue" , "size": "XL" }, "avLevels": {"IN_STOCK": 0.0, "PREORDER": 0.0, "BACKORDER": 0.0, "NOT_AVAILABLE": 1.0}, "avStatus":"NOT_AVAILABLE", "inStock":false, "ATS": 0.0, "inStockDate": "Wed Nov 06 12:00:00 GMT 2013" , "pricing": {"standard": "15.0", "sale": "12.99", "isPromoPrice": false, "quantities": [ {"unit": "", "value": "1.0"} ]} }, {"id": "RX351_XL_WHI", "attributes": { "color": "White" , "size": "XL" }, "avLevels": {"IN_STOCK": 0.0, "PREORDER": 0.0, "BACKORDER": 0.0, "NOT_AVAILABLE": 1.0}, "avStatus":"NOT_AVAILABLE", "inStock":false, "ATS": 0.0, "inStockDate": "Wed Nov 06 12:00:00 GMT 2013" , "pricing": {"standard": "15.0", "sale": "12.99", "isPromoPrice": false, "quantities": [ {"unit": "", "value": "1.0"} ]} } ] }}