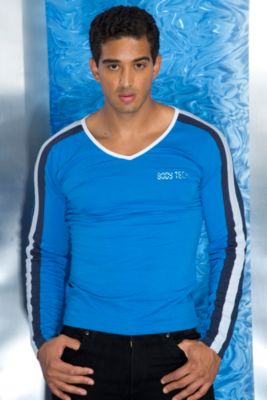 {"imageName":"http://s7d2.scene7.com/is/image/UnderGear/AM740_RYF_Q13?$dwpp$"}
{"imageName":"http://s7d2.scene7.com/is/image/UnderGear/AM740_RYS_Q13?$dwpp$"}
{"imageName":"http://s7d2.scene7.com/is/image/UnderGear/AM740_IRF_Q13?$dwpp$"}
{"imageName":"http://s7d2.scene7.com/is/image/UnderGear/AM740_IRS_Q13?$dwpp$"}
{"imageName":"http://s7d2.scene7.com/is/image/UnderGear/AM740_WHF_Q13?$dwpp$"}
{"imageName":"http://s7d2.scene7.com/is/image/UnderGear/AM740_WHD_Q13?$dwpp$"}
Body Tech® Sweat V-Neck
UG # AM740
Special Offer:
20% OFF 3 OR MORE ITEMS (Details)
Select Quantity
Print
Men's v-neck shirt
Cotton / spandex athletic shirt for men
Machine wash
Imported
Work it out and keep it tight with this form-fitting athletic men's shirt from Body Tech. At the gym or on the street, the Body Tech Sweat V-Neck is a versatile shirt that's made for high performance. The cotton-spandex construction gives the v-neck its stretchy, body-flaunting fit and lasting comfort. Available in 3 great color options of Royal blue, Iron grey and White – each with sporty contrast stripes on the sleeves.
{ "variations": { "variants": [ {"id": "AM740_M_ROY", "attributes": { "color": "Royal" , "size": "M" }, "avLevels": {"IN_STOCK": 1.0, "PREORDER": 0.0, "BACKORDER": 0.0, "NOT_AVAILABLE": 0.0}, "avStatus":"IN_STOCK", "inStock":true, "ATS": 10108.0, "inStockDate": "Sat May 24 12:00:00 GMT 2014" , "pricing": {"standard": "28.0", "sale": "18.99", "isPromoPrice": false, "quantities": [ {"unit": "", "value": "1.0"} ]} }, {"id": "AM740_M_IRO", "attributes": { "color": "Iron" , "size": "M" }, "avLevels": {"IN_STOCK": 1.0, "PREORDER": 0.0, "BACKORDER": 0.0, "NOT_AVAILABLE": 0.0}, "avStatus":"IN_STOCK", "inStock":true, "ATS": 10065.0, "inStockDate": "Sat May 24 12:00:00 GMT 2014" , "pricing": {"standard": "28.0", "sale": "18.99", "isPromoPrice": false, "quantities": [ {"unit": "", "value": "1.0"} ]} }, {"id": "AM740_L_IRO", "attributes": { "color": "Iron" , "size": "L" }, "avLevels": {"IN_STOCK": 1.0, "PREORDER": 0.0, "BACKORDER": 0.0, "NOT_AVAILABLE": 0.0}, "avStatus":"IN_STOCK", "inStock":true, "ATS": 10030.0, "inStockDate": "Sat May 24 12:00:00 GMT 2014" , "pricing": {"standard": "28.0", "sale": "18.99", "isPromoPrice": false, "quantities": [ {"unit": "", "value": "1.0"} ]} }, {"id": "AM740_L_ROY", "attributes": { "color": "Royal" , "size": "L" }, "avLevels": {"IN_STOCK": 1.0, "PREORDER": 0.0, "BACKORDER": 0.0, "NOT_AVAILABLE": 0.0}, "avStatus":"IN_STOCK", "inStock":true, "ATS": 10045.0, "inStockDate": "Sat May 24 12:00:00 GMT 2014" , "pricing": {"standard": "28.0", "sale": "18.99", "isPromoPrice": false, "quantities": [ {"unit": "", "value": "1.0"} ]} }, {"id": "AM740_L_WHI", "attributes": { "color": "White" , "size": "L" }, "avLevels": {"IN_STOCK": 1.0, "PREORDER": 0.0, "BACKORDER": 0.0, "NOT_AVAILABLE": 0.0}, "avStatus":"IN_STOCK", "inStock":true, "ATS": 10076.0, "inStockDate": "Fri May 09 12:00:00 GMT 2014" , "pricing": {"standard": "28.0", "sale": "18.99", "isPromoPrice": false, "quantities": [ {"unit": "", "value": "1.0"} ]} }, {"id": "AM740_S_IRO", "attributes": { "color": "Iron" , "size": "S" }, "avLevels": {"IN_STOCK": 0.0, "PREORDER": 0.0, "BACKORDER": 0.0, "NOT_AVAILABLE": 1.0}, "avStatus":"NOT_AVAILABLE", "inStock":false, "ATS": 0.0, "inStockDate": "Wed May 14 12:00:00 GMT 2014" , "pricing": {"standard": "28.0", "sale": "18.99", "isPromoPrice": false, "quantities": [ {"unit": "", "value": "1.0"} ]} }, {"id": "AM740_XL_IRO", "attributes": { "color": "Iron" , "size": "XL" }, "avLevels": {"IN_STOCK": 0.0, "PREORDER": 0.0, "BACKORDER": 1.0, "NOT_AVAILABLE": 0.0}, "avStatus":"BACKORDER", "inStock":false, "ATS": 10000.0, "inStockDate": "Sat May 24 12:00:00 GMT 2014" , "pricing": {"standard": "28.0", "sale": "18.99", "isPromoPrice": false, "quantities": [ {"unit": "", "value": "1.0"} ]} }, {"id": "AM740_S_WHI", "attributes": { "color": "White" , "size": "S" }, "avLevels": {"IN_STOCK": 0.0, "PREORDER": 0.0, "BACKORDER": 0.0, "NOT_AVAILABLE": 1.0}, "avStatus":"NOT_AVAILABLE", "inStock":false, "ATS": 0.0, "inStockDate": "Wed May 14 12:00:00 GMT 2014" , "pricing": {"standard": "28.0", "sale": "18.99", "isPromoPrice": false, "quantities": [ {"unit": "", "value": "1.0"} ]} }, {"id": "AM740_XL_WHI", "attributes": { "color": "White" , "size": "XL" }, "avLevels": {"IN_STOCK": 1.0, "PREORDER": 0.0, "BACKORDER": 0.0, "NOT_AVAILABLE": 0.0}, "avStatus":"IN_STOCK", "inStock":true, "ATS": 10046.0, "inStockDate": "Sat May 24 12:00:00 GMT 2014" , "pricing": {"standard": "28.0", "sale": "18.99", "isPromoPrice": false, "quantities": [ {"unit": "", "value": "1.0"} ]} }, {"id": "AM740_XL_ROY", "attributes": { "color": "Royal" , "size": "XL" }, "avLevels": {"IN_STOCK": 1.0, "PREORDER": 0.0, "BACKORDER": 0.0, "NOT_AVAILABLE": 0.0}, "avStatus":"IN_STOCK", "inStock":true, "ATS": 10027.0, "inStockDate": "Sat May 24 12:00:00 GMT 2014" , "pricing": {"standard": "28.0", "sale": "18.99", "isPromoPrice": false, "quantities": [ {"unit": "", "value": "1.0"} ]} }, {"id": "AM740_S_ROY", "attributes": { "color": "Royal" , "size": "S" }, "avLevels": {"IN_STOCK": 0.0, "PREORDER": 0.0, "BACKORDER": 1.0, "NOT_AVAILABLE": 0.0}, "avStatus":"BACKORDER", "inStock":false, "ATS": 10000.0, "inStockDate": "Sat May 24 12:00:00 GMT 2014" , "pricing": {"standard": "28.0", "sale": "18.99", "isPromoPrice": false, "quantities": [ {"unit": "", "value": "1.0"} ]} }, {"id": "AM740_M_WHI", "attributes": { "color": "White" , "size": "M" }, "avLevels": {"IN_STOCK": 1.0, "PREORDER": 0.0, "BACKORDER": 0.0, "NOT_AVAILABLE": 0.0}, "avStatus":"IN_STOCK", "inStock":true, "ATS": 10102.0, "inStockDate": "Sat May 24 12:00:00 GMT 2014" , "pricing": {"standard": "28.0", "sale": "18.99", "isPromoPrice": false, "quantities": [ {"unit": "", "value": "1.0"} ]} } ] }}