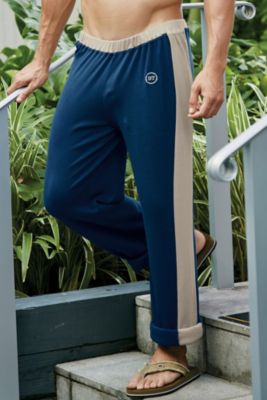 Body Tech® Workout Pant
UG # RX253
Special Offer:
20% OFF 3 OR MORE ITEMS (Details)
Select Quantity
Print
Men's workout pants
Men's gym pants made from cotton/spandex rib knit
Machine wash
Imported
Play hard or play it easy – it's up to you in these fresh men's workout pants from Body Tech. No matter what type of power player you are, these Body Tech workout pants deliver the comfort and fit you need for maximum performance. 2x2 cotton/spandex rib knit gives these men's gym pants their soft, stretchy feel. Contrast trim and an embroidered Body Tech logo ensure you look great no matter how rigorous the game.
{ "variations": { "variants": [ {"id": "RX253_S_KA", "attributes": { "color": "Khaki" , "size": "S" }, "avLevels": {"IN_STOCK": 1.0, "PREORDER": 0.0, "BACKORDER": 0.0, "NOT_AVAILABLE": 0.0}, "avStatus":"IN_STOCK", "inStock":true, "ATS": 10040.0, "inStockDate": "Sat May 24 12:00:00 GMT 2014" , "pricing": {"standard": "36.0", "sale": "36.0", "isPromoPrice": false, "quantities": [ {"unit": "", "value": "1.0"} ]} }, {"id": "RX253_S_NV", "attributes": { "color": "Navy" , "size": "S" }, "avLevels": {"IN_STOCK": 1.0, "PREORDER": 0.0, "BACKORDER": 0.0, "NOT_AVAILABLE": 0.0}, "avStatus":"IN_STOCK", "inStock":true, "ATS": 54.0, "inStockDate": "Sat May 24 12:00:00 GMT 2014" , "pricing": {"standard": "36.0", "sale": "36.0", "isPromoPrice": false, "quantities": [ {"unit": "", "value": "1.0"} ]} }, {"id": "RX253_L_KA", "attributes": { "color": "Khaki" , "size": "L" }, "avLevels": {"IN_STOCK": 1.0, "PREORDER": 0.0, "BACKORDER": 0.0, "NOT_AVAILABLE": 0.0}, "avStatus":"IN_STOCK", "inStock":true, "ATS": 10042.0, "inStockDate": "Sat May 24 12:00:00 GMT 2014" , "pricing": {"standard": "36.0", "sale": "36.0", "isPromoPrice": false, "quantities": [ {"unit": "", "value": "1.0"} ]} }, {"id": "RX253_M_KA", "attributes": { "color": "Khaki" , "size": "M" }, "avLevels": {"IN_STOCK": 1.0, "PREORDER": 0.0, "BACKORDER": 0.0, "NOT_AVAILABLE": 0.0}, "avStatus":"IN_STOCK", "inStock":true, "ATS": 10024.0, "inStockDate": "Sat May 24 12:00:00 GMT 2014" , "pricing": {"standard": "36.0", "sale": "36.0", "isPromoPrice": false, "quantities": [ {"unit": "", "value": "1.0"} ]} }, {"id": "RX253_XL_NV", "attributes": { "color": "Navy" , "size": "XL" }, "avLevels": {"IN_STOCK": 1.0, "PREORDER": 0.0, "BACKORDER": 0.0, "NOT_AVAILABLE": 0.0}, "avStatus":"IN_STOCK", "inStock":true, "ATS": 42.0, "inStockDate": "Sat May 24 12:00:00 GMT 2014" , "pricing": {"standard": "36.0", "sale": "36.0", "isPromoPrice": false, "quantities": [ {"unit": "", "value": "1.0"} ]} }, {"id": "RX253_XXL_NV", "attributes": { "color": "Navy" , "size": "XXL" }, "avLevels": {"IN_STOCK": 1.0, "PREORDER": 0.0, "BACKORDER": 0.0, "NOT_AVAILABLE": 0.0}, "avStatus":"IN_STOCK", "inStock":true, "ATS": 24.0, "inStockDate": "Sat May 24 12:00:00 GMT 2014" , "pricing": {"standard": "36.0", "sale": "36.0", "isPromoPrice": false, "quantities": [ {"unit": "", "value": "1.0"} ]} }, {"id": "RX253_M_NV", "attributes": { "color": "Navy" , "size": "M" }, "avLevels": {"IN_STOCK": 1.0, "PREORDER": 0.0, "BACKORDER": 0.0, "NOT_AVAILABLE": 0.0}, "avStatus":"IN_STOCK", "inStock":true, "ATS": 65.0, "inStockDate": "Sat May 24 12:00:00 GMT 2014" , "pricing": {"standard": "36.0", "sale": "36.0", "isPromoPrice": false, "quantities": [ {"unit": "", "value": "1.0"} ]} }, {"id": "RX253_L_NV", "attributes": { "color": "Navy" , "size": "L" }, "avLevels": {"IN_STOCK": 1.0, "PREORDER": 0.0, "BACKORDER": 0.0, "NOT_AVAILABLE": 0.0}, "avStatus":"IN_STOCK", "inStock":true, "ATS": 73.0, "inStockDate": "Sat May 24 12:00:00 GMT 2014" , "pricing": {"standard": "36.0", "sale": "36.0", "isPromoPrice": false, "quantities": [ {"unit": "", "value": "1.0"} ]} }, {"id": "RX253_XL_KA", "attributes": { "color": "Khaki" , "size": "XL" }, "avLevels": {"IN_STOCK": 1.0, "PREORDER": 0.0, "BACKORDER": 0.0, "NOT_AVAILABLE": 0.0}, "avStatus":"IN_STOCK", "inStock":true, "ATS": 10028.0, "inStockDate": "Sat May 24 12:00:00 GMT 2014" , "pricing": {"standard": "36.0", "sale": "36.0", "isPromoPrice": false, "quantities": [ {"unit": "", "value": "1.0"} ]} }, {"id": "RX253_XXL_KA", "attributes": { "color": "Khaki" , "size": "XXL" }, "avLevels": {"IN_STOCK": 1.0, "PREORDER": 0.0, "BACKORDER": 0.0, "NOT_AVAILABLE": 0.0}, "avStatus":"IN_STOCK", "inStock":true, "ATS": 10023.0, "inStockDate": "Sat May 24 12:00:00 GMT 2014" , "pricing": {"standard": "36.0", "sale": "36.0", "isPromoPrice": false, "quantities": [ {"unit": "", "value": "1.0"} ]} } ] }}