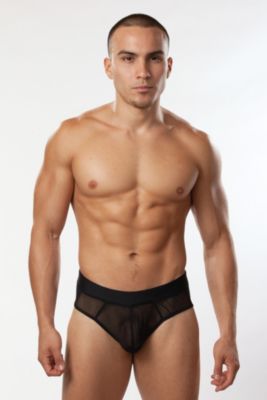 {"imageName":"http://s7d2.scene7.com/is/image/UnderGear/AM318_BM1_T12?$dwpp$"}
{"imageName":"http://s7d2.scene7.com/is/image/UnderGear/AM318_BB1_T12?$dwpp$"}
{"imageName":"http://s7d2.scene7.com/is/image/UnderGear/AM318_BB2_T12?$dwpp$"}
{"imageName":"http://s7d2.scene7.com/is/image/UnderGear/AM318_WIM_T12?$dwpp$"}
{"imageName":"http://s7d2.scene7.com/is/image/UnderGear/AM318_WIMB_T12?$dwpp$"}
Bon Bon Solid Classic Mesh Jock Brief
UG # AM318
Special Offer:
20% OFF 3 OR MORE ITEMS (Details)
Select Quantity
Print
Men's mesh jock briefs
Men's mesh underwear made from nylon / spandex
Machine wash
Made in USA
Bon Bon Bodywear style CMN100-OB
Highly functional and very visual, these daring mesh jock briefs from Bon Bon are built for men who love to reveal some skin (and who doesn't?). The new Bon Bon Solid Classic mesh underwear for men is not only sexy, but also superior in style, fit and fabrication. Made from see-through nylon and spandex, these men's jock briefs from Bon Bon put your goods at center stage.
{ "variations": { "variants": [ {"id": "AM318_L_BLA", "attributes": { "color": "Black" , "size": "L" }, "avLevels": {"IN_STOCK": 0.0, "PREORDER": 0.0, "BACKORDER": 0.0, "NOT_AVAILABLE": 1.0}, "avStatus":"NOT_AVAILABLE", "inStock":false, "ATS": 0.0, "inStockDate": "Tue May 14 12:00:00 GMT 2013" , "pricing": {"standard": "24.0", "sale": "14.99", "isPromoPrice": false, "quantities": [ {"unit": "", "value": "1.0"} ]} }, {"id": "AM318_L_WHI", "attributes": { "color": "White" , "size": "L" }, "avLevels": {"IN_STOCK": 0.0, "PREORDER": 0.0, "BACKORDER": 0.0, "NOT_AVAILABLE": 1.0}, "avStatus":"NOT_AVAILABLE", "inStock":false, "ATS": 0.0, "inStockDate": "Thu Feb 28 12:00:00 GMT 2013" , "pricing": {"standard": "24.0", "sale": "14.99", "isPromoPrice": false, "quantities": [ {"unit": "", "value": "1.0"} ]} }, {"id": "AM318_M_BLA", "attributes": { "color": "Black" , "size": "M" }, "avLevels": {"IN_STOCK": 0.0, "PREORDER": 0.0, "BACKORDER": 0.0, "NOT_AVAILABLE": 1.0}, "avStatus":"NOT_AVAILABLE", "inStock":false, "ATS": 0.0, "inStockDate": "Tue Dec 31 12:00:00 GMT 2030" , "pricing": {"standard": "24.0", "sale": "14.99", "isPromoPrice": false, "quantities": [ {"unit": "", "value": "1.0"} ]} }, {"id": "AM318_M_WHI", "attributes": { "color": "White" , "size": "M" }, "avLevels": {"IN_STOCK": 1.0, "PREORDER": 0.0, "BACKORDER": 0.0, "NOT_AVAILABLE": 0.0}, "avStatus":"IN_STOCK", "inStock":true, "ATS": 5.0, "inStockDate": "Tue Dec 31 12:00:00 GMT 2030" , "pricing": {"standard": "24.0", "sale": "14.99", "isPromoPrice": false, "quantities": [ {"unit": "", "value": "1.0"} ]} }, {"id": "AM318_S_BLA", "attributes": { "color": "Black" , "size": "S" }, "avLevels": {"IN_STOCK": 0.0, "PREORDER": 0.0, "BACKORDER": 0.0, "NOT_AVAILABLE": 1.0}, "avStatus":"NOT_AVAILABLE", "inStock":false, "ATS": 0.0, "inStockDate": "Thu Feb 28 12:00:00 GMT 2013" , "pricing": {"standard": "24.0", "sale": "14.99", "isPromoPrice": false, "quantities": [ {"unit": "", "value": "1.0"} ]} }, {"id": "AM318_S_WHI", "attributes": { "color": "White" , "size": "S" }, "avLevels": {"IN_STOCK": 0.0, "PREORDER": 0.0, "BACKORDER": 0.0, "NOT_AVAILABLE": 1.0}, "avStatus":"NOT_AVAILABLE", "inStock":false, "ATS": 0.0, "inStockDate": "Tue Dec 31 12:00:00 GMT 2030" , "pricing": {"standard": "24.0", "sale": "14.99", "isPromoPrice": false, "quantities": [ {"unit": "", "value": "1.0"} ]} }, {"id": "AM318_XL_BLA", "attributes": { "color": "Black" , "size": "XL" }, "avLevels": {"IN_STOCK": 0.0, "PREORDER": 0.0, "BACKORDER": 0.0, "NOT_AVAILABLE": 1.0}, "avStatus":"NOT_AVAILABLE", "inStock":false, "ATS": 0.0, "inStockDate": "Tue May 14 12:00:00 GMT 2013" , "pricing": {"standard": "24.0", "sale": "14.99", "isPromoPrice": false, "quantities": [ {"unit": "", "value": "1.0"} ]} }, {"id": "AM318_XL_WHI", "attributes": { "color": "White" , "size": "XL" }, "avLevels": {"IN_STOCK": 0.0, "PREORDER": 0.0, "BACKORDER": 0.0, "NOT_AVAILABLE": 1.0}, "avStatus":"NOT_AVAILABLE", "inStock":false, "ATS": 0.0, "inStockDate": "Tue May 14 12:00:00 GMT 2013" , "pricing": {"standard": "24.0", "sale": "14.99", "isPromoPrice": false, "quantities": [ {"unit": "", "value": "1.0"} ]} } ] }}