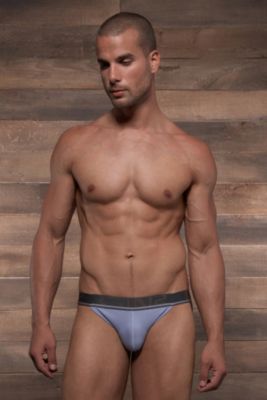 {"imageName":"http://s7d2.scene7.com/is/image/UnderGear/AL414_GRPM_R12?$dwpp$"}
{"imageName":"http://s7d2.scene7.com/is/image/UnderGear/AL414_GRPB_R12?$dwpp$"}
{"imageName":"http://s7d2.scene7.com/is/image/UnderGear/AL414_EMRF_R12?$dwpp$"}
{"imageName":"http://s7d2.scene7.com/is/image/UnderGear/AL414_ESPF_R12?$dwpp$"}
C-IN2® Pop Colors Street Jock
UG # AL414
Special Offer:
20% OFF 3 OR MORE ITEMS (Details)
Select Quantity
Print
Men's jockstrap underwear
Men's jock made of cotton/spandex
Machine wash
Imported
C-IN2 STYLE 1726
Hit the streets feeling sexier than ever in this sporty jockstrap underwear from C-IN2. Available in several unique colors to fit your individual style, the C-IN2 Pop Colors Street Jockstrap is made of a stretchy cotton-spandex fabric that supports your assets while letting you bare your backside. Perfect for wearing with tight pants to eliminate lines, the jockstrap underwear also features a comfortable elastic waistband, accented by the C-IN2 logo. Pick your favorite color, or stock up on all four!
{ "variations": { "variants": [ {"id": "AL414_M_GS", "attributes": { "color": "Green Swarm" , "size": "M" }, "avLevels": {"IN_STOCK": 0.0, "PREORDER": 0.0, "BACKORDER": 0.0, "NOT_AVAILABLE": 1.0}, "avStatus":"NOT_AVAILABLE", "inStock":false, "ATS": 0.0, "inStockDate": "Tue Dec 31 12:00:00 GMT 2030" , "pricing": {"standard": "17.0", "sale": "12.99", "isPromoPrice": false, "quantities": [ {"unit": "", "value": "1.0"} ]} }, {"id": "AL414_S_DT", "attributes": { "color": "Detergent" , "size": "S" }, "avLevels": {"IN_STOCK": 0.0, "PREORDER": 0.0, "BACKORDER": 0.0, "NOT_AVAILABLE": 1.0}, "avStatus":"NOT_AVAILABLE", "inStock":false, "ATS": 0.0, "inStockDate": "Tue Dec 31 12:00:00 GMT 2030" , "pricing": {"standard": "17.0", "sale": "12.99", "isPromoPrice": false, "quantities": [ {"unit": "", "value": "1.0"} ]} }, {"id": "AL414_L_GG", "attributes": { "color": "Grape Grey" , "size": "L" }, "avLevels": {"IN_STOCK": 0.0, "PREORDER": 0.0, "BACKORDER": 0.0, "NOT_AVAILABLE": 1.0}, "avStatus":"NOT_AVAILABLE", "inStock":false, "ATS": 0.0, "inStockDate": "Tue Dec 31 12:00:00 GMT 2030" , "pricing": {"standard": "17.0", "sale": "12.99", "isPromoPrice": false, "quantities": [ {"unit": "", "value": "1.0"} ]} }, {"id": "AL414_L_EP", "attributes": { "color": "Espresso" , "size": "L" }, "avLevels": {"IN_STOCK": 0.0, "PREORDER": 0.0, "BACKORDER": 0.0, "NOT_AVAILABLE": 1.0}, "avStatus":"NOT_AVAILABLE", "inStock":false, "ATS": 0.0, "inStockDate": "Tue Dec 31 12:00:00 GMT 2030" , "pricing": {"standard": "17.0", "sale": "12.99", "isPromoPrice": false, "quantities": [ {"unit": "", "value": "1.0"} ]} }, {"id": "AL414_M_GG", "attributes": { "color": "Grape Grey" , "size": "M" }, "avLevels": {"IN_STOCK": 0.0, "PREORDER": 0.0, "BACKORDER": 0.0, "NOT_AVAILABLE": 1.0}, "avStatus":"NOT_AVAILABLE", "inStock":false, "ATS": 0.0, "inStockDate": "Tue Dec 31 12:00:00 GMT 2030" , "pricing": {"standard": "17.0", "sale": "12.99", "isPromoPrice": false, "quantities": [ {"unit": "", "value": "1.0"} ]} }, {"id": "AL414_M_EG", "attributes": { "color": "Emerald Green" , "size": "M" }, "avLevels": {"IN_STOCK": 1.0, "PREORDER": 0.0, "BACKORDER": 0.0, "NOT_AVAILABLE": 0.0}, "avStatus":"IN_STOCK", "inStock":true, "ATS": 3.0, "inStockDate": "Tue Dec 31 12:00:00 GMT 2030" , "pricing": {"standard": "17.0", "sale": "12.99", "isPromoPrice": false, "quantities": [ {"unit": "", "value": "1.0"} ]} }, {"id": "AL414_M_EP", "attributes": { "color": "Espresso" , "size": "M" }, "avLevels": {"IN_STOCK": 1.0, "PREORDER": 0.0, "BACKORDER": 0.0, "NOT_AVAILABLE": 0.0}, "avStatus":"IN_STOCK", "inStock":true, "ATS": 4.0, "inStockDate": "Tue Dec 31 12:00:00 GMT 2030" , "pricing": {"standard": "17.0", "sale": "12.99", "isPromoPrice": false, "quantities": [ {"unit": "", "value": "1.0"} ]} } ] }}