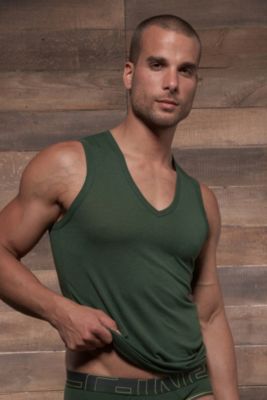 {"imageName":"http://s7d2.scene7.com/is/image/UnderGear/AL435_DE_V12?$dwpp$"}
{"imageName":"http://s7d2.scene7.com/is/image/UnderGear/AL435_DEB_V12?$dwpp$"}
{"imageName":"http://s7d2.scene7.com/is/image/UnderGear/AL435_LM_V12?$dwpp$"}
{"imageName":"http://s7d2.scene7.com/is/image/UnderGear/AL435_LMB_V12?$dwpp$"}
{"imageName":"http://s7d2.scene7.com/is/image/UnderGear/AL435_PR_V12?$dwpp$"}
{"imageName":"http://s7d2.scene7.com/is/image/UnderGear/AL435_PRB_V12?$dwpp$"}
C-in2® Zen V-Neck Muscle Tank
UG # AL435
Special Offer:
20% OFF 3 OR MORE ITEMS (Details)
Select Quantity
Print
Men's tank top
Men's tank top made from modal/cotton
Machine wash
Imported
C-IN2 style 3416
Score the latest with the Zen Color Muscle men's tank top from C-IN2. An easy-fitting favorite, this stretch cotton V-neck tank top offers endless possibilities in your wardrobe. Ideal for layering, sleeping, relaxing, working out and more, the versatile Zen Color V-neck Muscle men's tank top from C-IN2 has the perfect pop of color for cool contrast. Breathable and comfortable, this men's muscle tank is an essential.
{ "variations": { "variants": [ {"id": "AL435_L_DE", "attributes": { "color": "Dark Emerald" , "size": "L" }, "avLevels": {"IN_STOCK": 1.0, "PREORDER": 0.0, "BACKORDER": 0.0, "NOT_AVAILABLE": 0.0}, "avStatus":"IN_STOCK", "inStock":true, "ATS": 2.0, "inStockDate": "Tue Dec 31 12:00:00 GMT 2030" , "pricing": {"standard": "36.0", "sale": "36.0", "isPromoPrice": false, "quantities": [ {"unit": "", "value": "1.0"} ]} }, {"id": "AL435_L_LM", "attributes": { "color": "Limoncello" , "size": "L" }, "avLevels": {"IN_STOCK": 1.0, "PREORDER": 0.0, "BACKORDER": 0.0, "NOT_AVAILABLE": 0.0}, "avStatus":"IN_STOCK", "inStock":true, "ATS": 3.0, "inStockDate": "Tue Dec 31 12:00:00 GMT 2030" , "pricing": {"standard": "36.0", "sale": "36.0", "isPromoPrice": false, "quantities": [ {"unit": "", "value": "1.0"} ]} }, {"id": "AL435_M_DE", "attributes": { "color": "Dark Emerald" , "size": "M" }, "avLevels": {"IN_STOCK": 1.0, "PREORDER": 0.0, "BACKORDER": 0.0, "NOT_AVAILABLE": 0.0}, "avStatus":"IN_STOCK", "inStock":true, "ATS": 8.0, "inStockDate": "Tue Dec 31 12:00:00 GMT 2030" , "pricing": {"standard": "36.0", "sale": "36.0", "isPromoPrice": false, "quantities": [ {"unit": "", "value": "1.0"} ]} }, {"id": "AL435_M_LM", "attributes": { "color": "Limoncello" , "size": "M" }, "avLevels": {"IN_STOCK": 1.0, "PREORDER": 0.0, "BACKORDER": 0.0, "NOT_AVAILABLE": 0.0}, "avStatus":"IN_STOCK", "inStock":true, "ATS": 4.0, "inStockDate": "Tue Dec 31 12:00:00 GMT 2030" , "pricing": {"standard": "36.0", "sale": "36.0", "isPromoPrice": false, "quantities": [ {"unit": "", "value": "1.0"} ]} }, {"id": "AL435_M_PR", "attributes": { "color": "Polar Rose" , "size": "M" }, "avLevels": {"IN_STOCK": 1.0, "PREORDER": 0.0, "BACKORDER": 0.0, "NOT_AVAILABLE": 0.0}, "avStatus":"IN_STOCK", "inStock":true, "ATS": 1.0, "inStockDate": "Sat Apr 13 12:00:00 GMT 2013" , "pricing": {"standard": "36.0", "sale": "36.0", "isPromoPrice": false, "quantities": [ {"unit": "", "value": "1.0"} ]} }, {"id": "AL435_S_DE", "attributes": { "color": "Dark Emerald" , "size": "S" }, "avLevels": {"IN_STOCK": 1.0, "PREORDER": 0.0, "BACKORDER": 0.0, "NOT_AVAILABLE": 0.0}, "avStatus":"IN_STOCK", "inStock":true, "ATS": 2.0, "inStockDate": "Tue Dec 31 12:00:00 GMT 2030" , "pricing": {"standard": "36.0", "sale": "36.0", "isPromoPrice": false, "quantities": [ {"unit": "", "value": "1.0"} ]} }, {"id": "AL435_S_LM", "attributes": { "color": "Limoncello" , "size": "S" }, "avLevels": {"IN_STOCK": 1.0, "PREORDER": 0.0, "BACKORDER": 0.0, "NOT_AVAILABLE": 0.0}, "avStatus":"IN_STOCK", "inStock":true, "ATS": 1.0, "inStockDate": "Sat Apr 13 12:00:00 GMT 2013" , "pricing": {"standard": "36.0", "sale": "36.0", "isPromoPrice": false, "quantities": [ {"unit": "", "value": "1.0"} ]} }, {"id": "AL435_XL_DE", "attributes": { "color": "Dark Emerald" , "size": "XL" }, "avLevels": {"IN_STOCK": 1.0, "PREORDER": 0.0, "BACKORDER": 0.0, "NOT_AVAILABLE": 0.0}, "avStatus":"IN_STOCK", "inStock":true, "ATS": 1.0, "inStockDate": "Tue Dec 31 12:00:00 GMT 2030" , "pricing": {"standard": "36.0", "sale": "36.0", "isPromoPrice": false, "quantities": [ {"unit": "", "value": "1.0"} ]} } ] }}