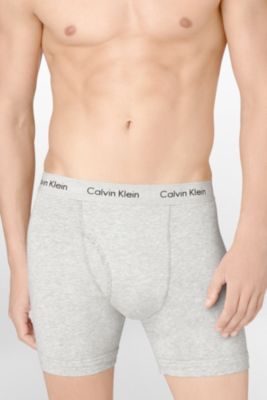 Calvin Klein® 2Pk Cotton Stretch Boxer Brief
UG # AM403
Special Offer:
20% OFF 3 OR MORE ITEMS (Details)
Select Quantity
Print
2-pack men's briefs
Cotton / elastane underwear for men
Machine wash
Imported
Calvin Klein underwear style U2666
Classic looks, extraordinary quality and comfort. This convenient 2-pack of basic men's boxer briefs from Calvin Klein are made from soft cotton with a touch of stretch to hold its shape...and yours. Soft and super comfy, the Calvin Klein Cotton Stretch Boxer Briefs are ready to wear every day and on into evening. A great pair of men's underwear for guys who expect the best from their top-drawer rotation. Waistband features Calvin Klein logo. Functional fly.
{ "variations": { "variants": [ {"id": "AM403_L_HGR", "attributes": { "color": "Heather Grey" , "size": "L" }, "avLevels": {"IN_STOCK": 1.0, "PREORDER": 0.0, "BACKORDER": 0.0, "NOT_AVAILABLE": 0.0}, "avStatus":"IN_STOCK", "inStock":true, "ATS": 10007.0, "inStockDate": "Sat May 24 12:00:00 GMT 2014" , "pricing": {"standard": "35.0", "sale": "31.99", "isPromoPrice": false, "quantities": [ {"unit": "", "value": "1.0"} ]} }, {"id": "AM403_M_HGR", "attributes": { "color": "Heather Grey" , "size": "M" }, "avLevels": {"IN_STOCK": 1.0, "PREORDER": 0.0, "BACKORDER": 0.0, "NOT_AVAILABLE": 0.0}, "avStatus":"IN_STOCK", "inStock":true, "ATS": 10025.0, "inStockDate": "Sat May 24 12:00:00 GMT 2014" , "pricing": {"standard": "35.0", "sale": "31.99", "isPromoPrice": false, "quantities": [ {"unit": "", "value": "1.0"} ]} }, {"id": "AM403_S_HGR", "attributes": { "color": "Heather Grey" , "size": "S" }, "avLevels": {"IN_STOCK": 1.0, "PREORDER": 0.0, "BACKORDER": 0.0, "NOT_AVAILABLE": 0.0}, "avStatus":"IN_STOCK", "inStock":true, "ATS": 10015.0, "inStockDate": "Sat May 24 12:00:00 GMT 2014" , "pricing": {"standard": "35.0", "sale": "31.99", "isPromoPrice": false, "quantities": [ {"unit": "", "value": "1.0"} ]} }, {"id": "AM403_XL_HGR", "attributes": { "color": "Heather Grey" , "size": "XL" }, "avLevels": {"IN_STOCK": 1.0, "PREORDER": 0.0, "BACKORDER": 0.0, "NOT_AVAILABLE": 0.0}, "avStatus":"IN_STOCK", "inStock":true, "ATS": 10007.0, "inStockDate": "Sat May 24 12:00:00 GMT 2014" , "pricing": {"standard": "35.0", "sale": "31.99", "isPromoPrice": false, "quantities": [ {"unit": "", "value": "1.0"} ]} }, {"id": "AM403_L_EWA", "attributes": { "color": "Eel/Waterfall" , "size": "L" }, "avLevels": {"IN_STOCK": 1.0, "PREORDER": 0.0, "BACKORDER": 0.0, "NOT_AVAILABLE": 0.0}, "avStatus":"IN_STOCK", "inStock":true, "ATS": 10004.0, "inStockDate": "Sat May 24 12:00:00 GMT 2014" , "pricing": {"standard": "35.0", "sale": "31.99", "isPromoPrice": false, "quantities": [ {"unit": "", "value": "1.0"} ]} }, {"id": "AM403_XL_EWA", "attributes": { "color": "Eel/Waterfall" , "size": "XL" }, "avLevels": {"IN_STOCK": 1.0, "PREORDER": 0.0, "BACKORDER": 0.0, "NOT_AVAILABLE": 0.0}, "avStatus":"IN_STOCK", "inStock":true, "ATS": 10002.0, "inStockDate": "Sat May 24 12:00:00 GMT 2014" , "pricing": {"standard": "35.0", "sale": "31.99", "isPromoPrice": false, "quantities": [ {"unit": "", "value": "1.0"} ]} }, {"id": "AM403_S_EWA", "attributes": { "color": "Eel/Waterfall" , "size": "S" }, "avLevels": {"IN_STOCK": 1.0, "PREORDER": 0.0, "BACKORDER": 0.0, "NOT_AVAILABLE": 0.0}, "avStatus":"IN_STOCK", "inStock":true, "ATS": 10006.0, "inStockDate": "Sat May 24 12:00:00 GMT 2014" , "pricing": {"standard": "35.0", "sale": "31.99", "isPromoPrice": false, "quantities": [ {"unit": "", "value": "1.0"} ]} }, {"id": "AM403_M_EWA", "attributes": { "color": "Eel/Waterfall" , "size": "M" }, "avLevels": {"IN_STOCK": 1.0, "PREORDER": 0.0, "BACKORDER": 0.0, "NOT_AVAILABLE": 0.0}, "avStatus":"IN_STOCK", "inStock":true, "ATS": 10011.0, "inStockDate": "Sat May 24 12:00:00 GMT 2014" , "pricing": {"standard": "35.0", "sale": "31.99", "isPromoPrice": false, "quantities": [ {"unit": "", "value": "1.0"} ]} } ] }}