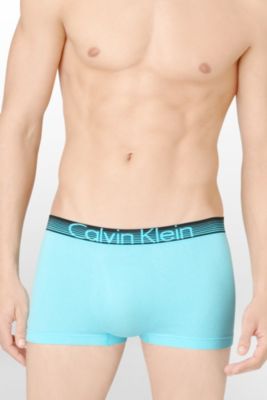 Calvin Klein® Concept Cotton Trunk
UG # AM396
Special Offer:
20% OFF 3 OR MORE ITEMS (Details)
Select Quantity
Print
Men's trunks
Cotton / nylon underwear for men
Machine wash
Imported
Calvin Klein underwear style U8301
The fit of these men's trunks is fabulous and so is the fabric—a form-following cottony blend. When it counts most, be proud to show off who you're wearing: Calvin Klein. A signature striped waistband with a bold Calvin Klein logo turns these men's trunks into undeniably designer men's underwear. Always ready to impress, the Calvin Klein Concept Cotton Trunk underwear offers a distinctive blending of cotton and nylon that follows your form for a man-up look. Contour pouch gives your package a full, more robust shape. Banded legs for great fit.
{ "variations": { "variants": [ {"id": "AM396_L_BLA", "attributes": { "color": "Black" , "size": "L" }, "avLevels": {"IN_STOCK": 1.0, "PREORDER": 0.0, "BACKORDER": 0.0, "NOT_AVAILABLE": 0.0}, "avStatus":"IN_STOCK", "inStock":true, "ATS": 5.0, "inStockDate": "Wed Dec 11 12:00:00 GMT 2013" , "pricing": {"standard": "28.0", "sale": "28.0", "isPromoPrice": false, "quantities": [ {"unit": "", "value": "1.0"} ]} }, {"id": "AM396_L_OSK", "attributes": { "color": "Open Sky" , "size": "L" }, "avLevels": {"IN_STOCK": 0.0, "PREORDER": 0.0, "BACKORDER": 0.0, "NOT_AVAILABLE": 1.0}, "avStatus":"NOT_AVAILABLE", "inStock":false, "ATS": 0.0, "inStockDate": "Thu Dec 26 12:00:00 GMT 2013" , "pricing": {"standard": "28.0", "sale": "28.0", "isPromoPrice": false, "quantities": [ {"unit": "", "value": "1.0"} ]} }, {"id": "AM396_L_WHI", "attributes": { "color": "White" , "size": "L" }, "avLevels": {"IN_STOCK": 0.0, "PREORDER": 0.0, "BACKORDER": 0.0, "NOT_AVAILABLE": 1.0}, "avStatus":"NOT_AVAILABLE", "inStock":false, "ATS": 0.0, "inStockDate": "Thu Dec 26 12:00:00 GMT 2013" , "pricing": {"standard": "28.0", "sale": "28.0", "isPromoPrice": false, "quantities": [ {"unit": "", "value": "1.0"} ]} }, {"id": "AM396_M_BLA", "attributes": { "color": "Black" , "size": "M" }, "avLevels": {"IN_STOCK": 1.0, "PREORDER": 0.0, "BACKORDER": 0.0, "NOT_AVAILABLE": 0.0}, "avStatus":"IN_STOCK", "inStock":true, "ATS": 5.0, "inStockDate": "Wed Dec 11 12:00:00 GMT 2013" , "pricing": {"standard": "28.0", "sale": "28.0", "isPromoPrice": false, "quantities": [ {"unit": "", "value": "1.0"} ]} }, {"id": "AM396_M_OSK", "attributes": { "color": "Open Sky" , "size": "M" }, "avLevels": {"IN_STOCK": 0.0, "PREORDER": 0.0, "BACKORDER": 0.0, "NOT_AVAILABLE": 1.0}, "avStatus":"NOT_AVAILABLE", "inStock":false, "ATS": 0.0, "inStockDate": "Thu Dec 26 12:00:00 GMT 2013" , "pricing": {"standard": "28.0", "sale": "28.0", "isPromoPrice": false, "quantities": [ {"unit": "", "value": "1.0"} ]} }, {"id": "AM396_M_WHI", "attributes": { "color": "White" , "size": "M" }, "avLevels": {"IN_STOCK": 1.0, "PREORDER": 0.0, "BACKORDER": 0.0, "NOT_AVAILABLE": 0.0}, "avStatus":"IN_STOCK", "inStock":true, "ATS": 3.0, "inStockDate": "Thu Dec 26 12:00:00 GMT 2013" , "pricing": {"standard": "28.0", "sale": "28.0", "isPromoPrice": false, "quantities": [ {"unit": "", "value": "1.0"} ]} }, {"id": "AM396_S_BLA", "attributes": { "color": "Black" , "size": "S" }, "avLevels": {"IN_STOCK": 1.0, "PREORDER": 0.0, "BACKORDER": 0.0, "NOT_AVAILABLE": 0.0}, "avStatus":"IN_STOCK", "inStock":true, "ATS": 6.0, "inStockDate": "Wed Dec 11 12:00:00 GMT 2013" , "pricing": {"standard": "28.0", "sale": "28.0", "isPromoPrice": false, "quantities": [ {"unit": "", "value": "1.0"} ]} }, {"id": "AM396_S_OSK", "attributes": { "color": "Open Sky" , "size": "S" }, "avLevels": {"IN_STOCK": 0.0, "PREORDER": 0.0, "BACKORDER": 0.0, "NOT_AVAILABLE": 1.0}, "avStatus":"NOT_AVAILABLE", "inStock":false, "ATS": 0.0, "inStockDate": "Thu Dec 26 12:00:00 GMT 2013" , "pricing": {"standard": "28.0", "sale": "28.0", "isPromoPrice": false, "quantities": [ {"unit": "", "value": "1.0"} ]} }, {"id": "AM396_S_WHI", "attributes": { "color": "White" , "size": "S" }, "avLevels": {"IN_STOCK": 1.0, "PREORDER": 0.0, "BACKORDER": 0.0, "NOT_AVAILABLE": 0.0}, "avStatus":"IN_STOCK", "inStock":true, "ATS": 4.0, "inStockDate": "Thu Dec 26 12:00:00 GMT 2013" , "pricing": {"standard": "28.0", "sale": "28.0", "isPromoPrice": false, "quantities": [ {"unit": "", "value": "1.0"} ]} }, {"id": "AM396_XL_BLA", "attributes": { "color": "Black" , "size": "XL" }, "avLevels": {"IN_STOCK": 1.0, "PREORDER": 0.0, "BACKORDER": 0.0, "NOT_AVAILABLE": 0.0}, "avStatus":"IN_STOCK", "inStock":true, "ATS": 2.0, "inStockDate": "Wed Dec 11 12:00:00 GMT 2013" , "pricing": {"standard": "28.0", "sale": "28.0", "isPromoPrice": false, "quantities": [ {"unit": "", "value": "1.0"} ]} }, {"id": "AM396_XL_OSK", "attributes": { "color": "Open Sky" , "size": "XL" }, "avLevels": {"IN_STOCK": 0.0, "PREORDER": 0.0, "BACKORDER": 0.0, "NOT_AVAILABLE": 1.0}, "avStatus":"NOT_AVAILABLE", "inStock":false, "ATS": 0.0, "inStockDate": "Thu Dec 26 12:00:00 GMT 2013" , "pricing": {"standard": "28.0", "sale": "28.0", "isPromoPrice": false, "quantities": [ {"unit": "", "value": "1.0"} ]} }, {"id": "AM396_XL_WHI", "attributes": { "color": "White" , "size": "XL" }, "avLevels": {"IN_STOCK": 0.0, "PREORDER": 0.0, "BACKORDER": 0.0, "NOT_AVAILABLE": 1.0}, "avStatus":"NOT_AVAILABLE", "inStock":false, "ATS": 0.0, "inStockDate": "Thu Dec 26 12:00:00 GMT 2013" , "pricing": {"standard": "28.0", "sale": "28.0", "isPromoPrice": false, "quantities": [ {"unit": "", "value": "1.0"} ]} } ] }}