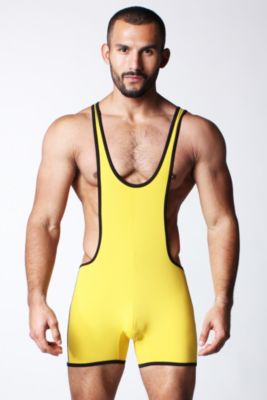 {"imageName":"http://s7d2.scene7.com/is/image/UnderGear/RX269_YMNEW?$dwpp$"}
{"imageName":"http://s7d2.scene7.com/is/image/UnderGear/RX269_YBNEW?$dwpp$"}
{"imageName":"http://s7d2.scene7.com/is/image/UnderGear/RX269_BUM_J12?$dwpp$"}
{"imageName":"http://s7d2.scene7.com/is/image/UnderGear/RX269_BBNEW?$dwpp$"}
CellBlock 13 Singlet
UG # RX269
Special Offer:
20% OFF 3 OR MORE ITEMS (Details)
Select Quantity
Print
Men's wrestling singlet bodysuit
Men's mesh underwear made from nylon/spandex
Machine wash
Imported
Cell Block underwear style 7216
A pumped-up fusion of fashion and fetish, this hot wrestling singlet from Timoteo's Cell Block Collection offers edgy, sexy looks for when you're ready to bust out, big time. Made from nylon/spandex sport mesh, the Cell Block Singlet Jock is designed to keep you cool, even when things start heating up. Contrast trim, striped signature stretch waistband and a contoured pouch all add up to create an irresistible wrestling singlet for guys who like to play hard.
{ "variations": { "variants": [ {"id": "RX269_L_BU", "attributes": { "color": "Blue" , "size": "L" }, "avLevels": {"IN_STOCK": 0.0, "PREORDER": 0.0, "BACKORDER": 0.0, "NOT_AVAILABLE": 1.0}, "avStatus":"NOT_AVAILABLE", "inStock":false, "ATS": 0.0, "inStockDate": "Wed Nov 06 12:00:00 GMT 2013" , "pricing": {"standard": "49.0", "sale": "44.99", "isPromoPrice": false, "quantities": [ {"unit": "", "value": "1.0"} ]} }, {"id": "RX269_L_YL", "attributes": { "color": "Yellow" , "size": "L" }, "avLevels": {"IN_STOCK": 0.0, "PREORDER": 0.0, "BACKORDER": 0.0, "NOT_AVAILABLE": 1.0}, "avStatus":"NOT_AVAILABLE", "inStock":false, "ATS": 0.0, "inStockDate": "Wed Nov 06 12:00:00 GMT 2013" , "pricing": {"standard": "49.0", "sale": "44.99", "isPromoPrice": false, "quantities": [ {"unit": "", "value": "1.0"} ]} }, {"id": "RX269_M_BU", "attributes": { "color": "Blue" , "size": "M" }, "avLevels": {"IN_STOCK": 1.0, "PREORDER": 0.0, "BACKORDER": 0.0, "NOT_AVAILABLE": 0.0}, "avStatus":"IN_STOCK", "inStock":true, "ATS": 2.0, "inStockDate": "Thu Jun 20 12:00:00 GMT 2013" , "pricing": {"standard": "49.0", "sale": "44.99", "isPromoPrice": false, "quantities": [ {"unit": "", "value": "1.0"} ]} }, {"id": "RX269_M_YL", "attributes": { "color": "Yellow" , "size": "M" }, "avLevels": {"IN_STOCK": 0.0, "PREORDER": 0.0, "BACKORDER": 0.0, "NOT_AVAILABLE": 1.0}, "avStatus":"NOT_AVAILABLE", "inStock":false, "ATS": 0.0, "inStockDate": "Thu Jun 20 12:00:00 GMT 2013" , "pricing": {"standard": "49.0", "sale": "44.99", "isPromoPrice": false, "quantities": [ {"unit": "", "value": "1.0"} ]} }, {"id": "RX269_S_BU", "attributes": { "color": "Blue" , "size": "S" }, "avLevels": {"IN_STOCK": 0.0, "PREORDER": 0.0, "BACKORDER": 0.0, "NOT_AVAILABLE": 1.0}, "avStatus":"NOT_AVAILABLE", "inStock":false, "ATS": 0.0, "inStockDate": "Wed Nov 06 12:00:00 GMT 2013" , "pricing": {"standard": "49.0", "sale": "44.99", "isPromoPrice": false, "quantities": [ {"unit": "", "value": "1.0"} ]} }, {"id": "RX269_S_YL", "attributes": { "color": "Yellow" , "size": "S" }, "avLevels": {"IN_STOCK": 0.0, "PREORDER": 0.0, "BACKORDER": 0.0, "NOT_AVAILABLE": 1.0}, "avStatus":"NOT_AVAILABLE", "inStock":false, "ATS": 0.0, "inStockDate": "Wed Nov 06 12:00:00 GMT 2013" , "pricing": {"standard": "49.0", "sale": "44.99", "isPromoPrice": false, "quantities": [ {"unit": "", "value": "1.0"} ]} }, {"id": "RX269_XL_BU", "attributes": { "color": "Blue" , "size": "XL" }, "avLevels": {"IN_STOCK": 0.0, "PREORDER": 0.0, "BACKORDER": 0.0, "NOT_AVAILABLE": 1.0}, "avStatus":"NOT_AVAILABLE", "inStock":false, "ATS": 0.0, "inStockDate": "Thu Jun 20 12:00:00 GMT 2013" , "pricing": {"standard": "49.0", "sale": "44.99", "isPromoPrice": false, "quantities": [ {"unit": "", "value": "1.0"} ]} }, {"id": "RX269_XL_YL", "attributes": { "color": "Yellow" , "size": "XL" }, "avLevels": {"IN_STOCK": 0.0, "PREORDER": 0.0, "BACKORDER": 0.0, "NOT_AVAILABLE": 1.0}, "avStatus":"NOT_AVAILABLE", "inStock":false, "ATS": 0.0, "inStockDate": "Wed Nov 06 12:00:00 GMT 2013" , "pricing": {"standard": "49.0", "sale": "44.99", "isPromoPrice": false, "quantities": [ {"unit": "", "value": "1.0"} ]} } ] }}