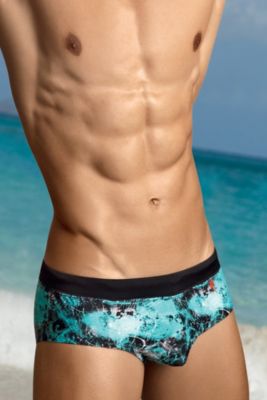 {"imageName":"http://s7d2.scene7.com/is/image/UnderGear/MA839_BU_C13?$dwpp$"}
{"imageName":"http://s7d2.scene7.com/is/image/UnderGear/MA839_M?$dwpp$"}
{"imageName":"http://s7d2.scene7.com/is/image/UnderGear/MA839_B?$dwpp$"}
{"imageName":"http://s7d2.scene7.com/is/image/UnderGear/MA839_GR_C13?$dwpp$"}
{"imageName":"http://s7d2.scene7.com/is/image/UnderGear/MA839_GRB_C13?$dwpp$"}
Clever® Nebulae Swim Brief
UG # MA839
Special Offer:
20% OFF 3 OR MORE ITEMS (Details)
Select Quantity
Print
Men's swim briefs
Men's swimsuit made from nylon/spandex
Machine wash
Imported
Clever style 0541
Make a splash at the beach or pool with colorful Nebulae swim briefs from Clever. Crafted from soft stretch nylon, these modern men's swim briefs feature a vibrant pattern of astronomical-inspired Nebulae. Cut with zigzag stitching for a perfect body-skimming fit, these men's swim briefs from Clever also boast an internal elastic cord for added support. Dive in!
{ "variations": { "variants": [ {"id": "MA839_L_RD", "attributes": { "color": "Red" , "size": "L" }, "avLevels": {"IN_STOCK": 1.0, "PREORDER": 0.0, "BACKORDER": 0.0, "NOT_AVAILABLE": 0.0}, "avStatus":"IN_STOCK", "inStock":true, "ATS": 3.0, "inStockDate": "Tue Dec 31 12:00:00 GMT 2030" , "pricing": {"standard": "52.0", "sale": "42.99", "isPromoPrice": false, "quantities": [ {"unit": "", "value": "1.0"} ]} }, {"id": "MA839_M_RD", "attributes": { "color": "Red" , "size": "M" }, "avLevels": {"IN_STOCK": 1.0, "PREORDER": 0.0, "BACKORDER": 0.0, "NOT_AVAILABLE": 0.0}, "avStatus":"IN_STOCK", "inStock":true, "ATS": 7.0, "inStockDate": "Tue Dec 31 12:00:00 GMT 2030" , "pricing": {"standard": "52.0", "sale": "42.99", "isPromoPrice": false, "quantities": [ {"unit": "", "value": "1.0"} ]} }, {"id": "MA839_S_RD", "attributes": { "color": "Red" , "size": "S" }, "avLevels": {"IN_STOCK": 1.0, "PREORDER": 0.0, "BACKORDER": 0.0, "NOT_AVAILABLE": 0.0}, "avStatus":"IN_STOCK", "inStock":true, "ATS": 5.0, "inStockDate": "Tue Dec 31 12:00:00 GMT 2030" , "pricing": {"standard": "52.0", "sale": "42.99", "isPromoPrice": false, "quantities": [ {"unit": "", "value": "1.0"} ]} }, {"id": "MA839_XL_RD", "attributes": { "color": "Red" , "size": "XL" }, "avLevels": {"IN_STOCK": 1.0, "PREORDER": 0.0, "BACKORDER": 0.0, "NOT_AVAILABLE": 0.0}, "avStatus":"IN_STOCK", "inStock":true, "ATS": 6.0, "inStockDate": "Tue Dec 31 12:00:00 GMT 2030" , "pricing": {"standard": "52.0", "sale": "42.99", "isPromoPrice": false, "quantities": [ {"unit": "", "value": "1.0"} ]} }, {"id": "MA839_XL_GE", "attributes": { "color": "Green" , "size": "XL" }, "avLevels": {"IN_STOCK": 1.0, "PREORDER": 0.0, "BACKORDER": 0.0, "NOT_AVAILABLE": 0.0}, "avStatus":"IN_STOCK", "inStock":true, "ATS": 2.0, "inStockDate": "Sat Apr 12 12:00:00 GMT 2014" , "pricing": {"standard": "52.0", "sale": "42.99", "isPromoPrice": false, "quantities": [ {"unit": "", "value": "1.0"} ]} }, {"id": "MA839_L_BU", "attributes": { "color": "Blue" , "size": "L" }, "avLevels": {"IN_STOCK": 0.0, "PREORDER": 0.0, "BACKORDER": 0.0, "NOT_AVAILABLE": 1.0}, "avStatus":"NOT_AVAILABLE", "inStock":false, "ATS": 0.0, "inStockDate": "Sat Apr 12 12:00:00 GMT 2014" , "pricing": {"standard": "52.0", "sale": "42.99", "isPromoPrice": false, "quantities": [ {"unit": "", "value": "1.0"} ]} }, {"id": "MA839_S_GE", "attributes": { "color": "Green" , "size": "S" }, "avLevels": {"IN_STOCK": 1.0, "PREORDER": 0.0, "BACKORDER": 0.0, "NOT_AVAILABLE": 0.0}, "avStatus":"IN_STOCK", "inStock":true, "ATS": 3.0, "inStockDate": "Sat Apr 12 12:00:00 GMT 2014" , "pricing": {"standard": "52.0", "sale": "42.99", "isPromoPrice": false, "quantities": [ {"unit": "", "value": "1.0"} ]} }, {"id": "MA839_S_BU", "attributes": { "color": "Blue" , "size": "S" }, "avLevels": {"IN_STOCK": 0.0, "PREORDER": 0.0, "BACKORDER": 0.0, "NOT_AVAILABLE": 1.0}, "avStatus":"NOT_AVAILABLE", "inStock":false, "ATS": 0.0, "inStockDate": "Thu Apr 10 12:00:00 GMT 2014" , "pricing": {"standard": "52.0", "sale": "42.99", "isPromoPrice": false, "quantities": [ {"unit": "", "value": "1.0"} ]} }, {"id": "MA839_L_GE", "attributes": { "color": "Green" , "size": "L" }, "avLevels": {"IN_STOCK": 1.0, "PREORDER": 0.0, "BACKORDER": 0.0, "NOT_AVAILABLE": 0.0}, "avStatus":"IN_STOCK", "inStock":true, "ATS": 1.0, "inStockDate": "Sat Apr 12 12:00:00 GMT 2014" , "pricing": {"standard": "52.0", "sale": "42.99", "isPromoPrice": false, "quantities": [ {"unit": "", "value": "1.0"} ]} }, {"id": "MA839_M_BU", "attributes": { "color": "Blue" , "size": "M" }, "avLevels": {"IN_STOCK": 0.0, "PREORDER": 0.0, "BACKORDER": 0.0, "NOT_AVAILABLE": 1.0}, "avStatus":"NOT_AVAILABLE", "inStock":false, "ATS": 0.0, "inStockDate": "Thu Apr 10 12:00:00 GMT 2014" , "pricing": {"standard": "52.0", "sale": "42.99", "isPromoPrice": false, "quantities": [ {"unit": "", "value": "1.0"} ]} }, {"id": "MA839_XL_BU", "attributes": { "color": "Blue" , "size": "XL" }, "avLevels": {"IN_STOCK": 1.0, "PREORDER": 0.0, "BACKORDER": 0.0, "NOT_AVAILABLE": 0.0}, "avStatus":"IN_STOCK", "inStock":true, "ATS": 2.0, "inStockDate": "Sat Apr 12 12:00:00 GMT 2014" , "pricing": {"standard": "52.0", "sale": "42.99", "isPromoPrice": false, "quantities": [ {"unit": "", "value": "1.0"} ]} }, {"id": "MA839_M_GE", "attributes": { "color": "Green" , "size": "M" }, "avLevels": {"IN_STOCK": 0.0, "PREORDER": 0.0, "BACKORDER": 0.0, "NOT_AVAILABLE": 1.0}, "avStatus":"NOT_AVAILABLE", "inStock":false, "ATS": 0.0, "inStockDate": "Sat Apr 12 12:00:00 GMT 2014" , "pricing": {"standard": "52.0", "sale": "42.99", "isPromoPrice": false, "quantities": [ {"unit": "", "value": "1.0"} ]} } ] }}