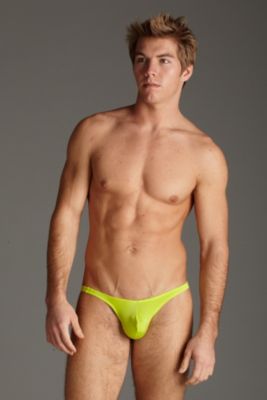 {"imageName":"http://s7d2.scene7.com/is/image/UnderGear/AL579_LM_B12?$dwpp$"}
{"imageName":"http://s7d2.scene7.com/is/image/UnderGear/AL579_LB_B12?$dwpp$"}
{"imageName":"http://s7d2.scene7.com/is/image/UnderGear/AL579_O1_B12?$dwpp$"}
{"imageName":"http://s7d2.scene7.com/is/image/UnderGear/AL579_R2_B12?$dwpp$"}
{"imageName":"http://s7d2.scene7.com/is/image/UnderGear/AL579_T3_B12?$dwpp$"}
Cover Male Pouch Enhancing Brazilian Bikini
UG # AL579
Special Offer:
20% OFF 3 OR MORE ITEMS (Details)
Select Quantity
Print
Men's bikini underwear
Men's bikini made of polyester/spandex
Machine wash
Imported
Cover Male style 201
Go super skimpy and love every second of it in these sizzling-hot men's bikinis from Cover Male. Available in four vivid colors of lime green, orange, red and turquoise, the Cover Male Brazilian Bikinis for men add new life to your top drawer. Aside from their slim, sexy cut, these men's bikinis also feature a special pouch that enhances your front side for maximum impact.
{ "variations": { "variants": [ {"id": "AL579_L_RD", "attributes": { "color": "Red" , "size": "L" }, "avLevels": {"IN_STOCK": 1.0, "PREORDER": 0.0, "BACKORDER": 0.0, "NOT_AVAILABLE": 0.0}, "avStatus":"IN_STOCK", "inStock":true, "ATS": 1.0, "inStockDate": "Tue Dec 31 12:00:00 GMT 2030" , "pricing": {"standard": "17.0", "sale": "17.0", "isPromoPrice": false, "quantities": [ {"unit": "", "value": "1.0"} ]} }, {"id": "AL579_XL_TR", "attributes": { "color": "Turquoise" , "size": "XL" }, "avLevels": {"IN_STOCK": 0.0, "PREORDER": 0.0, "BACKORDER": 0.0, "NOT_AVAILABLE": 1.0}, "avStatus":"NOT_AVAILABLE", "inStock":false, "ATS": 0.0, "inStockDate": "Sat Apr 13 12:00:00 GMT 2013" , "pricing": {"standard": "17.0", "sale": "17.0", "isPromoPrice": false, "quantities": [ {"unit": "", "value": "1.0"} ]} }, {"id": "AL579_L_BA", "attributes": { "color": "Black" , "size": "L" }, "avLevels": {"IN_STOCK": 0.0, "PREORDER": 0.0, "BACKORDER": 0.0, "NOT_AVAILABLE": 1.0}, "avStatus":"NOT_AVAILABLE", "inStock":false, "ATS": 0.0, "inStockDate": "Tue Dec 31 12:00:00 GMT 2030" , "pricing": {"standard": "17.0", "sale": "17.0", "isPromoPrice": false, "quantities": [ {"unit": "", "value": "1.0"} ]} }, {"id": "AL579_S_WI", "attributes": { "color": "White" , "size": "S" }, "avLevels": {"IN_STOCK": 0.0, "PREORDER": 0.0, "BACKORDER": 0.0, "NOT_AVAILABLE": 1.0}, "avStatus":"NOT_AVAILABLE", "inStock":false, "ATS": 0.0, "inStockDate": "Sat Apr 13 12:00:00 GMT 2013" , "pricing": {"standard": "17.0", "sale": "17.0", "isPromoPrice": false, "quantities": [ {"unit": "", "value": "1.0"} ]} }, {"id": "AL579_M_BA", "attributes": { "color": "Black" , "size": "M" }, "avLevels": {"IN_STOCK": 0.0, "PREORDER": 0.0, "BACKORDER": 0.0, "NOT_AVAILABLE": 1.0}, "avStatus":"NOT_AVAILABLE", "inStock":false, "ATS": 0.0, "inStockDate": "Tue Dec 31 12:00:00 GMT 2030" , "pricing": {"standard": "17.0", "sale": "17.0", "isPromoPrice": false, "quantities": [ {"unit": "", "value": "1.0"} ]} }, {"id": "AL579_M_WI", "attributes": { "color": "White" , "size": "M" }, "avLevels": {"IN_STOCK": 1.0, "PREORDER": 0.0, "BACKORDER": 0.0, "NOT_AVAILABLE": 0.0}, "avStatus":"IN_STOCK", "inStock":true, "ATS": 6.0, "inStockDate": "Tue Dec 31 12:00:00 GMT 2030" , "pricing": {"standard": "17.0", "sale": "17.0", "isPromoPrice": false, "quantities": [ {"unit": "", "value": "1.0"} ]} }, {"id": "AL579_XL_BA", "attributes": { "color": "Black" , "size": "XL" }, "avLevels": {"IN_STOCK": 1.0, "PREORDER": 0.0, "BACKORDER": 0.0, "NOT_AVAILABLE": 0.0}, "avStatus":"IN_STOCK", "inStock":true, "ATS": 1.0, "inStockDate": "Tue Dec 31 12:00:00 GMT 2030" , "pricing": {"standard": "17.0", "sale": "17.0", "isPromoPrice": false, "quantities": [ {"unit": "", "value": "1.0"} ]} }, {"id": "AL579_S_BA", "attributes": { "color": "Black" , "size": "S" }, "avLevels": {"IN_STOCK": 0.0, "PREORDER": 0.0, "BACKORDER": 0.0, "NOT_AVAILABLE": 1.0}, "avStatus":"NOT_AVAILABLE", "inStock":false, "ATS": 0.0, "inStockDate": "Tue Dec 31 12:00:00 GMT 2030" , "pricing": {"standard": "17.0", "sale": "17.0", "isPromoPrice": false, "quantities": [ {"unit": "", "value": "1.0"} ]} }, {"id": "AL579_L_WI", "attributes": { "color": "White" , "size": "L" }, "avLevels": {"IN_STOCK": 1.0, "PREORDER": 0.0, "BACKORDER": 0.0, "NOT_AVAILABLE": 0.0}, "avStatus":"IN_STOCK", "inStock":true, "ATS": 11.0, "inStockDate": "Tue Dec 31 12:00:00 GMT 2030" , "pricing": {"standard": "17.0", "sale": "17.0", "isPromoPrice": false, "quantities": [ {"unit": "", "value": "1.0"} ]} } ] }}