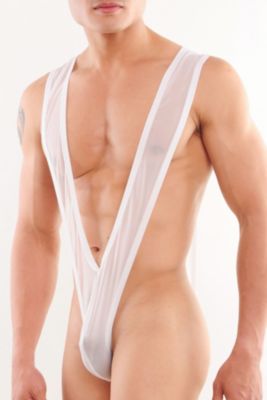 GBGB® Dirk Thong Wrestler
UG # RX264
Special Offer:
20% OFF 3 OR MORE ITEMS (Details)
Select Quantity
Print
Men's wrestler singlet
Men's erotic underwear made from polyester/spandex
Machine wash
Imported
GBGB underwear style GB2U0003
No holds barred and everything bared in this super steamy wrestling singlet from the daring men's underwear crew at GBGB. With a thong back and sheer design that wraps around your shoulders and underneath your package, the GBGB Dirk Thong Wrestler is proof that less is definitely more when it comes to erotic men's underwear. Super lightweight and slinky, this GBGB singlet is made for times when you want to lay it all on the line.
{ "variations": { "variants": [ {"id": "RX264_L_BA", "attributes": { "color": "Black" , "size": "L" }, "avLevels": {"IN_STOCK": 1.0, "PREORDER": 0.0, "BACKORDER": 0.0, "NOT_AVAILABLE": 0.0}, "avStatus":"IN_STOCK", "inStock":true, "ATS": 1.0, "inStockDate": "Sat May 24 12:00:00 GMT 2014" , "pricing": {"standard": "32.0", "sale": "32.0", "isPromoPrice": false, "quantities": [ {"unit": "", "value": "1.0"} ]} }, {"id": "RX264_L_WI", "attributes": { "color": "White" , "size": "L" }, "avLevels": {"IN_STOCK": 1.0, "PREORDER": 0.0, "BACKORDER": 0.0, "NOT_AVAILABLE": 0.0}, "avStatus":"IN_STOCK", "inStock":true, "ATS": 3.0, "inStockDate": "Sat May 24 12:00:00 GMT 2014" , "pricing": {"standard": "32.0", "sale": "32.0", "isPromoPrice": false, "quantities": [ {"unit": "", "value": "1.0"} ]} }, {"id": "RX264_M_BA", "attributes": { "color": "Black" , "size": "M" }, "avLevels": {"IN_STOCK": 0.0, "PREORDER": 0.0, "BACKORDER": 0.0, "NOT_AVAILABLE": 1.0}, "avStatus":"NOT_AVAILABLE", "inStock":false, "ATS": 0.0, "inStockDate": "Sat May 24 12:00:00 GMT 2014" , "pricing": {"standard": "32.0", "sale": "32.0", "isPromoPrice": false, "quantities": [ {"unit": "", "value": "1.0"} ]} }, {"id": "RX264_M_WI", "attributes": { "color": "White" , "size": "M" }, "avLevels": {"IN_STOCK": 1.0, "PREORDER": 0.0, "BACKORDER": 0.0, "NOT_AVAILABLE": 0.0}, "avStatus":"IN_STOCK", "inStock":true, "ATS": 3.0, "inStockDate": "Sat May 24 12:00:00 GMT 2014" , "pricing": {"standard": "32.0", "sale": "32.0", "isPromoPrice": false, "quantities": [ {"unit": "", "value": "1.0"} ]} }, {"id": "RX264_S_BA", "attributes": { "color": "Black" , "size": "S" }, "avLevels": {"IN_STOCK": 1.0, "PREORDER": 0.0, "BACKORDER": 0.0, "NOT_AVAILABLE": 0.0}, "avStatus":"IN_STOCK", "inStock":true, "ATS": 9.0, "inStockDate": "Sat May 24 12:00:00 GMT 2014" , "pricing": {"standard": "32.0", "sale": "32.0", "isPromoPrice": false, "quantities": [ {"unit": "", "value": "1.0"} ]} }, {"id": "RX264_S_WI", "attributes": { "color": "White" , "size": "S" }, "avLevels": {"IN_STOCK": 1.0, "PREORDER": 0.0, "BACKORDER": 0.0, "NOT_AVAILABLE": 0.0}, "avStatus":"IN_STOCK", "inStock":true, "ATS": 7.0, "inStockDate": "Sat May 24 12:00:00 GMT 2014" , "pricing": {"standard": "32.0", "sale": "32.0", "isPromoPrice": false, "quantities": [ {"unit": "", "value": "1.0"} ]} }, {"id": "RX264_XL_BA", "attributes": { "color": "Black" , "size": "XL" }, "avLevels": {"IN_STOCK": 1.0, "PREORDER": 0.0, "BACKORDER": 0.0, "NOT_AVAILABLE": 0.0}, "avStatus":"IN_STOCK", "inStock":true, "ATS": 8.0, "inStockDate": "Sat May 24 12:00:00 GMT 2014" , "pricing": {"standard": "32.0", "sale": "32.0", "isPromoPrice": false, "quantities": [ {"unit": "", "value": "1.0"} ]} }, {"id": "RX264_XL_WI", "attributes": { "color": "White" , "size": "XL" }, "avLevels": {"IN_STOCK": 1.0, "PREORDER": 0.0, "BACKORDER": 0.0, "NOT_AVAILABLE": 0.0}, "avStatus":"IN_STOCK", "inStock":true, "ATS": 2.0, "inStockDate": "Sat May 24 12:00:00 GMT 2014" , "pricing": {"standard": "32.0", "sale": "32.0", "isPromoPrice": false, "quantities": [ {"unit": "", "value": "1.0"} ]} } ] }}