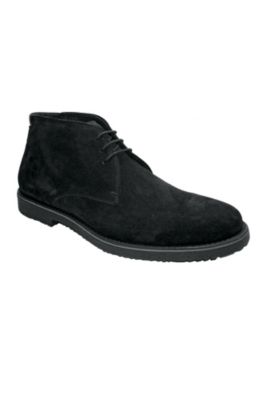 GBX® Globo Oxford Boot
UG # QC309
Special Offer:
20% OFF 3 OR MORE ITEMS (Details)
Select Quantity
Print
Men's boots
Suede boots for men
Rubberized sole
Imported
GBX styles 091231 & 091236
Strong and sexy, these classic desert suede boots ought to be a fixture in every man's closet. The GBX Globo Oxford Suede Boots for men offer an iconic silhouette evoking a casual and rugged lifestyle, perfect for eye-catching, off-duty weekend wear.The GBX men's boots are constructed with rich, smooth suede, available in black or brown. Rubberized sole stands up to the harshest conditions and keeps your feet comfortable.
{ "variations": { "variants": [ {"id": "QC309_105_BES", "attributes": { "color": "Beige Suede" , "size": "10.5" }, "avLevels": {"IN_STOCK": 1.0, "PREORDER": 0.0, "BACKORDER": 0.0, "NOT_AVAILABLE": 0.0}, "avStatus":"IN_STOCK", "inStock":true, "ATS": 10001.0, "inStockDate": "Sat May 24 12:00:00 GMT 2014" , "pricing": {"standard": "79.0", "sale": "79.0", "isPromoPrice": false, "quantities": [ {"unit": "", "value": "1.0"} ]} }, {"id": "QC309_105_BSU", "attributes": { "color": "Black Suede" , "size": "10.5" }, "avLevels": {"IN_STOCK": 0.0, "PREORDER": 0.0, "BACKORDER": 1.0, "NOT_AVAILABLE": 0.0}, "avStatus":"BACKORDER", "inStock":false, "ATS": 10000.0, "inStockDate": "Sat May 24 12:00:00 GMT 2014" , "pricing": {"standard": "79.0", "sale": "79.0", "isPromoPrice": false, "quantities": [ {"unit": "", "value": "1.0"} ]} }, {"id": "QC309_10_BES", "attributes": { "color": "Beige Suede" , "size": "10" }, "avLevels": {"IN_STOCK": 1.0, "PREORDER": 0.0, "BACKORDER": 0.0, "NOT_AVAILABLE": 0.0}, "avStatus":"IN_STOCK", "inStock":true, "ATS": 10003.0, "inStockDate": "Sat May 24 12:00:00 GMT 2014" , "pricing": {"standard": "79.0", "sale": "79.0", "isPromoPrice": false, "quantities": [ {"unit": "", "value": "1.0"} ]} }, {"id": "QC309_10_BSU", "attributes": { "color": "Black Suede" , "size": "10" }, "avLevels": {"IN_STOCK": 1.0, "PREORDER": 0.0, "BACKORDER": 0.0, "NOT_AVAILABLE": 0.0}, "avStatus":"IN_STOCK", "inStock":true, "ATS": 10001.0, "inStockDate": "Sat May 24 12:00:00 GMT 2014" , "pricing": {"standard": "79.0", "sale": "79.0", "isPromoPrice": false, "quantities": [ {"unit": "", "value": "1.0"} ]} }, {"id": "QC309_11_BES", "attributes": { "color": "Beige Suede" , "size": "11" }, "avLevels": {"IN_STOCK": 1.0, "PREORDER": 0.0, "BACKORDER": 0.0, "NOT_AVAILABLE": 0.0}, "avStatus":"IN_STOCK", "inStock":true, "ATS": 10001.0, "inStockDate": "Sat May 24 12:00:00 GMT 2014" , "pricing": {"standard": "79.0", "sale": "79.0", "isPromoPrice": false, "quantities": [ {"unit": "", "value": "1.0"} ]} }, {"id": "QC309_11_BSU", "attributes": { "color": "Black Suede" , "size": "11" }, "avLevels": {"IN_STOCK": 0.0, "PREORDER": 0.0, "BACKORDER": 1.0, "NOT_AVAILABLE": 0.0}, "avStatus":"BACKORDER", "inStock":false, "ATS": 10000.0, "inStockDate": "Sat May 24 12:00:00 GMT 2014" , "pricing": {"standard": "79.0", "sale": "79.0", "isPromoPrice": false, "quantities": [ {"unit": "", "value": "1.0"} ]} }, {"id": "QC309_12_BES", "attributes": { "color": "Beige Suede" , "size": "12" }, "avLevels": {"IN_STOCK": 1.0, "PREORDER": 0.0, "BACKORDER": 0.0, "NOT_AVAILABLE": 0.0}, "avStatus":"IN_STOCK", "inStock":true, "ATS": 10001.0, "inStockDate": "Sat May 24 12:00:00 GMT 2014" , "pricing": {"standard": "79.0", "sale": "79.0", "isPromoPrice": false, "quantities": [ {"unit": "", "value": "1.0"} ]} }, {"id": "QC309_12_BSU", "attributes": { "color": "Black Suede" , "size": "12" }, "avLevels": {"IN_STOCK": 1.0, "PREORDER": 0.0, "BACKORDER": 0.0, "NOT_AVAILABLE": 0.0}, "avStatus":"IN_STOCK", "inStock":true, "ATS": 10001.0, "inStockDate": "Sat May 24 12:00:00 GMT 2014" , "pricing": {"standard": "79.0", "sale": "79.0", "isPromoPrice": false, "quantities": [ {"unit": "", "value": "1.0"} ]} }, {"id": "QC309_13_BES", "attributes": { "color": "Beige Suede" , "size": "13" }, "avLevels": {"IN_STOCK": 0.0, "PREORDER": 0.0, "BACKORDER": 1.0, "NOT_AVAILABLE": 0.0}, "avStatus":"BACKORDER", "inStock":false, "ATS": 10000.0, "inStockDate": "Sat May 24 12:00:00 GMT 2014" , "pricing": {"standard": "79.0", "sale": "79.0", "isPromoPrice": false, "quantities": [ {"unit": "", "value": "1.0"} ]} }, {"id": "QC309_13_BSU", "attributes": { "color": "Black Suede" , "size": "13" }, "avLevels": {"IN_STOCK": 0.0, "PREORDER": 0.0, "BACKORDER": 0.0, "NOT_AVAILABLE": 1.0}, "avStatus":"NOT_AVAILABLE", "inStock":false, "ATS": 0.0, "inStockDate": "Wed Feb 26 12:00:00 GMT 2014" , "pricing": {"standard": "79.0", "sale": "79.0", "isPromoPrice": false, "quantities": [ {"unit": "", "value": "1.0"} ]} }, {"id": "QC309_85_BES", "attributes": { "color": "Beige Suede" , "size": "8.5" }, "avLevels": {"IN_STOCK": 0.0, "PREORDER": 0.0, "BACKORDER": 1.0, "NOT_AVAILABLE": 0.0}, "avStatus":"BACKORDER", "inStock":false, "ATS": 10000.0, "inStockDate": "Sat May 24 12:00:00 GMT 2014" , "pricing": {"standard": "79.0", "sale": "79.0", "isPromoPrice": false, "quantities": [ {"unit": "", "value": "1.0"} ]} }, {"id": "QC309_85_BSU", "attributes": { "color": "Black Suede" , "size": "8.5" }, "avLevels": {"IN_STOCK": 0.0, "PREORDER": 0.0, "BACKORDER": 1.0, "NOT_AVAILABLE": 0.0}, "avStatus":"BACKORDER", "inStock":false, "ATS": 10000.0, "inStockDate": "Sat May 24 12:00:00 GMT 2014" , "pricing": {"standard": "79.0", "sale": "79.0", "isPromoPrice": false, "quantities": [ {"unit": "", "value": "1.0"} ]} }, {"id": "QC309_8_BES", "attributes": { "color": "Beige Suede" , "size": "8" }, "avLevels": {"IN_STOCK": 1.0, "PREORDER": 0.0, "BACKORDER": 0.0, "NOT_AVAILABLE": 0.0}, "avStatus":"IN_STOCK", "inStock":true, "ATS": 10002.0, "inStockDate": "Sat May 24 12:00:00 GMT 2014" , "pricing": {"standard": "79.0", "sale": "79.0", "isPromoPrice": false, "quantities": [ {"unit": "", "value": "1.0"} ]} }, {"id": "QC309_8_BSU", "attributes": { "color": "Black Suede" , "size": "8" }, "avLevels": {"IN_STOCK": 1.0, "PREORDER": 0.0, "BACKORDER": 0.0, "NOT_AVAILABLE": 0.0}, "avStatus":"IN_STOCK", "inStock":true, "ATS": 10002.0, "inStockDate": "Sat May 24 12:00:00 GMT 2014" , "pricing": {"standard": "79.0", "sale": "79.0", "isPromoPrice": false, "quantities": [ {"unit": "", "value": "1.0"} ]} }, {"id": "QC309_95_BES", "attributes": { "color": "Beige Suede" , "size": "9.5" }, "avLevels": {"IN_STOCK": 0.0, "PREORDER": 0.0, "BACKORDER": 1.0, "NOT_AVAILABLE": 0.0}, "avStatus":"BACKORDER", "inStock":false, "ATS": 10000.0, "inStockDate": "Sat May 24 12:00:00 GMT 2014" , "pricing": {"standard": "79.0", "sale": "79.0", "isPromoPrice": false, "quantities": [ {"unit": "", "value": "1.0"} ]} }, {"id": "QC309_95_BSU", "attributes": { "color": "Black Suede" , "size": "9.5" }, "avLevels": {"IN_STOCK": 0.0, "PREORDER": 0.0, "BACKORDER": 1.0, "NOT_AVAILABLE": 0.0}, "avStatus":"BACKORDER", "inStock":false, "ATS": 10000.0, "inStockDate": "Sat May 24 12:00:00 GMT 2014" , "pricing": {"standard": "79.0", "sale": "79.0", "isPromoPrice": false, "quantities": [ {"unit": "", "value": "1.0"} ]} }, {"id": "QC309_9_BES", "attributes": { "color": "Beige Suede" , "size": "9" }, "avLevels": {"IN_STOCK": 1.0, "PREORDER": 0.0, "BACKORDER": 0.0, "NOT_AVAILABLE": 0.0}, "avStatus":"IN_STOCK", "inStock":true, "ATS": 10002.0, "inStockDate": "Sat May 24 12:00:00 GMT 2014" , "pricing": {"standard": "79.0", "sale": "79.0", "isPromoPrice": false, "quantities": [ {"unit": "", "value": "1.0"} ]} }, {"id": "QC309_9_BSU", "attributes": { "color": "Black Suede" , "size": "9" }, "avLevels": {"IN_STOCK": 0.0, "PREORDER": 0.0, "BACKORDER": 1.0, "NOT_AVAILABLE": 0.0}, "avStatus":"BACKORDER", "inStock":false, "ATS": 10000.0, "inStockDate": "Sat May 24 12:00:00 GMT 2014" , "pricing": {"standard": "79.0", "sale": "79.0", "isPromoPrice": false, "quantities": [ {"unit": "", "value": "1.0"} ]} } ] }}