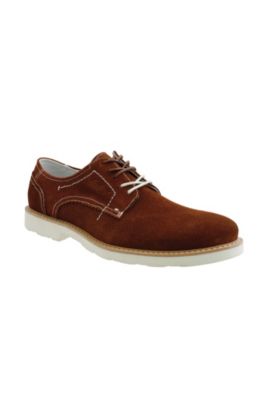 {"imageName":"http://s7d2.scene7.com/is/image/UnderGear/QC315_RB_J13?$dwpp$"}
{"imageName":"http://s7d2.scene7.com/is/image/UnderGear/QC315_RDT?$dwpp$"}
{"imageName":"http://s7d2.scene7.com/is/image/UnderGear/QC315_RDB?$dwpp$"}
{"imageName":"http://s7d2.scene7.com/is/image/UnderGear/QC315_BLU_J13?$dwpp$"}
{"imageName":"http://s7d2.scene7.com/is/image/UnderGear/QC315_RT?$dwpp$"}
{"imageName":"http://s7d2.scene7.com/is/image/UnderGear/QC315_RB?$dwpp$"}
{"imageName":"http://s7d2.scene7.com/is/image/UnderGear/QC315_SND_J13?$dwpp$"}
GBX® Graeden Oxford
UG # QC315
Special Offer:
20% OFF 3 OR MORE ITEMS (Details)
Select Quantity
Print
Men's oxford shoes
Micro-perforated suede shoes for men
Five-grommet lace-up front
Imported
GBX styles 134089; 134084; 134083-2
An uncluttered classic in micro-perforated suede, these colorful GBX oxford shoes for men offer designer style without the designer price tag. Available in three great color options, including bright Royal Blue, Red/Brown and Sand/Tan, the GBX Graeden Oxfords feature seamed detailing, contrast stitching, and five-grommet lace-up front with two different laces included. The GBX oxford shoes also feature a suede upper, cushioned footbed and rugged rubber traction sole.
{ "variations": { "variants": [ {"id": "QC315_105_RBL", "attributes": { "color": "Royal Blue" , "size": "10.5" }, "avLevels": {"IN_STOCK": 0.0, "PREORDER": 0.0, "BACKORDER": 0.0, "NOT_AVAILABLE": 1.0}, "avStatus":"NOT_AVAILABLE", "inStock":false, "ATS": 0.0, "inStockDate": "Wed Nov 06 12:00:00 GMT 2013" , "pricing": {"standard": "99.0", "sale": "89.99", "isPromoPrice": false, "quantities": [ {"unit": "", "value": "1.0"} ]} }, {"id": "QC315_105_RBR", "attributes": { "color": "Red/Brown" , "size": "10.5" }, "avLevels": {"IN_STOCK": 1.0, "PREORDER": 0.0, "BACKORDER": 0.0, "NOT_AVAILABLE": 0.0}, "avStatus":"IN_STOCK", "inStock":true, "ATS": 2.0, "inStockDate": "Wed Nov 06 12:00:00 GMT 2013" , "pricing": {"standard": "99.0", "sale": "89.99", "isPromoPrice": false, "quantities": [ {"unit": "", "value": "1.0"} ]} }, {"id": "QC315_105_SAN", "attributes": { "color": "Sand" , "size": "10.5" }, "avLevels": {"IN_STOCK": 0.0, "PREORDER": 0.0, "BACKORDER": 0.0, "NOT_AVAILABLE": 1.0}, "avStatus":"NOT_AVAILABLE", "inStock":false, "ATS": 0.0, "inStockDate": "Wed Nov 06 12:00:00 GMT 2013" , "pricing": {"standard": "99.0", "sale": "89.99", "isPromoPrice": false, "quantities": [ {"unit": "", "value": "1.0"} ]} }, {"id": "QC315_10_RBL", "attributes": { "color": "Royal Blue" , "size": "10" }, "avLevels": {"IN_STOCK": 1.0, "PREORDER": 0.0, "BACKORDER": 0.0, "NOT_AVAILABLE": 0.0}, "avStatus":"IN_STOCK", "inStock":true, "ATS": 2.0, "inStockDate": "Wed Nov 06 12:00:00 GMT 2013" , "pricing": {"standard": "99.0", "sale": "89.99", "isPromoPrice": false, "quantities": [ {"unit": "", "value": "1.0"} ]} }, {"id": "QC315_10_RBR", "attributes": { "color": "Red/Brown" , "size": "10" }, "avLevels": {"IN_STOCK": 1.0, "PREORDER": 0.0, "BACKORDER": 0.0, "NOT_AVAILABLE": 0.0}, "avStatus":"IN_STOCK", "inStock":true, "ATS": 7.0, "inStockDate": "Wed Nov 06 12:00:00 GMT 2013" , "pricing": {"standard": "99.0", "sale": "89.99", "isPromoPrice": false, "quantities": [ {"unit": "", "value": "1.0"} ]} }, {"id": "QC315_10_SAN", "attributes": { "color": "Sand" , "size": "10" }, "avLevels": {"IN_STOCK": 0.0, "PREORDER": 0.0, "BACKORDER": 0.0, "NOT_AVAILABLE": 1.0}, "avStatus":"NOT_AVAILABLE", "inStock":false, "ATS": 0.0, "inStockDate": "Wed Nov 06 12:00:00 GMT 2013" , "pricing": {"standard": "99.0", "sale": "89.99", "isPromoPrice": false, "quantities": [ {"unit": "", "value": "1.0"} ]} }, {"id": "QC315_11_RBL", "attributes": { "color": "Royal Blue" , "size": "11" }, "avLevels": {"IN_STOCK": 1.0, "PREORDER": 0.0, "BACKORDER": 0.0, "NOT_AVAILABLE": 0.0}, "avStatus":"IN_STOCK", "inStock":true, "ATS": 2.0, "inStockDate": "Wed Nov 06 12:00:00 GMT 2013" , "pricing": {"standard": "99.0", "sale": "89.99", "isPromoPrice": false, "quantities": [ {"unit": "", "value": "1.0"} ]} }, {"id": "QC315_11_RBR", "attributes": { "color": "Red/Brown" , "size": "11" }, "avLevels": {"IN_STOCK": 1.0, "PREORDER": 0.0, "BACKORDER": 0.0, "NOT_AVAILABLE": 0.0}, "avStatus":"IN_STOCK", "inStock":true, "ATS": 6.0, "inStockDate": "Wed Nov 06 12:00:00 GMT 2013" , "pricing": {"standard": "99.0", "sale": "89.99", "isPromoPrice": false, "quantities": [ {"unit": "", "value": "1.0"} ]} }, {"id": "QC315_11_SAN", "attributes": { "color": "Sand" , "size": "11" }, "avLevels": {"IN_STOCK": 1.0, "PREORDER": 0.0, "BACKORDER": 0.0, "NOT_AVAILABLE": 0.0}, "avStatus":"IN_STOCK", "inStock":true, "ATS": 3.0, "inStockDate": "Wed Nov 06 12:00:00 GMT 2013" , "pricing": {"standard": "99.0", "sale": "89.99", "isPromoPrice": false, "quantities": [ {"unit": "", "value": "1.0"} ]} }, {"id": "QC315_12_RBL", "attributes": { "color": "Royal Blue" , "size": "12" }, "avLevels": {"IN_STOCK": 1.0, "PREORDER": 0.0, "BACKORDER": 0.0, "NOT_AVAILABLE": 0.0}, "avStatus":"IN_STOCK", "inStock":true, "ATS": 1.0, "inStockDate": "Wed Nov 06 12:00:00 GMT 2013" , "pricing": {"standard": "99.0", "sale": "89.99", "isPromoPrice": false, "quantities": [ {"unit": "", "value": "1.0"} ]} }, {"id": "QC315_12_RBR", "attributes": { "color": "Red/Brown" , "size": "12" }, "avLevels": {"IN_STOCK": 1.0, "PREORDER": 0.0, "BACKORDER": 0.0, "NOT_AVAILABLE": 0.0}, "avStatus":"IN_STOCK", "inStock":true, "ATS": 3.0, "inStockDate": "Wed Nov 06 12:00:00 GMT 2013" , "pricing": {"standard": "99.0", "sale": "89.99", "isPromoPrice": false, "quantities": [ {"unit": "", "value": "1.0"} ]} }, {"id": "QC315_12_SAN", "attributes": { "color": "Sand" , "size": "12" }, "avLevels": {"IN_STOCK": 1.0, "PREORDER": 0.0, "BACKORDER": 0.0, "NOT_AVAILABLE": 0.0}, "avStatus":"IN_STOCK", "inStock":true, "ATS": 2.0, "inStockDate": "Wed Nov 06 12:00:00 GMT 2013" , "pricing": {"standard": "99.0", "sale": "89.99", "isPromoPrice": false, "quantities": [ {"unit": "", "value": "1.0"} ]} }, {"id": "QC315_85_RBL", "attributes": { "color": "Royal Blue" , "size": "8.5" }, "avLevels": {"IN_STOCK": 0.0, "PREORDER": 0.0, "BACKORDER": 0.0, "NOT_AVAILABLE": 1.0}, "avStatus":"NOT_AVAILABLE", "inStock":false, "ATS": 0.0, "inStockDate": "Wed Nov 06 12:00:00 GMT 2013" , "pricing": {"standard": "99.0", "sale": "89.99", "isPromoPrice": false, "quantities": [ {"unit": "", "value": "1.0"} ]} }, {"id": "QC315_85_RBR", "attributes": { "color": "Red/Brown" , "size": "8.5" }, "avLevels": {"IN_STOCK": 0.0, "PREORDER": 0.0, "BACKORDER": 0.0, "NOT_AVAILABLE": 1.0}, "avStatus":"NOT_AVAILABLE", "inStock":false, "ATS": 0.0, "inStockDate": "Wed Nov 06 12:00:00 GMT 2013" , "pricing": {"standard": "99.0", "sale": "89.99", "isPromoPrice": false, "quantities": [ {"unit": "", "value": "1.0"} ]} }, {"id": "QC315_85_SAN", "attributes": { "color": "Sand" , "size": "8.5" }, "avLevels": {"IN_STOCK": 0.0, "PREORDER": 0.0, "BACKORDER": 0.0, "NOT_AVAILABLE": 1.0}, "avStatus":"NOT_AVAILABLE", "inStock":false, "ATS": 0.0, "inStockDate": "Wed Nov 06 12:00:00 GMT 2013" , "pricing": {"standard": "99.0", "sale": "89.99", "isPromoPrice": false, "quantities": [ {"unit": "", "value": "1.0"} ]} }, {"id": "QC315_8_RBL", "attributes": { "color": "Royal Blue" , "size": "8" }, "avLevels": {"IN_STOCK": 1.0, "PREORDER": 0.0, "BACKORDER": 0.0, "NOT_AVAILABLE": 0.0}, "avStatus":"IN_STOCK", "inStock":true, "ATS": 3.0, "inStockDate": "Wed Nov 06 12:00:00 GMT 2013" , "pricing": {"standard": "99.0", "sale": "89.99", "isPromoPrice": false, "quantities": [ {"unit": "", "value": "1.0"} ]} }, {"id": "QC315_8_RBR", "attributes": { "color": "Red/Brown" , "size": "8" }, "avLevels": {"IN_STOCK": 1.0, "PREORDER": 0.0, "BACKORDER": 0.0, "NOT_AVAILABLE": 0.0}, "avStatus":"IN_STOCK", "inStock":true, "ATS": 3.0, "inStockDate": "Wed Nov 06 12:00:00 GMT 2013" , "pricing": {"standard": "99.0", "sale": "89.99", "isPromoPrice": false, "quantities": [ {"unit": "", "value": "1.0"} ]} }, {"id": "QC315_8_SAN", "attributes": { "color": "Sand" , "size": "8" }, "avLevels": {"IN_STOCK": 0.0, "PREORDER": 0.0, "BACKORDER": 0.0, "NOT_AVAILABLE": 1.0}, "avStatus":"NOT_AVAILABLE", "inStock":false, "ATS": 0.0, "inStockDate": "Wed Nov 06 12:00:00 GMT 2013" , "pricing": {"standard": "99.0", "sale": "89.99", "isPromoPrice": false, "quantities": [ {"unit": "", "value": "1.0"} ]} }, {"id": "QC315_95_RBL", "attributes": { "color": "Royal Blue" , "size": "9.5" }, "avLevels": {"IN_STOCK": 0.0, "PREORDER": 0.0, "BACKORDER": 0.0, "NOT_AVAILABLE": 1.0}, "avStatus":"NOT_AVAILABLE", "inStock":false, "ATS": 0.0, "inStockDate": "Wed Nov 06 12:00:00 GMT 2013" , "pricing": {"standard": "99.0", "sale": "89.99", "isPromoPrice": false, "quantities": [ {"unit": "", "value": "1.0"} ]} }, {"id": "QC315_95_RBR", "attributes": { "color": "Red/Brown" , "size": "9.5" }, "avLevels": {"IN_STOCK": 0.0, "PREORDER": 0.0, "BACKORDER": 0.0, "NOT_AVAILABLE": 1.0}, "avStatus":"NOT_AVAILABLE", "inStock":false, "ATS": 0.0, "inStockDate": "Wed Nov 06 12:00:00 GMT 2013" , "pricing": {"standard": "99.0", "sale": "89.99", "isPromoPrice": false, "quantities": [ {"unit": "", "value": "1.0"} ]} }, {"id": "QC315_95_SAN", "attributes": { "color": "Sand" , "size": "9.5" }, "avLevels": {"IN_STOCK": 1.0, "PREORDER": 0.0, "BACKORDER": 0.0, "NOT_AVAILABLE": 0.0}, "avStatus":"IN_STOCK", "inStock":true, "ATS": 4.0, "inStockDate": "Wed Nov 06 12:00:00 GMT 2013" , "pricing": {"standard": "99.0", "sale": "89.99", "isPromoPrice": false, "quantities": [ {"unit": "", "value": "1.0"} ]} }, {"id": "QC315_9_RBL", "attributes": { "color": "Royal Blue" , "size": "9" }, "avLevels": {"IN_STOCK": 1.0, "PREORDER": 0.0, "BACKORDER": 0.0, "NOT_AVAILABLE": 0.0}, "avStatus":"IN_STOCK", "inStock":true, "ATS": 5.0, "inStockDate": "Wed Nov 06 12:00:00 GMT 2013" , "pricing": {"standard": "99.0", "sale": "89.99", "isPromoPrice": false, "quantities": [ {"unit": "", "value": "1.0"} ]} }, {"id": "QC315_9_RBR", "attributes": { "color": "Red/Brown" , "size": "9" }, "avLevels": {"IN_STOCK": 1.0, "PREORDER": 0.0, "BACKORDER": 0.0, "NOT_AVAILABLE": 0.0}, "avStatus":"IN_STOCK", "inStock":true, "ATS": 6.0, "inStockDate": "Wed Nov 06 12:00:00 GMT 2013" , "pricing": {"standard": "99.0", "sale": "89.99", "isPromoPrice": false, "quantities": [ {"unit": "", "value": "1.0"} ]} }, {"id": "QC315_9_SAN", "attributes": { "color": "Sand" , "size": "9" }, "avLevels": {"IN_STOCK": 1.0, "PREORDER": 0.0, "BACKORDER": 0.0, "NOT_AVAILABLE": 0.0}, "avStatus":"IN_STOCK", "inStock":true, "ATS": 6.0, "inStockDate": "Wed Nov 06 12:00:00 GMT 2013" , "pricing": {"standard": "99.0", "sale": "89.99", "isPromoPrice": false, "quantities": [ {"unit": "", "value": "1.0"} ]} } ] }}