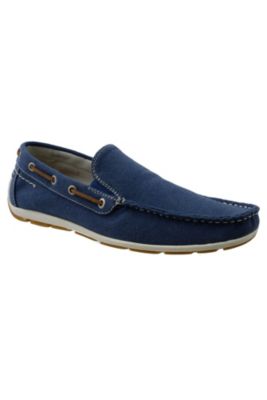 {"imageName":"http://s7d2.scene7.com/is/image/UnderGear/QC354_FV_A14?$dwpp$"}
{"imageName":"http://s7d2.scene7.com/is/image/UnderGear/QC354_SV_A14?$dwpp$"}
{"imageName":"http://s7d2.scene7.com/is/image/UnderGear/QC354_TV_A14?$dwpp$"}
{"imageName":"http://s7d2.scene7.com/is/image/UnderGear/QC354_BV_A14?$dwpp$"}
GBX® Suspect Shoe
UG # QC354
Special Offer:
20% OFF 3 OR MORE ITEMS (Details)
Select Quantity
Print
Men's shoes
Twill shoes on rubber outsole
Imported
GBX style 13453-3
Slip into comfort with these great-fitting blue loafers from GBX. The GBX Suspect is a twill men's shoe on rubber outsole – the perfect shoes for casual days. Pair these GBX loafers with khakis, jeans or even shorts.
{ "variations": { "variants": [ {"id": "QC354_10.50_BLUE", "attributes": { "color": "Blue" , "size": "10.5" }, "avLevels": {"IN_STOCK": 0.0, "PREORDER": 0.0, "BACKORDER": 1.0, "NOT_AVAILABLE": 0.0}, "avStatus":"BACKORDER", "inStock":false, "ATS": 1.0, "inStockDate": "Fri May 09 12:00:00 GMT 2014" , "pricing": {"standard": "69.0", "sale": "69.0", "isPromoPrice": false, "quantities": [ {"unit": "", "value": "1.0"} ]} }, {"id": "QC354_10_BLUE", "attributes": { "color": "Blue" , "size": "10" }, "avLevels": {"IN_STOCK": 0.0, "PREORDER": 0.0, "BACKORDER": 1.0, "NOT_AVAILABLE": 0.0}, "avStatus":"BACKORDER", "inStock":false, "ATS": 8.0, "inStockDate": "Fri May 09 12:00:00 GMT 2014" , "pricing": {"standard": "69.0", "sale": "69.0", "isPromoPrice": false, "quantities": [ {"unit": "", "value": "1.0"} ]} }, {"id": "QC354_11_BLUE", "attributes": { "color": "Blue" , "size": "11" }, "avLevels": {"IN_STOCK": 0.0, "PREORDER": 0.0, "BACKORDER": 1.0, "NOT_AVAILABLE": 0.0}, "avStatus":"BACKORDER", "inStock":false, "ATS": 5.0, "inStockDate": "Fri May 09 12:00:00 GMT 2014" , "pricing": {"standard": "69.0", "sale": "69.0", "isPromoPrice": false, "quantities": [ {"unit": "", "value": "1.0"} ]} }, {"id": "QC354_12_BLUE", "attributes": { "color": "Blue" , "size": "12" }, "avLevels": {"IN_STOCK": 0.0, "PREORDER": 0.0, "BACKORDER": 1.0, "NOT_AVAILABLE": 0.0}, "avStatus":"BACKORDER", "inStock":false, "ATS": 3.0, "inStockDate": "Fri May 09 12:00:00 GMT 2014" , "pricing": {"standard": "69.0", "sale": "69.0", "isPromoPrice": false, "quantities": [ {"unit": "", "value": "1.0"} ]} }, {"id": "QC354_8.50_BLUE", "attributes": { "color": "Blue" , "size": "8.5" }, "avLevels": {"IN_STOCK": 0.0, "PREORDER": 0.0, "BACKORDER": 1.0, "NOT_AVAILABLE": 0.0}, "avStatus":"BACKORDER", "inStock":false, "ATS": 2.0, "inStockDate": "Fri May 09 12:00:00 GMT 2014" , "pricing": {"standard": "69.0", "sale": "69.0", "isPromoPrice": false, "quantities": [ {"unit": "", "value": "1.0"} ]} }, {"id": "QC354_8_BLUE", "attributes": { "color": "Blue" , "size": "8" }, "avLevels": {"IN_STOCK": 0.0, "PREORDER": 0.0, "BACKORDER": 1.0, "NOT_AVAILABLE": 0.0}, "avStatus":"BACKORDER", "inStock":false, "ATS": 4.0, "inStockDate": "Fri May 09 12:00:00 GMT 2014" , "pricing": {"standard": "69.0", "sale": "69.0", "isPromoPrice": false, "quantities": [ {"unit": "", "value": "1.0"} ]} }, {"id": "QC354_9.50_BLUE", "attributes": { "color": "Blue" , "size": "9.5" }, "avLevels": {"IN_STOCK": 0.0, "PREORDER": 0.0, "BACKORDER": 1.0, "NOT_AVAILABLE": 0.0}, "avStatus":"BACKORDER", "inStock":false, "ATS": 1.0, "inStockDate": "Fri May 09 12:00:00 GMT 2014" , "pricing": {"standard": "69.0", "sale": "69.0", "isPromoPrice": false, "quantities": [ {"unit": "", "value": "1.0"} ]} }, {"id": "QC354_9_BLUE", "attributes": { "color": "Blue" , "size": "9" }, "avLevels": {"IN_STOCK": 0.0, "PREORDER": 0.0, "BACKORDER": 1.0, "NOT_AVAILABLE": 0.0}, "avStatus":"BACKORDER", "inStock":false, "ATS": 8.0, "inStockDate": "Fri May 09 12:00:00 GMT 2014" , "pricing": {"standard": "69.0", "sale": "69.0", "isPromoPrice": false, "quantities": [ {"unit": "", "value": "1.0"} ]} } ] }}