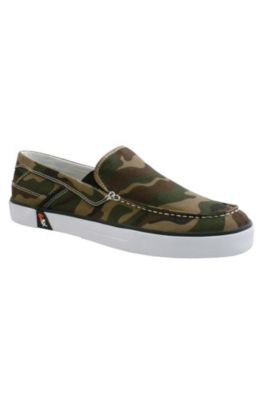 {"imageName":"http://s7d2.scene7.com/is/image/UnderGear/QC305_KHA_E13?$dwpp$"}
{"imageName":"http://s7d2.scene7.com/is/image/UnderGear/QC305_CATOP_E13?$dwpp$"}
{"imageName":"http://s7d2.scene7.com/is/image/UnderGear/QC305_ST_E13?$dwpp$"}
{"imageName":"http://s7d2.scene7.com/is/image/UnderGear/QC305_WHNTOP_E13?$dwpp$"}
{"imageName":"http://s7d2.scene7.com/is/image/UnderGear/QC305_WHM_E13?$dwpp$"}
{"imageName":"http://s7d2.scene7.com/is/image/UnderGear/QC305_WHTOP_E13?$dwpp$"}
GBX Camo Canvas Shoe
UG # QC305
Special Offer:
20% OFF 3 OR MORE ITEMS (Details)
Select Quantity
Print
Men's shoes
Canvas slip-on shoes for men
Whole sizes 8-13
Imported
GBX style number QC305
Ready for slip on. GBX Canvas men's shoes offer casual comfort and smart style in sturdy canvas. Designed for slip-on ease, these stylish GBX shoes for men feature fabric lining, a cushioned footbed and durable rubber traction sole.
{ "variations": { "variants": [ {"id": "QC305_10_CAM", "attributes": { "color": "Camo" , "size": "10" }, "avLevels": {"IN_STOCK": 1.0, "PREORDER": 0.0, "BACKORDER": 0.0, "NOT_AVAILABLE": 0.0}, "avStatus":"IN_STOCK", "inStock":true, "ATS": 4.0, "inStockDate": "Wed Nov 06 12:00:00 GMT 2013" , "pricing": {"standard": "59.0", "sale": "49.99", "isPromoPrice": false, "quantities": [ {"unit": "", "value": "1.0"} ]} }, {"id": "QC305_10_NWH", "attributes": { "color": "Navy/White" , "size": "10" }, "avLevels": {"IN_STOCK": 0.0, "PREORDER": 0.0, "BACKORDER": 0.0, "NOT_AVAILABLE": 1.0}, "avStatus":"NOT_AVAILABLE", "inStock":false, "ATS": 0.0, "inStockDate": "Thu Nov 21 12:00:00 GMT 2013" , "pricing": {"standard": "59.0", "sale": "49.99", "isPromoPrice": false, "quantities": [ {"unit": "", "value": "1.0"} ]} }, {"id": "QC305_10_WHI", "attributes": { "color": "White" , "size": "10" }, "avLevels": {"IN_STOCK": 0.0, "PREORDER": 0.0, "BACKORDER": 0.0, "NOT_AVAILABLE": 1.0}, "avStatus":"NOT_AVAILABLE", "inStock":false, "ATS": 0.0, "inStockDate": "Thu Nov 21 12:00:00 GMT 2013" , "pricing": {"standard": "59.0", "sale": "49.99", "isPromoPrice": false, "quantities": [ {"unit": "", "value": "1.0"} ]} }, {"id": "QC305_11_CAM", "attributes": { "color": "Camo" , "size": "11" }, "avLevels": {"IN_STOCK": 1.0, "PREORDER": 0.0, "BACKORDER": 0.0, "NOT_AVAILABLE": 0.0}, "avStatus":"IN_STOCK", "inStock":true, "ATS": 10.0, "inStockDate": "Wed Nov 06 12:00:00 GMT 2013" , "pricing": {"standard": "59.0", "sale": "49.99", "isPromoPrice": false, "quantities": [ {"unit": "", "value": "1.0"} ]} }, {"id": "QC305_11_NWH", "attributes": { "color": "Navy/White" , "size": "11" }, "avLevels": {"IN_STOCK": 0.0, "PREORDER": 0.0, "BACKORDER": 0.0, "NOT_AVAILABLE": 1.0}, "avStatus":"NOT_AVAILABLE", "inStock":false, "ATS": 0.0, "inStockDate": "Thu Nov 21 12:00:00 GMT 2013" , "pricing": {"standard": "59.0", "sale": "49.99", "isPromoPrice": false, "quantities": [ {"unit": "", "value": "1.0"} ]} }, {"id": "QC305_11_WHI", "attributes": { "color": "White" , "size": "11" }, "avLevels": {"IN_STOCK": 0.0, "PREORDER": 0.0, "BACKORDER": 0.0, "NOT_AVAILABLE": 1.0}, "avStatus":"NOT_AVAILABLE", "inStock":false, "ATS": 0.0, "inStockDate": "Thu Nov 21 12:00:00 GMT 2013" , "pricing": {"standard": "59.0", "sale": "49.99", "isPromoPrice": false, "quantities": [ {"unit": "", "value": "1.0"} ]} }, {"id": "QC305_12_CAM", "attributes": { "color": "Camo" , "size": "12" }, "avLevels": {"IN_STOCK": 1.0, "PREORDER": 0.0, "BACKORDER": 0.0, "NOT_AVAILABLE": 0.0}, "avStatus":"IN_STOCK", "inStock":true, "ATS": 2.0, "inStockDate": "Wed Nov 06 12:00:00 GMT 2013" , "pricing": {"standard": "59.0", "sale": "49.99", "isPromoPrice": false, "quantities": [ {"unit": "", "value": "1.0"} ]} }, {"id": "QC305_12_NWH", "attributes": { "color": "Navy/White" , "size": "12" }, "avLevels": {"IN_STOCK": 0.0, "PREORDER": 0.0, "BACKORDER": 0.0, "NOT_AVAILABLE": 1.0}, "avStatus":"NOT_AVAILABLE", "inStock":false, "ATS": 0.0, "inStockDate": "Thu Nov 21 12:00:00 GMT 2013" , "pricing": {"standard": "59.0", "sale": "49.99", "isPromoPrice": false, "quantities": [ {"unit": "", "value": "1.0"} ]} }, {"id": "QC305_12_WHI", "attributes": { "color": "White" , "size": "12" }, "avLevels": {"IN_STOCK": 0.0, "PREORDER": 0.0, "BACKORDER": 0.0, "NOT_AVAILABLE": 1.0}, "avStatus":"NOT_AVAILABLE", "inStock":false, "ATS": 0.0, "inStockDate": "Thu Nov 21 12:00:00 GMT 2013" , "pricing": {"standard": "59.0", "sale": "49.99", "isPromoPrice": false, "quantities": [ {"unit": "", "value": "1.0"} ]} }, {"id": "QC305_13_CAM", "attributes": { "color": "Camo" , "size": "13" }, "avLevels": {"IN_STOCK": 1.0, "PREORDER": 0.0, "BACKORDER": 0.0, "NOT_AVAILABLE": 0.0}, "avStatus":"IN_STOCK", "inStock":true, "ATS": 3.0, "inStockDate": "Wed Nov 06 12:00:00 GMT 2013" , "pricing": {"standard": "59.0", "sale": "49.99", "isPromoPrice": false, "quantities": [ {"unit": "", "value": "1.0"} ]} }, {"id": "QC305_13_NWH", "attributes": { "color": "Navy/White" , "size": "13" }, "avLevels": {"IN_STOCK": 0.0, "PREORDER": 0.0, "BACKORDER": 0.0, "NOT_AVAILABLE": 1.0}, "avStatus":"NOT_AVAILABLE", "inStock":false, "ATS": 0.0, "inStockDate": "Thu Nov 21 12:00:00 GMT 2013" , "pricing": {"standard": "59.0", "sale": "49.99", "isPromoPrice": false, "quantities": [ {"unit": "", "value": "1.0"} ]} }, {"id": "QC305_13_WHI", "attributes": { "color": "White" , "size": "13" }, "avLevels": {"IN_STOCK": 0.0, "PREORDER": 0.0, "BACKORDER": 0.0, "NOT_AVAILABLE": 1.0}, "avStatus":"NOT_AVAILABLE", "inStock":false, "ATS": 0.0, "inStockDate": "Thu Nov 21 12:00:00 GMT 2013" , "pricing": {"standard": "59.0", "sale": "49.99", "isPromoPrice": false, "quantities": [ {"unit": "", "value": "1.0"} ]} }, {"id": "QC305_8_CAM", "attributes": { "color": "Camo" , "size": "8" }, "avLevels": {"IN_STOCK": 1.0, "PREORDER": 0.0, "BACKORDER": 0.0, "NOT_AVAILABLE": 0.0}, "avStatus":"IN_STOCK", "inStock":true, "ATS": 5.0, "inStockDate": "Wed Nov 06 12:00:00 GMT 2013" , "pricing": {"standard": "59.0", "sale": "49.99", "isPromoPrice": false, "quantities": [ {"unit": "", "value": "1.0"} ]} }, {"id": "QC305_8_NWH", "attributes": { "color": "Navy/White" , "size": "8" }, "avLevels": {"IN_STOCK": 0.0, "PREORDER": 0.0, "BACKORDER": 0.0, "NOT_AVAILABLE": 1.0}, "avStatus":"NOT_AVAILABLE", "inStock":false, "ATS": 0.0, "inStockDate": "Thu Nov 21 12:00:00 GMT 2013" , "pricing": {"standard": "59.0", "sale": "49.99", "isPromoPrice": false, "quantities": [ {"unit": "", "value": "1.0"} ]} }, {"id": "QC305_8_WHI", "attributes": { "color": "White" , "size": "8" }, "avLevels": {"IN_STOCK": 0.0, "PREORDER": 0.0, "BACKORDER": 0.0, "NOT_AVAILABLE": 1.0}, "avStatus":"NOT_AVAILABLE", "inStock":false, "ATS": 0.0, "inStockDate": "Thu Nov 21 12:00:00 GMT 2013" , "pricing": {"standard": "59.0", "sale": "49.99", "isPromoPrice": false, "quantities": [ {"unit": "", "value": "1.0"} ]} }, {"id": "QC305_9_CAM", "attributes": { "color": "Camo" , "size": "9" }, "avLevels": {"IN_STOCK": 1.0, "PREORDER": 0.0, "BACKORDER": 0.0, "NOT_AVAILABLE": 0.0}, "avStatus":"IN_STOCK", "inStock":true, "ATS": 7.0, "inStockDate": "Wed Nov 06 12:00:00 GMT 2013" , "pricing": {"standard": "59.0", "sale": "49.99", "isPromoPrice": false, "quantities": [ {"unit": "", "value": "1.0"} ]} }, {"id": "QC305_9_NWH", "attributes": { "color": "Navy/White" , "size": "9" }, "avLevels": {"IN_STOCK": 0.0, "PREORDER": 0.0, "BACKORDER": 0.0, "NOT_AVAILABLE": 1.0}, "avStatus":"NOT_AVAILABLE", "inStock":false, "ATS": 0.0, "inStockDate": "Thu Nov 21 12:00:00 GMT 2013" , "pricing": {"standard": "59.0", "sale": "49.99", "isPromoPrice": false, "quantities": [ {"unit": "", "value": "1.0"} ]} }, {"id": "QC305_9_WHI", "attributes": { "color": "White" , "size": "9" }, "avLevels": {"IN_STOCK": 0.0, "PREORDER": 0.0, "BACKORDER": 0.0, "NOT_AVAILABLE": 1.0}, "avStatus":"NOT_AVAILABLE", "inStock":false, "ATS": 0.0, "inStockDate": "Thu Nov 21 12:00:00 GMT 2013" , "pricing": {"standard": "59.0", "sale": "49.99", "isPromoPrice": false, "quantities": [ {"unit": "", "value": "1.0"} ]} } ] }}