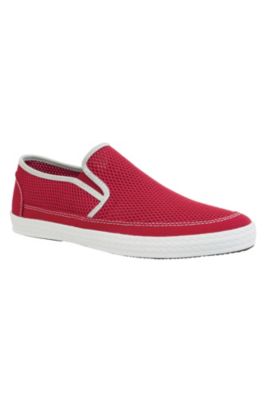 {"imageName":"http://s7d2.scene7.com/is/image/UnderGear/QC301_RD_E13?$dwpp$"}
{"imageName":"http://s7d2.scene7.com/is/image/UnderGear/QC301_RDBACK_E13?$dwpp$"}
{"imageName":"http://s7d2.scene7.com/is/image/UnderGear/QC301_YL_E13?$dwpp$"}
{"imageName":"http://s7d2.scene7.com/is/image/UnderGear/QC301_YLBACK_E13?$dwpp$"}
{"imageName":"http://s7d2.scene7.com/is/image/UnderGear/QC301_RY_E13?$dwpp$"}
{"imageName":"http://s7d2.scene7.com/is/image/UnderGear/QC301_RYBACK_E13?$dwpp$"}
GBX Mesh Loafer
UG # QC301
Special Offer:
20% OFF 3 OR MORE ITEMS (Details)
Select Quantity
Print
Men's loafers
Canvas and mesh shoes for men
Whole sizes 8-13
Imported
GBX style number QC301
Your new essential: GBX Mesh men's loafers. Available in cool primary colors with contrast edging, these airy mesh GBX loafers for men have comfortable elastic for easy on and off. Cool and colorful, the mesh GBX loafers also feature a canvas and mesh upper, fabric lining, cushioned footbed and durable rubber traction sole.
{ "variations": { "variants": [ {"id": "QC301_10_RED", "attributes": { "color": "Red" , "size": "10" }, "avLevels": {"IN_STOCK": 0.0, "PREORDER": 0.0, "BACKORDER": 0.0, "NOT_AVAILABLE": 1.0}, "avStatus":"NOT_AVAILABLE", "inStock":false, "ATS": 0.0, "inStockDate": "Thu Nov 21 12:00:00 GMT 2013" , "pricing": {"standard": "49.0", "sale": "44.99", "isPromoPrice": false, "quantities": [ {"unit": "", "value": "1.0"} ]} }, {"id": "QC301_10_ROY", "attributes": { "color": "Royal" , "size": "10" }, "avLevels": {"IN_STOCK": 0.0, "PREORDER": 0.0, "BACKORDER": 0.0, "NOT_AVAILABLE": 1.0}, "avStatus":"NOT_AVAILABLE", "inStock":false, "ATS": 0.0, "inStockDate": "Thu Nov 21 12:00:00 GMT 2013" , "pricing": {"standard": "49.0", "sale": "44.99", "isPromoPrice": false, "quantities": [ {"unit": "", "value": "1.0"} ]} }, {"id": "QC301_10_YEL", "attributes": { "color": "Yellow" , "size": "10" }, "avLevels": {"IN_STOCK": 1.0, "PREORDER": 0.0, "BACKORDER": 0.0, "NOT_AVAILABLE": 0.0}, "avStatus":"IN_STOCK", "inStock":true, "ATS": 3.0, "inStockDate": "Thu Nov 21 12:00:00 GMT 2013" , "pricing": {"standard": "49.0", "sale": "44.99", "isPromoPrice": false, "quantities": [ {"unit": "", "value": "1.0"} ]} }, {"id": "QC301_11_RED", "attributes": { "color": "Red" , "size": "11" }, "avLevels": {"IN_STOCK": 1.0, "PREORDER": 0.0, "BACKORDER": 0.0, "NOT_AVAILABLE": 0.0}, "avStatus":"IN_STOCK", "inStock":true, "ATS": 11.0, "inStockDate": "Thu Nov 21 12:00:00 GMT 2013" , "pricing": {"standard": "49.0", "sale": "44.99", "isPromoPrice": false, "quantities": [ {"unit": "", "value": "1.0"} ]} }, {"id": "QC301_11_ROY", "attributes": { "color": "Royal" , "size": "11" }, "avLevels": {"IN_STOCK": 1.0, "PREORDER": 0.0, "BACKORDER": 0.0, "NOT_AVAILABLE": 0.0}, "avStatus":"IN_STOCK", "inStock":true, "ATS": 10.0, "inStockDate": "Thu Nov 21 12:00:00 GMT 2013" , "pricing": {"standard": "49.0", "sale": "44.99", "isPromoPrice": false, "quantities": [ {"unit": "", "value": "1.0"} ]} }, {"id": "QC301_11_YEL", "attributes": { "color": "Yellow" , "size": "11" }, "avLevels": {"IN_STOCK": 1.0, "PREORDER": 0.0, "BACKORDER": 0.0, "NOT_AVAILABLE": 0.0}, "avStatus":"IN_STOCK", "inStock":true, "ATS": 14.0, "inStockDate": "Thu Nov 21 12:00:00 GMT 2013" , "pricing": {"standard": "49.0", "sale": "44.99", "isPromoPrice": false, "quantities": [ {"unit": "", "value": "1.0"} ]} }, {"id": "QC301_12_RED", "attributes": { "color": "Red" , "size": "12" }, "avLevels": {"IN_STOCK": 1.0, "PREORDER": 0.0, "BACKORDER": 0.0, "NOT_AVAILABLE": 0.0}, "avStatus":"IN_STOCK", "inStock":true, "ATS": 1.0, "inStockDate": "Thu Nov 21 12:00:00 GMT 2013" , "pricing": {"standard": "49.0", "sale": "44.99", "isPromoPrice": false, "quantities": [ {"unit": "", "value": "1.0"} ]} }, {"id": "QC301_12_ROY", "attributes": { "color": "Royal" , "size": "12" }, "avLevels": {"IN_STOCK": 0.0, "PREORDER": 0.0, "BACKORDER": 0.0, "NOT_AVAILABLE": 1.0}, "avStatus":"NOT_AVAILABLE", "inStock":false, "ATS": 0.0, "inStockDate": "Thu Nov 21 12:00:00 GMT 2013" , "pricing": {"standard": "49.0", "sale": "44.99", "isPromoPrice": false, "quantities": [ {"unit": "", "value": "1.0"} ]} }, {"id": "QC301_12_YEL", "attributes": { "color": "Yellow" , "size": "12" }, "avLevels": {"IN_STOCK": 0.0, "PREORDER": 0.0, "BACKORDER": 0.0, "NOT_AVAILABLE": 1.0}, "avStatus":"NOT_AVAILABLE", "inStock":false, "ATS": 0.0, "inStockDate": "Thu Nov 21 12:00:00 GMT 2013" , "pricing": {"standard": "49.0", "sale": "44.99", "isPromoPrice": false, "quantities": [ {"unit": "", "value": "1.0"} ]} }, {"id": "QC301_13_RED", "attributes": { "color": "Red" , "size": "13" }, "avLevels": {"IN_STOCK": 1.0, "PREORDER": 0.0, "BACKORDER": 0.0, "NOT_AVAILABLE": 0.0}, "avStatus":"IN_STOCK", "inStock":true, "ATS": 2.0, "inStockDate": "Thu Nov 21 12:00:00 GMT 2013" , "pricing": {"standard": "49.0", "sale": "44.99", "isPromoPrice": false, "quantities": [ {"unit": "", "value": "1.0"} ]} }, {"id": "QC301_13_ROY", "attributes": { "color": "Royal" , "size": "13" }, "avLevels": {"IN_STOCK": 1.0, "PREORDER": 0.0, "BACKORDER": 0.0, "NOT_AVAILABLE": 0.0}, "avStatus":"IN_STOCK", "inStock":true, "ATS": 3.0, "inStockDate": "Thu Nov 21 12:00:00 GMT 2013" , "pricing": {"standard": "49.0", "sale": "44.99", "isPromoPrice": false, "quantities": [ {"unit": "", "value": "1.0"} ]} }, {"id": "QC301_13_YEL", "attributes": { "color": "Yellow" , "size": "13" }, "avLevels": {"IN_STOCK": 1.0, "PREORDER": 0.0, "BACKORDER": 0.0, "NOT_AVAILABLE": 0.0}, "avStatus":"IN_STOCK", "inStock":true, "ATS": 2.0, "inStockDate": "Thu Nov 21 12:00:00 GMT 2013" , "pricing": {"standard": "49.0", "sale": "44.99", "isPromoPrice": false, "quantities": [ {"unit": "", "value": "1.0"} ]} }, {"id": "QC301_8_RED", "attributes": { "color": "Red" , "size": "8" }, "avLevels": {"IN_STOCK": 0.0, "PREORDER": 0.0, "BACKORDER": 0.0, "NOT_AVAILABLE": 1.0}, "avStatus":"NOT_AVAILABLE", "inStock":false, "ATS": 0.0, "inStockDate": "Thu Nov 21 12:00:00 GMT 2013" , "pricing": {"standard": "49.0", "sale": "44.99", "isPromoPrice": false, "quantities": [ {"unit": "", "value": "1.0"} ]} }, {"id": "QC301_8_ROY", "attributes": { "color": "Royal" , "size": "8" }, "avLevels": {"IN_STOCK": 0.0, "PREORDER": 0.0, "BACKORDER": 0.0, "NOT_AVAILABLE": 1.0}, "avStatus":"NOT_AVAILABLE", "inStock":false, "ATS": 0.0, "inStockDate": "Thu Nov 21 12:00:00 GMT 2013" , "pricing": {"standard": "49.0", "sale": "44.99", "isPromoPrice": false, "quantities": [ {"unit": "", "value": "1.0"} ]} }, {"id": "QC301_8_YEL", "attributes": { "color": "Yellow" , "size": "8" }, "avLevels": {"IN_STOCK": 0.0, "PREORDER": 0.0, "BACKORDER": 0.0, "NOT_AVAILABLE": 1.0}, "avStatus":"NOT_AVAILABLE", "inStock":false, "ATS": 0.0, "inStockDate": "Thu Nov 21 12:00:00 GMT 2013" , "pricing": {"standard": "49.0", "sale": "44.99", "isPromoPrice": false, "quantities": [ {"unit": "", "value": "1.0"} ]} }, {"id": "QC301_9_RED", "attributes": { "color": "Red" , "size": "9" }, "avLevels": {"IN_STOCK": 0.0, "PREORDER": 0.0, "BACKORDER": 0.0, "NOT_AVAILABLE": 1.0}, "avStatus":"NOT_AVAILABLE", "inStock":false, "ATS": 0.0, "inStockDate": "Thu Nov 21 12:00:00 GMT 2013" , "pricing": {"standard": "49.0", "sale": "44.99", "isPromoPrice": false, "quantities": [ {"unit": "", "value": "1.0"} ]} }, {"id": "QC301_9_ROY", "attributes": { "color": "Royal" , "size": "9" }, "avLevels": {"IN_STOCK": 0.0, "PREORDER": 0.0, "BACKORDER": 0.0, "NOT_AVAILABLE": 1.0}, "avStatus":"NOT_AVAILABLE", "inStock":false, "ATS": 0.0, "inStockDate": "Thu Nov 21 12:00:00 GMT 2013" , "pricing": {"standard": "49.0", "sale": "44.99", "isPromoPrice": false, "quantities": [ {"unit": "", "value": "1.0"} ]} }, {"id": "QC301_9_YEL", "attributes": { "color": "Yellow" , "size": "9" }, "avLevels": {"IN_STOCK": 0.0, "PREORDER": 0.0, "BACKORDER": 0.0, "NOT_AVAILABLE": 1.0}, "avStatus":"NOT_AVAILABLE", "inStock":false, "ATS": 0.0, "inStockDate": "Thu Nov 21 12:00:00 GMT 2013" , "pricing": {"standard": "49.0", "sale": "44.99", "isPromoPrice": false, "quantities": [ {"unit": "", "value": "1.0"} ]} } ] }}