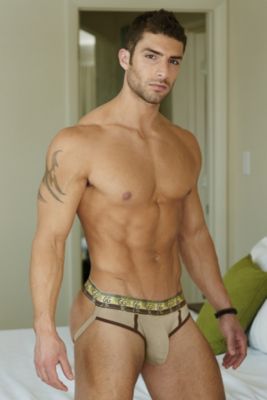 {"imageName":"http://s7d2.scene7.com/is/image/UnderGear/MB605_NEWF_J13?$dwpp$"}
{"imageName":"http://s7d2.scene7.com/is/image/UnderGear/MB605_NEWB_J13?$dwpp$"}
{"imageName":"http://s7d2.scene7.com/is/image/UnderGear/AM605_STF1_NEW?$dwpp$"}
{"imageName":"http://s7d2.scene7.com/is/image/UnderGear/AM605_STB1_NEW?$dwpp$"}
Gabriel Grey® Bamboo Jock Strap
UG # AM605
Special Offer:
20% OFF 3 OR MORE ITEMS (Details)
Select Quantity
Print
Men's jockstrap underwear
Bamboo / spandex jockstrap underwear for men
Machine wash
Imported
Light and silky for a throbbing shape, this impressive men's jockstrap underwear from Gabriel Grey is made with a luxurious blend of bamboo and spandex. In a slinky fabric that makes you feel as sexy as you look, the Gabriel Grey Bamboo men's jock offers plenty of support, a cheeky back and endless comfort for any day of the week. Satin waistband features the "GG" Gabriel Grey logo from front to back. The trunks also have a contour pouch for a generous lift and even more support. Contrast trim.
{ "variations": { "variants": [ {"id": "AM605_L_SAG", "attributes": { "color": "Sage" , "size": "L" }, "avLevels": {"IN_STOCK": 1.0, "PREORDER": 0.0, "BACKORDER": 0.0, "NOT_AVAILABLE": 0.0}, "avStatus":"IN_STOCK", "inStock":true, "ATS": 10054.0, "inStockDate": "Sat May 24 12:00:00 GMT 2014" , "pricing": {"standard": "22.0", "sale": "14.99", "isPromoPrice": false, "quantities": [ {"unit": "", "value": "1.0"} ]} }, {"id": "AM605_L_STR", "attributes": { "color": "Straw" , "size": "L" }, "avLevels": {"IN_STOCK": 1.0, "PREORDER": 0.0, "BACKORDER": 0.0, "NOT_AVAILABLE": 0.0}, "avStatus":"IN_STOCK", "inStock":true, "ATS": 10077.0, "inStockDate": "Sat May 24 12:00:00 GMT 2014" , "pricing": {"standard": "22.0", "sale": "14.99", "isPromoPrice": false, "quantities": [ {"unit": "", "value": "1.0"} ]} }, {"id": "AM605_M_SAG", "attributes": { "color": "Sage" , "size": "M" }, "avLevels": {"IN_STOCK": 1.0, "PREORDER": 0.0, "BACKORDER": 0.0, "NOT_AVAILABLE": 0.0}, "avStatus":"IN_STOCK", "inStock":true, "ATS": 10056.0, "inStockDate": "Sat May 24 12:00:00 GMT 2014" , "pricing": {"standard": "22.0", "sale": "14.99", "isPromoPrice": false, "quantities": [ {"unit": "", "value": "1.0"} ]} }, {"id": "AM605_M_STR", "attributes": { "color": "Straw" , "size": "M" }, "avLevels": {"IN_STOCK": 1.0, "PREORDER": 0.0, "BACKORDER": 0.0, "NOT_AVAILABLE": 0.0}, "avStatus":"IN_STOCK", "inStock":true, "ATS": 10100.0, "inStockDate": "Sat May 24 12:00:00 GMT 2014" , "pricing": {"standard": "22.0", "sale": "14.99", "isPromoPrice": false, "quantities": [ {"unit": "", "value": "1.0"} ]} }, {"id": "AM605_S_SAG", "attributes": { "color": "Sage" , "size": "S" }, "avLevels": {"IN_STOCK": 1.0, "PREORDER": 0.0, "BACKORDER": 0.0, "NOT_AVAILABLE": 0.0}, "avStatus":"IN_STOCK", "inStock":true, "ATS": 10020.0, "inStockDate": "Sat May 24 12:00:00 GMT 2014" , "pricing": {"standard": "22.0", "sale": "14.99", "isPromoPrice": false, "quantities": [ {"unit": "", "value": "1.0"} ]} }, {"id": "AM605_S_STR", "attributes": { "color": "Straw" , "size": "S" }, "avLevels": {"IN_STOCK": 1.0, "PREORDER": 0.0, "BACKORDER": 0.0, "NOT_AVAILABLE": 0.0}, "avStatus":"IN_STOCK", "inStock":true, "ATS": 10036.0, "inStockDate": "Sat May 24 12:00:00 GMT 2014" , "pricing": {"standard": "22.0", "sale": "14.99", "isPromoPrice": false, "quantities": [ {"unit": "", "value": "1.0"} ]} }, {"id": "AM605_XL_SAG", "attributes": { "color": "Sage" , "size": "XL" }, "avLevels": {"IN_STOCK": 1.0, "PREORDER": 0.0, "BACKORDER": 0.0, "NOT_AVAILABLE": 0.0}, "avStatus":"IN_STOCK", "inStock":true, "ATS": 10016.0, "inStockDate": "Sat May 24 12:00:00 GMT 2014" , "pricing": {"standard": "22.0", "sale": "14.99", "isPromoPrice": false, "quantities": [ {"unit": "", "value": "1.0"} ]} }, {"id": "AM605_XL_STR", "attributes": { "color": "Straw" , "size": "XL" }, "avLevels": {"IN_STOCK": 1.0, "PREORDER": 0.0, "BACKORDER": 0.0, "NOT_AVAILABLE": 0.0}, "avStatus":"IN_STOCK", "inStock":true, "ATS": 10026.0, "inStockDate": "Sat May 24 12:00:00 GMT 2014" , "pricing": {"standard": "22.0", "sale": "14.99", "isPromoPrice": false, "quantities": [ {"unit": "", "value": "1.0"} ]} } ] }}