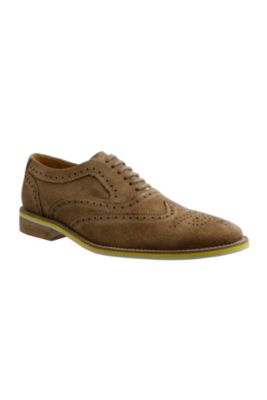 {"imageName":"http://s7d2.scene7.com/is/image/UnderGear/QC321_CNEW_042513?$dwpp$"}
{"imageName":"http://s7d2.scene7.com/is/image/UnderGear/QC321_CTOP_042513?$dwpp$"}
{"imageName":"http://s7d2.scene7.com/is/image/UnderGear/QC321_CB_042513?$dwpp$"}
{"imageName":"http://s7d2.scene7.com/is/image/UnderGear/QC321_CBOT_042513?$dwpp$"}
{"imageName":"http://s7d2.scene7.com/is/image/UnderGear/QC321_LGNEW_042513?$dwpp$"}
{"imageName":"http://s7d2.scene7.com/is/image/UnderGear/QC321_LGTOP_042513?$dwpp$"}
{"imageName":"http://s7d2.scene7.com/is/image/UnderGear/QC321_LGB_042513?$dwpp$"}
Giorgio Brutini® Suede Leather Oxford
UG # QC321
Special Offer:
20% OFF 3 OR MORE ITEMS (Details)
Select Quantity
Print
Men's oxford shoes
Suede shoes for men
Perforated detailing
Imported
Giorgio Brutini style 658805-2 / 658806
Classic wingtip oxford shoes for men who understand that footwear makes the outfit! The Giorgio Brutini Suede Leather Oxfords take the classic wingtip style and reimagine it in velvety suede for a more relaxed look. These handsome oxfords from Giorgio Brutini feature perforated detailing, a lace-up front, leather upper and synthetic sole. The men's shoes also have stacked heel and are fully lined. Available in two color options: classic Camel brown and amazing Lime green.
{ "variations": { "variants": [ {"id": "QC321_105_CAM", "attributes": { "color": "Camel" , "size": "10.5" }, "avLevels": {"IN_STOCK": 1.0, "PREORDER": 0.0, "BACKORDER": 0.0, "NOT_AVAILABLE": 0.0}, "avStatus":"IN_STOCK", "inStock":true, "ATS": 10002.0, "inStockDate": "Sat May 24 12:00:00 GMT 2014" , "pricing": {"standard": "110.0", "sale": "110.0", "isPromoPrice": false, "quantities": [ {"unit": "", "value": "1.0"} ]} }, {"id": "QC321_105_LGR", "attributes": { "color": "Lime Green" , "size": "10.5" }, "avLevels": {"IN_STOCK": 1.0, "PREORDER": 0.0, "BACKORDER": 0.0, "NOT_AVAILABLE": 0.0}, "avStatus":"IN_STOCK", "inStock":true, "ATS": 10003.0, "inStockDate": "Sat May 24 12:00:00 GMT 2014" , "pricing": {"standard": "110.0", "sale": "110.0", "isPromoPrice": false, "quantities": [ {"unit": "", "value": "1.0"} ]} }, {"id": "QC321_10_CAM", "attributes": { "color": "Camel" , "size": "10" }, "avLevels": {"IN_STOCK": 1.0, "PREORDER": 0.0, "BACKORDER": 0.0, "NOT_AVAILABLE": 0.0}, "avStatus":"IN_STOCK", "inStock":true, "ATS": 10005.0, "inStockDate": "Sat May 24 12:00:00 GMT 2014" , "pricing": {"standard": "110.0", "sale": "110.0", "isPromoPrice": false, "quantities": [ {"unit": "", "value": "1.0"} ]} }, {"id": "QC321_10_LGR", "attributes": { "color": "Lime Green" , "size": "10" }, "avLevels": {"IN_STOCK": 1.0, "PREORDER": 0.0, "BACKORDER": 0.0, "NOT_AVAILABLE": 0.0}, "avStatus":"IN_STOCK", "inStock":true, "ATS": 10007.0, "inStockDate": "Sat May 24 12:00:00 GMT 2014" , "pricing": {"standard": "110.0", "sale": "110.0", "isPromoPrice": false, "quantities": [ {"unit": "", "value": "1.0"} ]} }, {"id": "QC321_11_CAM", "attributes": { "color": "Camel" , "size": "11" }, "avLevels": {"IN_STOCK": 0.0, "PREORDER": 0.0, "BACKORDER": 0.0, "NOT_AVAILABLE": 1.0}, "avStatus":"NOT_AVAILABLE", "inStock":false, "ATS": 0.0, "inStockDate": "Sat May 03 12:00:00 GMT 2014" , "pricing": {"standard": "110.0", "sale": "110.0", "isPromoPrice": false, "quantities": [ {"unit": "", "value": "1.0"} ]} }, {"id": "QC321_11_LGR", "attributes": { "color": "Lime Green" , "size": "11" }, "avLevels": {"IN_STOCK": 1.0, "PREORDER": 0.0, "BACKORDER": 0.0, "NOT_AVAILABLE": 0.0}, "avStatus":"IN_STOCK", "inStock":true, "ATS": 10005.0, "inStockDate": "Sat May 24 12:00:00 GMT 2014" , "pricing": {"standard": "110.0", "sale": "110.0", "isPromoPrice": false, "quantities": [ {"unit": "", "value": "1.0"} ]} }, {"id": "QC321_12_CAM", "attributes": { "color": "Camel" , "size": "12" }, "avLevels": {"IN_STOCK": 1.0, "PREORDER": 0.0, "BACKORDER": 0.0, "NOT_AVAILABLE": 0.0}, "avStatus":"IN_STOCK", "inStock":true, "ATS": 10002.0, "inStockDate": "Sat May 24 12:00:00 GMT 2014" , "pricing": {"standard": "110.0", "sale": "110.0", "isPromoPrice": false, "quantities": [ {"unit": "", "value": "1.0"} ]} }, {"id": "QC321_12_LGR", "attributes": { "color": "Lime Green" , "size": "12" }, "avLevels": {"IN_STOCK": 1.0, "PREORDER": 0.0, "BACKORDER": 0.0, "NOT_AVAILABLE": 0.0}, "avStatus":"IN_STOCK", "inStock":true, "ATS": 10004.0, "inStockDate": "Sat May 24 12:00:00 GMT 2014" , "pricing": {"standard": "110.0", "sale": "110.0", "isPromoPrice": false, "quantities": [ {"unit": "", "value": "1.0"} ]} }, {"id": "QC321_85_CAM", "attributes": { "color": "Camel" , "size": "8.5" }, "avLevels": {"IN_STOCK": 1.0, "PREORDER": 0.0, "BACKORDER": 0.0, "NOT_AVAILABLE": 0.0}, "avStatus":"IN_STOCK", "inStock":true, "ATS": 10003.0, "inStockDate": "Sat May 24 12:00:00 GMT 2014" , "pricing": {"standard": "110.0", "sale": "110.0", "isPromoPrice": false, "quantities": [ {"unit": "", "value": "1.0"} ]} }, {"id": "QC321_85_LGR", "attributes": { "color": "Lime Green" , "size": "8.5" }, "avLevels": {"IN_STOCK": 1.0, "PREORDER": 0.0, "BACKORDER": 0.0, "NOT_AVAILABLE": 0.0}, "avStatus":"IN_STOCK", "inStock":true, "ATS": 10003.0, "inStockDate": "Sat May 24 12:00:00 GMT 2014" , "pricing": {"standard": "110.0", "sale": "110.0", "isPromoPrice": false, "quantities": [ {"unit": "", "value": "1.0"} ]} }, {"id": "QC321_8_CAM", "attributes": { "color": "Camel" , "size": "8" }, "avLevels": {"IN_STOCK": 1.0, "PREORDER": 0.0, "BACKORDER": 0.0, "NOT_AVAILABLE": 0.0}, "avStatus":"IN_STOCK", "inStock":true, "ATS": 10003.0, "inStockDate": "Sat May 24 12:00:00 GMT 2014" , "pricing": {"standard": "110.0", "sale": "110.0", "isPromoPrice": false, "quantities": [ {"unit": "", "value": "1.0"} ]} }, {"id": "QC321_8_LGR", "attributes": { "color": "Lime Green" , "size": "8" }, "avLevels": {"IN_STOCK": 1.0, "PREORDER": 0.0, "BACKORDER": 0.0, "NOT_AVAILABLE": 0.0}, "avStatus":"IN_STOCK", "inStock":true, "ATS": 10004.0, "inStockDate": "Sat May 24 12:00:00 GMT 2014" , "pricing": {"standard": "110.0", "sale": "110.0", "isPromoPrice": false, "quantities": [ {"unit": "", "value": "1.0"} ]} }, {"id": "QC321_95_CAM", "attributes": { "color": "Camel" , "size": "9.5" }, "avLevels": {"IN_STOCK": 1.0, "PREORDER": 0.0, "BACKORDER": 0.0, "NOT_AVAILABLE": 0.0}, "avStatus":"IN_STOCK", "inStock":true, "ATS": 10002.0, "inStockDate": "Sat May 24 12:00:00 GMT 2014" , "pricing": {"standard": "110.0", "sale": "110.0", "isPromoPrice": false, "quantities": [ {"unit": "", "value": "1.0"} ]} }, {"id": "QC321_95_LGR", "attributes": { "color": "Lime Green" , "size": "9.5" }, "avLevels": {"IN_STOCK": 1.0, "PREORDER": 0.0, "BACKORDER": 0.0, "NOT_AVAILABLE": 0.0}, "avStatus":"IN_STOCK", "inStock":true, "ATS": 10002.0, "inStockDate": "Sat May 24 12:00:00 GMT 2014" , "pricing": {"standard": "110.0", "sale": "110.0", "isPromoPrice": false, "quantities": [ {"unit": "", "value": "1.0"} ]} }, {"id": "QC321_9_CAM", "attributes": { "color": "Camel" , "size": "9" }, "avLevels": {"IN_STOCK": 0.0, "PREORDER": 0.0, "BACKORDER": 1.0, "NOT_AVAILABLE": 0.0}, "avStatus":"BACKORDER", "inStock":false, "ATS": 10000.0, "inStockDate": "Sat May 24 12:00:00 GMT 2014" , "pricing": {"standard": "110.0", "sale": "110.0", "isPromoPrice": false, "quantities": [ {"unit": "", "value": "1.0"} ]} }, {"id": "QC321_9_LGR", "attributes": { "color": "Lime Green" , "size": "9" }, "avLevels": {"IN_STOCK": 1.0, "PREORDER": 0.0, "BACKORDER": 0.0, "NOT_AVAILABLE": 0.0}, "avStatus":"IN_STOCK", "inStock":true, "ATS": 10004.0, "inStockDate": "Sat May 24 12:00:00 GMT 2014" , "pricing": {"standard": "110.0", "sale": "110.0", "isPromoPrice": false, "quantities": [ {"unit": "", "value": "1.0"} ]} } ] }}