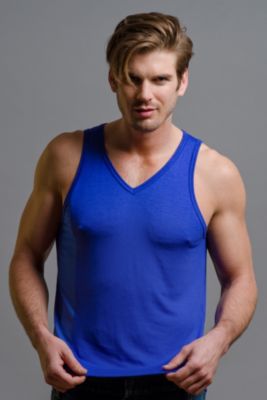 {"imageName":"http://s7d2.scene7.com/is/image/UnderGear/DV893_COM_051013?$dwpp$"}
{"imageName":"http://s7d2.scene7.com/is/image/UnderGear/DV893_COM1_051013?$dwpp$"}
{"imageName":"http://s7d2.scene7.com/is/image/UnderGear/DV893_RM1_051013?$dwpp$"}
{"imageName":"http://s7d2.scene7.com/is/image/UnderGear/DV893_RM_051013?$dwpp$"}
{"imageName":"http://s7d2.scene7.com/is/image/UnderGear/DV893_RD_051013?$dwpp$"}
Go Softwear® B-Erotic Reveal Tank
UG # DV893
Special Offer:
20% OFF 3 OR MORE ITEMS (Details)
Select Quantity
Print
Men's tank top
Rayon / spandex tank top for men
Machine wash
Made in USA
Go Softwear style 6505
Bold and classic colors for the new season abound in this men's tank top design by Go Softwear. Constructed in a rayon-spandex blend, the Go Softwear B-Erotic Reveal men's tank top feels soft to the touch and outlines your best features. Designed with spacious armholes and a classic V-neck front with mesh insets on the sides for a semi-revealing look, this Go Softwear tank top is designed to keep you cool when things start to sizzle.
{ "variations": { "variants": [ {"id": "DV893_L_COB", "attributes": { "color": "Cobalt" , "size": "L" }, "avLevels": {"IN_STOCK": 0.0, "PREORDER": 0.0, "BACKORDER": 0.0, "NOT_AVAILABLE": 1.0}, "avStatus":"NOT_AVAILABLE", "inStock":false, "ATS": 0.0, "inStockDate": "Thu Nov 21 12:00:00 GMT 2013" , "pricing": {"standard": "28.0", "sale": "13.99", "isPromoPrice": false, "quantities": [ {"unit": "", "value": "1.0"} ]} }, {"id": "DV893_L_RAS", "attributes": { "color": "Raspberry" , "size": "L" }, "avLevels": {"IN_STOCK": 0.0, "PREORDER": 0.0, "BACKORDER": 0.0, "NOT_AVAILABLE": 1.0}, "avStatus":"NOT_AVAILABLE", "inStock":false, "ATS": 0.0, "inStockDate": "Thu Nov 21 12:00:00 GMT 2013" , "pricing": {"standard": "28.0", "sale": "13.99", "isPromoPrice": false, "quantities": [ {"unit": "", "value": "1.0"} ]} }, {"id": "DV893_M_COB", "attributes": { "color": "Cobalt" , "size": "M" }, "avLevels": {"IN_STOCK": 1.0, "PREORDER": 0.0, "BACKORDER": 0.0, "NOT_AVAILABLE": 0.0}, "avStatus":"IN_STOCK", "inStock":true, "ATS": 3.0, "inStockDate": "Thu Nov 21 12:00:00 GMT 2013" , "pricing": {"standard": "28.0", "sale": "13.99", "isPromoPrice": false, "quantities": [ {"unit": "", "value": "1.0"} ]} }, {"id": "DV893_M_RAS", "attributes": { "color": "Raspberry" , "size": "M" }, "avLevels": {"IN_STOCK": 1.0, "PREORDER": 0.0, "BACKORDER": 0.0, "NOT_AVAILABLE": 0.0}, "avStatus":"IN_STOCK", "inStock":true, "ATS": 7.0, "inStockDate": "Thu Nov 21 12:00:00 GMT 2013" , "pricing": {"standard": "28.0", "sale": "13.99", "isPromoPrice": false, "quantities": [ {"unit": "", "value": "1.0"} ]} }, {"id": "DV893_S_COB", "attributes": { "color": "Cobalt" , "size": "S" }, "avLevels": {"IN_STOCK": 1.0, "PREORDER": 0.0, "BACKORDER": 0.0, "NOT_AVAILABLE": 0.0}, "avStatus":"IN_STOCK", "inStock":true, "ATS": 1.0, "inStockDate": "Thu Nov 21 12:00:00 GMT 2013" , "pricing": {"standard": "28.0", "sale": "13.99", "isPromoPrice": false, "quantities": [ {"unit": "", "value": "1.0"} ]} }, {"id": "DV893_S_RAS", "attributes": { "color": "Raspberry" , "size": "S" }, "avLevels": {"IN_STOCK": 1.0, "PREORDER": 0.0, "BACKORDER": 0.0, "NOT_AVAILABLE": 0.0}, "avStatus":"IN_STOCK", "inStock":true, "ATS": 3.0, "inStockDate": "Thu Nov 21 12:00:00 GMT 2013" , "pricing": {"standard": "28.0", "sale": "13.99", "isPromoPrice": false, "quantities": [ {"unit": "", "value": "1.0"} ]} }, {"id": "DV893_XL_COB", "attributes": { "color": "Cobalt" , "size": "XL" }, "avLevels": {"IN_STOCK": 0.0, "PREORDER": 0.0, "BACKORDER": 0.0, "NOT_AVAILABLE": 1.0}, "avStatus":"NOT_AVAILABLE", "inStock":false, "ATS": 0.0, "inStockDate": "Thu Nov 21 12:00:00 GMT 2013" , "pricing": {"standard": "28.0", "sale": "13.99", "isPromoPrice": false, "quantities": [ {"unit": "", "value": "1.0"} ]} }, {"id": "DV893_XL_RAS", "attributes": { "color": "Raspberry" , "size": "XL" }, "avLevels": {"IN_STOCK": 0.0, "PREORDER": 0.0, "BACKORDER": 0.0, "NOT_AVAILABLE": 1.0}, "avStatus":"NOT_AVAILABLE", "inStock":false, "ATS": 0.0, "inStockDate": "Thu Nov 21 12:00:00 GMT 2013" , "pricing": {"standard": "28.0", "sale": "13.99", "isPromoPrice": false, "quantities": [ {"unit": "", "value": "1.0"} ]} } ] }}