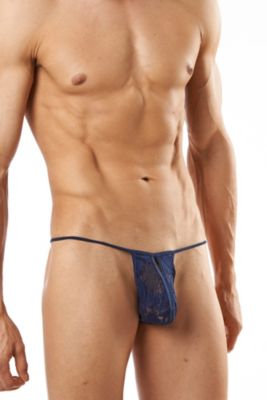 {"imageName":"http://s7d2.scene7.com/is/image/UnderGear/AM615_BLUM_053113?$dwpp$"}
{"imageName":"http://s7d2.scene7.com/is/image/UnderGear/AM615_CDBLU_053113?$dwpp$"}
{"imageName":"http://s7d2.scene7.com/is/image/UnderGear/AM615_BLUB_053113?$dwpp$"}
{"imageName":"http://s7d2.scene7.com/is/image/UnderGear/AM615_WHM_053113?$dwpp$"}
{"imageName":"http://s7d2.scene7.com/is/image/UnderGear/AM615_CDWH_053113?$dwpp$"}
{"imageName":"http://s7d2.scene7.com/is/image/UnderGear/AM615_WHB_053113?$dwpp$"}
Good Devil® Lace G-String
UG # AM615
Special Offer:
20% OFF 3 OR MORE ITEMS (Details)
Select Quantity
Print
Lace men's g-string thong
Polyamide / spandex lace thong for men
Machine wash
Imported
Good Devil underwear style 4831
Lacy and elegant, this sizzling hot g-string thong for men features ultra-soft lace with a peek-a-boo middle seam. Designed to tease and tantalize, the Good Devil Lace men's g-string offers minimal coverage for guys who love to flaunt it. Choose your Good Devil men's thong in navy blue or classic white.
{ "variations": { "variants": [ {"id": "AM615_L_BLU", "attributes": { "color": "Blue" , "size": "L" }, "avLevels": {"IN_STOCK": 0.0, "PREORDER": 0.0, "BACKORDER": 0.0, "NOT_AVAILABLE": 1.0}, "avStatus":"NOT_AVAILABLE", "inStock":false, "ATS": 0.0, "inStockDate": "Wed Dec 25 12:00:00 GMT 2013" , "pricing": {"standard": "13.0", "sale": "13.0", "isPromoPrice": false, "quantities": [ {"unit": "", "value": "1.0"} ]} }, {"id": "AM615_L_WHI", "attributes": { "color": "White" , "size": "L" }, "avLevels": {"IN_STOCK": 0.0, "PREORDER": 0.0, "BACKORDER": 0.0, "NOT_AVAILABLE": 1.0}, "avStatus":"NOT_AVAILABLE", "inStock":false, "ATS": 0.0, "inStockDate": "Wed Dec 25 12:00:00 GMT 2013" , "pricing": {"standard": "13.0", "sale": "13.0", "isPromoPrice": false, "quantities": [ {"unit": "", "value": "1.0"} ]} }, {"id": "AM615_M_BLU", "attributes": { "color": "Blue" , "size": "M" }, "avLevels": {"IN_STOCK": 0.0, "PREORDER": 0.0, "BACKORDER": 0.0, "NOT_AVAILABLE": 1.0}, "avStatus":"NOT_AVAILABLE", "inStock":false, "ATS": 0.0, "inStockDate": "Wed Dec 25 12:00:00 GMT 2013" , "pricing": {"standard": "13.0", "sale": "13.0", "isPromoPrice": false, "quantities": [ {"unit": "", "value": "1.0"} ]} }, {"id": "AM615_M_WHI", "attributes": { "color": "White" , "size": "M" }, "avLevels": {"IN_STOCK": 0.0, "PREORDER": 0.0, "BACKORDER": 0.0, "NOT_AVAILABLE": 1.0}, "avStatus":"NOT_AVAILABLE", "inStock":false, "ATS": 0.0, "inStockDate": "Wed Dec 25 12:00:00 GMT 2013" , "pricing": {"standard": "13.0", "sale": "13.0", "isPromoPrice": false, "quantities": [ {"unit": "", "value": "1.0"} ]} }, {"id": "AM615_S_BLU", "attributes": { "color": "Blue" , "size": "S" }, "avLevels": {"IN_STOCK": 0.0, "PREORDER": 0.0, "BACKORDER": 0.0, "NOT_AVAILABLE": 1.0}, "avStatus":"NOT_AVAILABLE", "inStock":false, "ATS": 0.0, "inStockDate": "Sat May 24 12:00:00 GMT 2014" , "pricing": {"standard": "13.0", "sale": "13.0", "isPromoPrice": false, "quantities": [ {"unit": "", "value": "1.0"} ]} }, {"id": "AM615_S_WHI", "attributes": { "color": "White" , "size": "S" }, "avLevels": {"IN_STOCK": 0.0, "PREORDER": 0.0, "BACKORDER": 0.0, "NOT_AVAILABLE": 1.0}, "avStatus":"NOT_AVAILABLE", "inStock":false, "ATS": 0.0, "inStockDate": "Wed Dec 25 12:00:00 GMT 2013" , "pricing": {"standard": "13.0", "sale": "13.0", "isPromoPrice": false, "quantities": [ {"unit": "", "value": "1.0"} ]} }, {"id": "AM615_XL_BLU", "attributes": { "color": "Blue" , "size": "XL" }, "avLevels": {"IN_STOCK": 0.0, "PREORDER": 0.0, "BACKORDER": 0.0, "NOT_AVAILABLE": 1.0}, "avStatus":"NOT_AVAILABLE", "inStock":false, "ATS": 0.0, "inStockDate": "Sat May 24 12:00:00 GMT 2014" , "pricing": {"standard": "13.0", "sale": "13.0", "isPromoPrice": false, "quantities": [ {"unit": "", "value": "1.0"} ]} }, {"id": "AM615_XL_WHI", "attributes": { "color": "White" , "size": "XL" }, "avLevels": {"IN_STOCK": 0.0, "PREORDER": 0.0, "BACKORDER": 0.0, "NOT_AVAILABLE": 1.0}, "avStatus":"NOT_AVAILABLE", "inStock":false, "ATS": 0.0, "inStockDate": "Wed Dec 25 12:00:00 GMT 2013" , "pricing": {"standard": "13.0", "sale": "13.0", "isPromoPrice": false, "quantities": [ {"unit": "", "value": "1.0"} ]} } ] }}