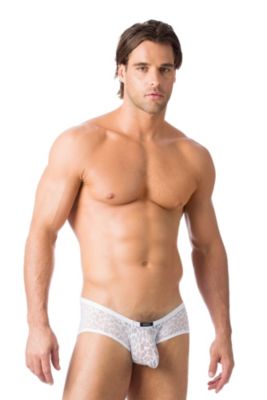 {"imageName":"http://s7d2.scene7.com/is/image/UnderGear/AM425_WMM_SBB040413?$dwpp$"}
{"imageName":"http://s7d2.scene7.com/is/image/UnderGear/AM425_WB_SBB040413?$dwpp$"}
{"imageName":"http://s7d2.scene7.com/is/image/UnderGear/AM425_WM_SBB040413?$dwpp$"}
{"imageName":"http://s7d2.scene7.com/is/image/UnderGear/AM425_WS_SBB040413?$dwpp$"}
{"imageName":"http://s7d2.scene7.com/is/image/UnderGear/AM425_WB1_SBB040413?$dwpp$"}
Gregg Homme® Appeal Trunk
UG # AM425
Special Offer:
20% OFF 3 OR MORE ITEMS (Details)
Select Quantity
Print
Animal-print men's trunks
Polyester/nylon/spandex trunk underwear for men
Machine wash
Imported
Gregg Homme underwear style number 103005
Are you an animal lover? Sexy and sophisticated Gregg Homme Appeal men's trunks get primal with an allover animal burnout print. Designed with a sleek contoured pouch, low-rise waistband and seamless fit, these seductive Gregg Homme trunks for men will have mass appeal in any top drawer. Don't miss the other men's underwear options available in the Gregg Homme Appeal collection.
{ "variations": { "variants": [ {"id": "AM425_L_BLA", "attributes": { "color": "Black" , "size": "L" }, "avLevels": {"IN_STOCK": 0.0, "PREORDER": 0.0, "BACKORDER": 0.0, "NOT_AVAILABLE": 1.0}, "avStatus":"NOT_AVAILABLE", "inStock":false, "ATS": 0.0, "inStockDate": "Fri Apr 26 12:00:00 GMT 2013" , "pricing": {"standard": "35.0", "sale": "35.0", "isPromoPrice": false, "quantities": [ {"unit": "", "value": "1.0"} ]} }, {"id": "AM425_L_WHI", "attributes": { "color": "White" , "size": "L" }, "avLevels": {"IN_STOCK": 0.0, "PREORDER": 0.0, "BACKORDER": 0.0, "NOT_AVAILABLE": 1.0}, "avStatus":"NOT_AVAILABLE", "inStock":false, "ATS": 0.0, "inStockDate": "Fri Apr 26 12:00:00 GMT 2013" , "pricing": {"standard": "35.0", "sale": "35.0", "isPromoPrice": false, "quantities": [ {"unit": "", "value": "1.0"} ]} }, {"id": "AM425_M_BLA", "attributes": { "color": "Black" , "size": "M" }, "avLevels": {"IN_STOCK": 0.0, "PREORDER": 0.0, "BACKORDER": 0.0, "NOT_AVAILABLE": 1.0}, "avStatus":"NOT_AVAILABLE", "inStock":false, "ATS": 0.0, "inStockDate": "Fri Apr 26 12:00:00 GMT 2013" , "pricing": {"standard": "35.0", "sale": "35.0", "isPromoPrice": false, "quantities": [ {"unit": "", "value": "1.0"} ]} }, {"id": "AM425_M_WHI", "attributes": { "color": "White" , "size": "M" }, "avLevels": {"IN_STOCK": 0.0, "PREORDER": 0.0, "BACKORDER": 0.0, "NOT_AVAILABLE": 1.0}, "avStatus":"NOT_AVAILABLE", "inStock":false, "ATS": 0.0, "inStockDate": "Tue Dec 31 12:00:00 GMT 2030" , "pricing": {"standard": "35.0", "sale": "35.0", "isPromoPrice": false, "quantities": [ {"unit": "", "value": "1.0"} ]} }, {"id": "AM425_S_BLA", "attributes": { "color": "Black" , "size": "S" }, "avLevels": {"IN_STOCK": 0.0, "PREORDER": 0.0, "BACKORDER": 0.0, "NOT_AVAILABLE": 1.0}, "avStatus":"NOT_AVAILABLE", "inStock":false, "ATS": 0.0, "inStockDate": "Fri Apr 26 12:00:00 GMT 2013" , "pricing": {"standard": "35.0", "sale": "35.0", "isPromoPrice": false, "quantities": [ {"unit": "", "value": "1.0"} ]} }, {"id": "AM425_S_WHI", "attributes": { "color": "White" , "size": "S" }, "avLevels": {"IN_STOCK": 1.0, "PREORDER": 0.0, "BACKORDER": 0.0, "NOT_AVAILABLE": 0.0}, "avStatus":"IN_STOCK", "inStock":true, "ATS": 5.0, "inStockDate": "Tue Dec 31 12:00:00 GMT 2030" , "pricing": {"standard": "35.0", "sale": "35.0", "isPromoPrice": false, "quantities": [ {"unit": "", "value": "1.0"} ]} }, {"id": "AM425_XL_BLA", "attributes": { "color": "Black" , "size": "XL" }, "avLevels": {"IN_STOCK": 0.0, "PREORDER": 0.0, "BACKORDER": 0.0, "NOT_AVAILABLE": 1.0}, "avStatus":"NOT_AVAILABLE", "inStock":false, "ATS": 0.0, "inStockDate": "Fri Apr 26 12:00:00 GMT 2013" , "pricing": {"standard": "35.0", "sale": "35.0", "isPromoPrice": false, "quantities": [ {"unit": "", "value": "1.0"} ]} }, {"id": "AM425_XL_WHI", "attributes": { "color": "White" , "size": "XL" }, "avLevels": {"IN_STOCK": 0.0, "PREORDER": 0.0, "BACKORDER": 0.0, "NOT_AVAILABLE": 1.0}, "avStatus":"NOT_AVAILABLE", "inStock":false, "ATS": 0.0, "inStockDate": "Tue Dec 31 12:00:00 GMT 2030" , "pricing": {"standard": "35.0", "sale": "35.0", "isPromoPrice": false, "quantities": [ {"unit": "", "value": "1.0"} ]} } ] }}