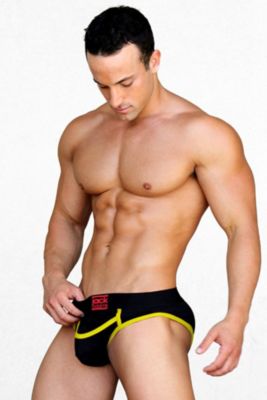 {"imageName":"http://s7d2.scene7.com/is/image/UnderGear/AM113_BYM?$dwpp$"}
{"imageName":"http://s7d2.scene7.com/is/image/UnderGear/AM113_BY1?$dwpp$"}
{"imageName":"http://s7d2.scene7.com/is/image/UnderGear/AM113_BYB?$dwpp$"}
{"imageName":"http://s7d2.scene7.com/is/image/UnderGear/AM113_BR1?$dwpp$"}
{"imageName":"http://s7d2.scene7.com/is/image/UnderGear/AM113_BRB?$dwpp$"}
Jack Adams® Bodyflex Army Jock Brief
UG # AM113
Special Offer:
20% OFF 3 OR MORE ITEMS (Details)
Select Quantity
Print
Men's jock briefs
Men's jockstrap underwear made from polyester / lycra
Machine wash
Made in the USA
Jack Adams underwear style 401-113
A bold new take on a favorite style of men's underwear from Jack Adams. The popular design of Jack Adams Army Fly Jock Briefs has been combined with the soft four-way stretch mesh material from the BodyFlex line to create the Jack Adams BodyFlex Mesh Army Fly Jock Brief. These remarkably comfortable jock brief provides the roomy front pouch that Jack Adams is known for, along with moisture wicking fabric that will keep you dry under intense conditions. Lined with vibrant trim, in your choice of yellow or red, these jock briefs provide the comfort of a great everyday piece of underwear along with the functionality and support that's perfect for athletic wear.
{ "variations": { "variants": [ {"id": "AM113_L_BRE", "attributes": { "color": "Black/Red" , "size": "L" }, "avLevels": {"IN_STOCK": 1.0, "PREORDER": 0.0, "BACKORDER": 0.0, "NOT_AVAILABLE": 0.0}, "avStatus":"IN_STOCK", "inStock":true, "ATS": 3.0, "inStockDate": "Fri May 09 12:00:00 GMT 2014" , "pricing": {"standard": "29.0", "sale": "29.0", "isPromoPrice": false, "quantities": [ {"unit": "", "value": "1.0"} ]} }, {"id": "AM113_L_BYE", "attributes": { "color": "Black/Yellow" , "size": "L" }, "avLevels": {"IN_STOCK": 1.0, "PREORDER": 0.0, "BACKORDER": 0.0, "NOT_AVAILABLE": 0.0}, "avStatus":"IN_STOCK", "inStock":true, "ATS": 10.0, "inStockDate": "Fri May 09 12:00:00 GMT 2014" , "pricing": {"standard": "29.0", "sale": "29.0", "isPromoPrice": false, "quantities": [ {"unit": "", "value": "1.0"} ]} }, {"id": "AM113_M_BRE", "attributes": { "color": "Black/Red" , "size": "M" }, "avLevels": {"IN_STOCK": 0.0, "PREORDER": 0.0, "BACKORDER": 1.0, "NOT_AVAILABLE": 0.0}, "avStatus":"BACKORDER", "inStock":false, "ATS": 19.0, "inStockDate": "Fri May 09 12:00:00 GMT 2014" , "pricing": {"standard": "29.0", "sale": "29.0", "isPromoPrice": false, "quantities": [ {"unit": "", "value": "1.0"} ]} }, {"id": "AM113_M_BYE", "attributes": { "color": "Black/Yellow" , "size": "M" }, "avLevels": {"IN_STOCK": 1.0, "PREORDER": 0.0, "BACKORDER": 0.0, "NOT_AVAILABLE": 0.0}, "avStatus":"IN_STOCK", "inStock":true, "ATS": 8.0, "inStockDate": "Fri May 09 12:00:00 GMT 2014" , "pricing": {"standard": "29.0", "sale": "29.0", "isPromoPrice": false, "quantities": [ {"unit": "", "value": "1.0"} ]} }, {"id": "AM113_S_BRE", "attributes": { "color": "Black/Red" , "size": "S" }, "avLevels": {"IN_STOCK": 0.0, "PREORDER": 0.0, "BACKORDER": 1.0, "NOT_AVAILABLE": 0.0}, "avStatus":"BACKORDER", "inStock":false, "ATS": 10.0, "inStockDate": "Fri May 09 12:00:00 GMT 2014" , "pricing": {"standard": "29.0", "sale": "29.0", "isPromoPrice": false, "quantities": [ {"unit": "", "value": "1.0"} ]} }, {"id": "AM113_S_BYE", "attributes": { "color": "Black/Yellow" , "size": "S" }, "avLevels": {"IN_STOCK": 1.0, "PREORDER": 0.0, "BACKORDER": 0.0, "NOT_AVAILABLE": 0.0}, "avStatus":"IN_STOCK", "inStock":true, "ATS": 3.0, "inStockDate": "Fri May 09 12:00:00 GMT 2014" , "pricing": {"standard": "29.0", "sale": "29.0", "isPromoPrice": false, "quantities": [ {"unit": "", "value": "1.0"} ]} }, {"id": "AM113_XL_BRE", "attributes": { "color": "Black/Red" , "size": "XL" }, "avLevels": {"IN_STOCK": 0.0, "PREORDER": 0.0, "BACKORDER": 1.0, "NOT_AVAILABLE": 0.0}, "avStatus":"BACKORDER", "inStock":false, "ATS": 10.0, "inStockDate": "Fri May 09 12:00:00 GMT 2014" , "pricing": {"standard": "29.0", "sale": "29.0", "isPromoPrice": false, "quantities": [ {"unit": "", "value": "1.0"} ]} }, {"id": "AM113_XL_BYE", "attributes": { "color": "Black/Yellow" , "size": "XL" }, "avLevels": {"IN_STOCK": 1.0, "PREORDER": 0.0, "BACKORDER": 0.0, "NOT_AVAILABLE": 0.0}, "avStatus":"IN_STOCK", "inStock":true, "ATS": 3.0, "inStockDate": "Fri May 09 12:00:00 GMT 2014" , "pricing": {"standard": "29.0", "sale": "29.0", "isPromoPrice": false, "quantities": [ {"unit": "", "value": "1.0"} ]} } ] }}