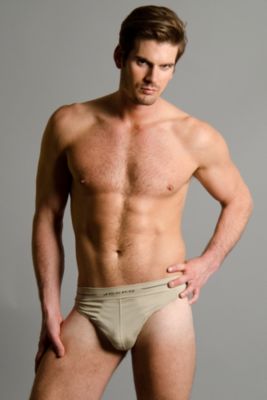 Jocko® Seamless Tony's Thong
UG # AM629
Special Offer:
20% OFF 3 OR MORE ITEMS (Details)
Select Quantity
Print
Men's thong
Nylon / spandex underwear for men
Machine wash
Imported
Jocko underwear style J200
Guys: Once you slip into this sexy seamless men's thong from Jocko, you'll never want to go back to your boring old underwear. In a sultry flesh-colored design, the Jocko Seamless Tony's Thong for men is made from a breathable microfiber that stretches and offers great elasticity for all-day comfort. This is one thong you need to try!
{ "variations": { "variants": [ {"id": "AM629_LXL_FLE", "attributes": { "color": "Flesh" , "size": "LXL" }, "avLevels": {"IN_STOCK": 0.0, "PREORDER": 0.0, "BACKORDER": 0.0, "NOT_AVAILABLE": 1.0}, "avStatus":"NOT_AVAILABLE", "inStock":false, "ATS": 0.0, "inStockDate": "Wed Feb 26 12:00:00 GMT 2014" , "pricing": {"standard": "12.0", "sale": "12.0", "isPromoPrice": false, "quantities": [ {"unit": "", "value": "1.0"} ]} }, {"id": "AM629_SM_FLE", "attributes": { "color": "Flesh" , "size": "SM" }, "avLevels": {"IN_STOCK": 1.0, "PREORDER": 0.0, "BACKORDER": 0.0, "NOT_AVAILABLE": 0.0}, "avStatus":"IN_STOCK", "inStock":true, "ATS": 10045.0, "inStockDate": "Sat May 24 12:00:00 GMT 2014" , "pricing": {"standard": "12.0", "sale": "12.0", "isPromoPrice": false, "quantities": [ {"unit": "", "value": "1.0"} ]} }, {"id": "AM629_SM_BLA", "attributes": { "color": "Black" , "size": "SM" }, "avLevels": {"IN_STOCK": 1.0, "PREORDER": 0.0, "BACKORDER": 0.0, "NOT_AVAILABLE": 0.0}, "avStatus":"IN_STOCK", "inStock":true, "ATS": 10033.0, "inStockDate": "Sat May 24 12:00:00 GMT 2014" , "pricing": {"standard": "12.0", "sale": "12.0", "isPromoPrice": false, "quantities": [ {"unit": "", "value": "1.0"} ]} }, {"id": "AM629_SM_WHI", "attributes": { "color": "White" , "size": "SM" }, "avLevels": {"IN_STOCK": 1.0, "PREORDER": 0.0, "BACKORDER": 0.0, "NOT_AVAILABLE": 0.0}, "avStatus":"IN_STOCK", "inStock":true, "ATS": 10033.0, "inStockDate": "Sat May 24 12:00:00 GMT 2014" , "pricing": {"standard": "12.0", "sale": "12.0", "isPromoPrice": false, "quantities": [ {"unit": "", "value": "1.0"} ]} }, {"id": "AM629_LXL_NAV", "attributes": { "color": "Navy" , "size": "LXL" }, "avLevels": {"IN_STOCK": 1.0, "PREORDER": 0.0, "BACKORDER": 0.0, "NOT_AVAILABLE": 0.0}, "avStatus":"IN_STOCK", "inStock":true, "ATS": 10029.0, "inStockDate": "Sat May 24 12:00:00 GMT 2014" , "pricing": {"standard": "12.0", "sale": "12.0", "isPromoPrice": false, "quantities": [ {"unit": "", "value": "1.0"} ]} }, {"id": "AM629_LXL_WHI", "attributes": { "color": "White" , "size": "LXL" }, "avLevels": {"IN_STOCK": 1.0, "PREORDER": 0.0, "BACKORDER": 0.0, "NOT_AVAILABLE": 0.0}, "avStatus":"IN_STOCK", "inStock":true, "ATS": 10030.0, "inStockDate": "Sat May 24 12:00:00 GMT 2014" , "pricing": {"standard": "12.0", "sale": "12.0", "isPromoPrice": false, "quantities": [ {"unit": "", "value": "1.0"} ]} }, {"id": "AM629_LXL_BLA", "attributes": { "color": "Black" , "size": "LXL" }, "avLevels": {"IN_STOCK": 1.0, "PREORDER": 0.0, "BACKORDER": 0.0, "NOT_AVAILABLE": 0.0}, "avStatus":"IN_STOCK", "inStock":true, "ATS": 10023.0, "inStockDate": "Sat May 24 12:00:00 GMT 2014" , "pricing": {"standard": "12.0", "sale": "12.0", "isPromoPrice": false, "quantities": [ {"unit": "", "value": "1.0"} ]} }, {"id": "AM629_SM_NAV", "attributes": { "color": "Navy" , "size": "SM" }, "avLevels": {"IN_STOCK": 1.0, "PREORDER": 0.0, "BACKORDER": 0.0, "NOT_AVAILABLE": 0.0}, "avStatus":"IN_STOCK", "inStock":true, "ATS": 10034.0, "inStockDate": "Sat May 24 12:00:00 GMT 2014" , "pricing": {"standard": "12.0", "sale": "12.0", "isPromoPrice": false, "quantities": [ {"unit": "", "value": "1.0"} ]} } ] }}