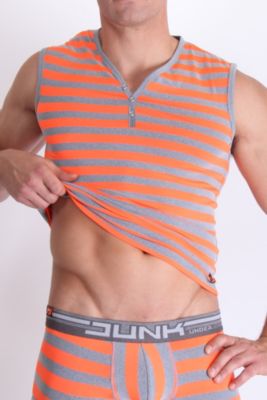 Junk Underjeans® Gravity Muscle Tank
UG # RX363
Special Offer:
20% OFF 3 OR MORE ITEMS (Details)
Select Quantity
Print
Men's tank top
Nylon / spandex muscle shirt for men
Machine wash
Imported
Junk Underjeans style MT-8503
Get your game on in this sexy striped men's tank top from Junk Underjeans. The Junk Underjeans Gravity V-Neck athletic shirt is a deep v-neck henley made from a comfortable nylon-spandex blend for lasting comfort and performance, regardless of the activity. The Junk Underjeans tank top is perfect for working out, but looks so good, you'll want to wear everywhere.
{ "variations": { "variants": [ {"id": "RX363_L_BLA", "attributes": { "color": "Black" , "size": "L" }, "avLevels": {"IN_STOCK": 1.0, "PREORDER": 0.0, "BACKORDER": 0.0, "NOT_AVAILABLE": 0.0}, "avStatus":"IN_STOCK", "inStock":true, "ATS": 10006.0, "inStockDate": "Sat May 24 12:00:00 GMT 2014" , "pricing": {"standard": "41.0", "sale": "41.0", "isPromoPrice": false, "quantities": [ {"unit": "", "value": "1.0"} ]} }, {"id": "RX363_L_FLO", "attributes": { "color": "Florange" , "size": "L" }, "avLevels": {"IN_STOCK": 1.0, "PREORDER": 0.0, "BACKORDER": 0.0, "NOT_AVAILABLE": 0.0}, "avStatus":"IN_STOCK", "inStock":true, "ATS": 10008.0, "inStockDate": "Sat May 24 12:00:00 GMT 2014" , "pricing": {"standard": "41.0", "sale": "41.0", "isPromoPrice": false, "quantities": [ {"unit": "", "value": "1.0"} ]} }, {"id": "RX363_L_MAR", "attributes": { "color": "Marine" , "size": "L" }, "avLevels": {"IN_STOCK": 1.0, "PREORDER": 0.0, "BACKORDER": 0.0, "NOT_AVAILABLE": 0.0}, "avStatus":"IN_STOCK", "inStock":true, "ATS": 10007.0, "inStockDate": "Sat May 24 12:00:00 GMT 2014" , "pricing": {"standard": "41.0", "sale": "41.0", "isPromoPrice": false, "quantities": [ {"unit": "", "value": "1.0"} ]} }, {"id": "RX363_M_BLA", "attributes": { "color": "Black" , "size": "M" }, "avLevels": {"IN_STOCK": 1.0, "PREORDER": 0.0, "BACKORDER": 0.0, "NOT_AVAILABLE": 0.0}, "avStatus":"IN_STOCK", "inStock":true, "ATS": 10009.0, "inStockDate": "Sat May 24 12:00:00 GMT 2014" , "pricing": {"standard": "41.0", "sale": "41.0", "isPromoPrice": false, "quantities": [ {"unit": "", "value": "1.0"} ]} }, {"id": "RX363_M_FLO", "attributes": { "color": "Florange" , "size": "M" }, "avLevels": {"IN_STOCK": 1.0, "PREORDER": 0.0, "BACKORDER": 0.0, "NOT_AVAILABLE": 0.0}, "avStatus":"IN_STOCK", "inStock":true, "ATS": 10012.0, "inStockDate": "Sat May 24 12:00:00 GMT 2014" , "pricing": {"standard": "41.0", "sale": "41.0", "isPromoPrice": false, "quantities": [ {"unit": "", "value": "1.0"} ]} }, {"id": "RX363_M_MAR", "attributes": { "color": "Marine" , "size": "M" }, "avLevels": {"IN_STOCK": 1.0, "PREORDER": 0.0, "BACKORDER": 0.0, "NOT_AVAILABLE": 0.0}, "avStatus":"IN_STOCK", "inStock":true, "ATS": 10002.0, "inStockDate": "Sat May 24 12:00:00 GMT 2014" , "pricing": {"standard": "41.0", "sale": "41.0", "isPromoPrice": false, "quantities": [ {"unit": "", "value": "1.0"} ]} }, {"id": "RX363_S_BLA", "attributes": { "color": "Black" , "size": "S" }, "avLevels": {"IN_STOCK": 1.0, "PREORDER": 0.0, "BACKORDER": 0.0, "NOT_AVAILABLE": 0.0}, "avStatus":"IN_STOCK", "inStock":true, "ATS": 10011.0, "inStockDate": "Sat May 24 12:00:00 GMT 2014" , "pricing": {"standard": "41.0", "sale": "41.0", "isPromoPrice": false, "quantities": [ {"unit": "", "value": "1.0"} ]} }, {"id": "RX363_S_FLO", "attributes": { "color": "Florange" , "size": "S" }, "avLevels": {"IN_STOCK": 1.0, "PREORDER": 0.0, "BACKORDER": 0.0, "NOT_AVAILABLE": 0.0}, "avStatus":"IN_STOCK", "inStock":true, "ATS": 10009.0, "inStockDate": "Sat May 24 12:00:00 GMT 2014" , "pricing": {"standard": "41.0", "sale": "41.0", "isPromoPrice": false, "quantities": [ {"unit": "", "value": "1.0"} ]} }, {"id": "RX363_S_MAR", "attributes": { "color": "Marine" , "size": "S" }, "avLevels": {"IN_STOCK": 1.0, "PREORDER": 0.0, "BACKORDER": 0.0, "NOT_AVAILABLE": 0.0}, "avStatus":"IN_STOCK", "inStock":true, "ATS": 10010.0, "inStockDate": "Sat May 24 12:00:00 GMT 2014" , "pricing": {"standard": "41.0", "sale": "41.0", "isPromoPrice": false, "quantities": [ {"unit": "", "value": "1.0"} ]} }, {"id": "RX363_XL_BLA", "attributes": { "color": "Black" , "size": "XL" }, "avLevels": {"IN_STOCK": 1.0, "PREORDER": 0.0, "BACKORDER": 0.0, "NOT_AVAILABLE": 0.0}, "avStatus":"IN_STOCK", "inStock":true, "ATS": 10006.0, "inStockDate": "Sat May 24 12:00:00 GMT 2014" , "pricing": {"standard": "41.0", "sale": "41.0", "isPromoPrice": false, "quantities": [ {"unit": "", "value": "1.0"} ]} }, {"id": "RX363_XL_FLO", "attributes": { "color": "Florange" , "size": "XL" }, "avLevels": {"IN_STOCK": 1.0, "PREORDER": 0.0, "BACKORDER": 0.0, "NOT_AVAILABLE": 0.0}, "avStatus":"IN_STOCK", "inStock":true, "ATS": 10005.0, "inStockDate": "Sat May 24 12:00:00 GMT 2014" , "pricing": {"standard": "41.0", "sale": "41.0", "isPromoPrice": false, "quantities": [ {"unit": "", "value": "1.0"} ]} }, {"id": "RX363_XL_MAR", "attributes": { "color": "Marine" , "size": "XL" }, "avLevels": {"IN_STOCK": 1.0, "PREORDER": 0.0, "BACKORDER": 0.0, "NOT_AVAILABLE": 0.0}, "avStatus":"IN_STOCK", "inStock":true, "ATS": 10006.0, "inStockDate": "Sat May 24 12:00:00 GMT 2014" , "pricing": {"standard": "41.0", "sale": "41.0", "isPromoPrice": false, "quantities": [ {"unit": "", "value": "1.0"} ]} } ] }}