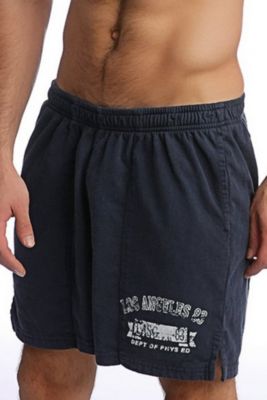 LASC® Gym Short
UG # RX342
Special Offer:
20% OFF 3 OR MORE ITEMS (Details)
Select Quantity
Print
Men's gym shorts
Cotton workout shorts for men
Machine wash
Imported
LASC style CT9307L
Great for any type of athletics – or just for lounging around – these comfy men's gym shorts from LASC are easy fitting and insanely comfortable. Made of 100% cotton in a slip-on design, these comfy sweat gym shorts from LASC feature a long knee cut and form-fitting shape that contours your thighs for a clean and comfortable fit and look. Fun, faded retro print on the leg reads - Los Angeles 83 – Dept of Phys Ed.
{ "variations": { "variants": [ {"id": "RX342_L_NAV", "attributes": { "color": "Navy" , "size": "L" }, "avLevels": {"IN_STOCK": 0.0, "PREORDER": 0.0, "BACKORDER": 0.0, "NOT_AVAILABLE": 1.0}, "avStatus":"NOT_AVAILABLE", "inStock":false, "ATS": 0.0, "inStockDate": "Thu Nov 21 12:00:00 GMT 2013" , "pricing": {"standard": "32.0", "sale": "29.99", "isPromoPrice": false, "quantities": [ {"unit": "", "value": "1.0"} ]} }, {"id": "RX342_L_WHI", "attributes": { "color": "White" , "size": "L" }, "avLevels": {"IN_STOCK": 0.0, "PREORDER": 0.0, "BACKORDER": 0.0, "NOT_AVAILABLE": 1.0}, "avStatus":"NOT_AVAILABLE", "inStock":false, "ATS": 0.0, "inStockDate": "Thu Nov 21 12:00:00 GMT 2013" , "pricing": {"standard": "32.0", "sale": "29.99", "isPromoPrice": false, "quantities": [ {"unit": "", "value": "1.0"} ]} }, {"id": "RX342_M_NAV", "attributes": { "color": "Navy" , "size": "M" }, "avLevels": {"IN_STOCK": 0.0, "PREORDER": 0.0, "BACKORDER": 0.0, "NOT_AVAILABLE": 1.0}, "avStatus":"NOT_AVAILABLE", "inStock":false, "ATS": 0.0, "inStockDate": "Thu Nov 21 12:00:00 GMT 2013" , "pricing": {"standard": "32.0", "sale": "29.99", "isPromoPrice": false, "quantities": [ {"unit": "", "value": "1.0"} ]} }, {"id": "RX342_M_WHI", "attributes": { "color": "White" , "size": "M" }, "avLevels": {"IN_STOCK": 0.0, "PREORDER": 0.0, "BACKORDER": 0.0, "NOT_AVAILABLE": 1.0}, "avStatus":"NOT_AVAILABLE", "inStock":false, "ATS": 0.0, "inStockDate": "Thu Nov 21 12:00:00 GMT 2013" , "pricing": {"standard": "32.0", "sale": "29.99", "isPromoPrice": false, "quantities": [ {"unit": "", "value": "1.0"} ]} }, {"id": "RX342_S_NAV", "attributes": { "color": "Navy" , "size": "S" }, "avLevels": {"IN_STOCK": 0.0, "PREORDER": 0.0, "BACKORDER": 0.0, "NOT_AVAILABLE": 1.0}, "avStatus":"NOT_AVAILABLE", "inStock":false, "ATS": 0.0, "inStockDate": "Thu Nov 21 12:00:00 GMT 2013" , "pricing": {"standard": "32.0", "sale": "29.99", "isPromoPrice": false, "quantities": [ {"unit": "", "value": "1.0"} ]} }, {"id": "RX342_S_WHI", "attributes": { "color": "White" , "size": "S" }, "avLevels": {"IN_STOCK": 0.0, "PREORDER": 0.0, "BACKORDER": 0.0, "NOT_AVAILABLE": 1.0}, "avStatus":"NOT_AVAILABLE", "inStock":false, "ATS": 0.0, "inStockDate": "Thu Nov 21 12:00:00 GMT 2013" , "pricing": {"standard": "32.0", "sale": "29.99", "isPromoPrice": false, "quantities": [ {"unit": "", "value": "1.0"} ]} }, {"id": "RX342_XL_NAV", "attributes": { "color": "Navy" , "size": "XL" }, "avLevels": {"IN_STOCK": 0.0, "PREORDER": 0.0, "BACKORDER": 0.0, "NOT_AVAILABLE": 1.0}, "avStatus":"NOT_AVAILABLE", "inStock":false, "ATS": 0.0, "inStockDate": "Thu Nov 21 12:00:00 GMT 2013" , "pricing": {"standard": "32.0", "sale": "29.99", "isPromoPrice": false, "quantities": [ {"unit": "", "value": "1.0"} ]} }, {"id": "RX342_XL_WHI", "attributes": { "color": "White" , "size": "XL" }, "avLevels": {"IN_STOCK": 0.0, "PREORDER": 0.0, "BACKORDER": 0.0, "NOT_AVAILABLE": 1.0}, "avStatus":"NOT_AVAILABLE", "inStock":false, "ATS": 0.0, "inStockDate": "Thu Nov 21 12:00:00 GMT 2013" , "pricing": {"standard": "32.0", "sale": "29.99", "isPromoPrice": false, "quantities": [ {"unit": "", "value": "1.0"} ]} } ] }}