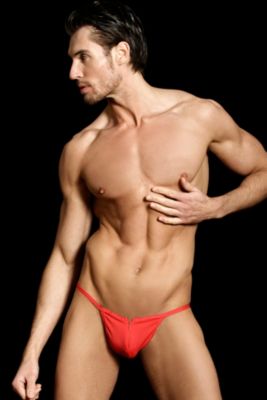 MaleBasics Zipper Thong
UG # AM127
Special Offer:
20% OFF 3 OR MORE ITEMS (Details)
Select Quantity
Print
Men's thong
Men's underwear made from nylon/spandex
Machine wash
Imported
MaleBasics underwear style MBL025
Unzip some fun and games with this sexy men's thong underwear from MaleBasics! Available in three exciting colors, the MaleBasics Zipper men's thong features a unique zipper down the pouch, making it even easier (and more fun) to whip it out. Simply choose the color that strikes you best, or stock up on all of the MaleBasics thongs for a fresh new look, every day. Whichever style you want, we've got it covered.
{ "variations": { "variants": [ {"id": "AM127_LXL_BLA", "attributes": { "color": "Black" , "size": "LXL" }, "avLevels": {"IN_STOCK": 0.0, "PREORDER": 0.0, "BACKORDER": 0.0, "NOT_AVAILABLE": 1.0}, "avStatus":"NOT_AVAILABLE", "inStock":false, "ATS": 0.0, "inStockDate": "Sat May 24 12:00:00 GMT 2014" , "pricing": {"standard": "26.0", "sale": "26.0", "isPromoPrice": false, "quantities": [ {"unit": "", "value": "1.0"} ]} }, {"id": "AM127_LXL_ORA", "attributes": { "color": "Orange" , "size": "LXL" }, "avLevels": {"IN_STOCK": 0.0, "PREORDER": 0.0, "BACKORDER": 0.0, "NOT_AVAILABLE": 1.0}, "avStatus":"NOT_AVAILABLE", "inStock":false, "ATS": 0.0, "inStockDate": "Sat May 24 12:00:00 GMT 2014" , "pricing": {"standard": "26.0", "sale": "26.0", "isPromoPrice": false, "quantities": [ {"unit": "", "value": "1.0"} ]} }, {"id": "AM127_LXL_RED", "attributes": { "color": "Red" , "size": "LXL" }, "avLevels": {"IN_STOCK": 0.0, "PREORDER": 0.0, "BACKORDER": 0.0, "NOT_AVAILABLE": 1.0}, "avStatus":"NOT_AVAILABLE", "inStock":false, "ATS": 0.0, "inStockDate": "Sat May 24 12:00:00 GMT 2014" , "pricing": {"standard": "26.0", "sale": "26.0", "isPromoPrice": false, "quantities": [ {"unit": "", "value": "1.0"} ]} }, {"id": "AM127_SM_BLA", "attributes": { "color": "Black" , "size": "SM" }, "avLevels": {"IN_STOCK": 1.0, "PREORDER": 0.0, "BACKORDER": 0.0, "NOT_AVAILABLE": 0.0}, "avStatus":"IN_STOCK", "inStock":true, "ATS": 7.0, "inStockDate": "Sat May 24 12:00:00 GMT 2014" , "pricing": {"standard": "26.0", "sale": "26.0", "isPromoPrice": false, "quantities": [ {"unit": "", "value": "1.0"} ]} }, {"id": "AM127_SM_ORA", "attributes": { "color": "Orange" , "size": "SM" }, "avLevels": {"IN_STOCK": 1.0, "PREORDER": 0.0, "BACKORDER": 0.0, "NOT_AVAILABLE": 0.0}, "avStatus":"IN_STOCK", "inStock":true, "ATS": 1.0, "inStockDate": "Sat May 24 12:00:00 GMT 2014" , "pricing": {"standard": "26.0", "sale": "26.0", "isPromoPrice": false, "quantities": [ {"unit": "", "value": "1.0"} ]} }, {"id": "AM127_SM_RED", "attributes": { "color": "Red" , "size": "SM" }, "avLevels": {"IN_STOCK": 0.0, "PREORDER": 0.0, "BACKORDER": 0.0, "NOT_AVAILABLE": 1.0}, "avStatus":"NOT_AVAILABLE", "inStock":false, "ATS": 0.0, "inStockDate": "Sat May 24 12:00:00 GMT 2014" , "pricing": {"standard": "26.0", "sale": "26.0", "isPromoPrice": false, "quantities": [ {"unit": "", "value": "1.0"} ]} } ] }}