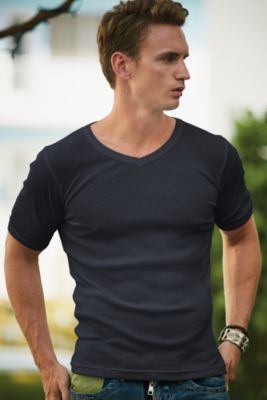 P.O.V.® Core V Neck
UG # DV912
Special Offer:
20% OFF 3 OR MORE ITEMS (Details)
Select Quantity
Print
Men's shirt
Cotton shirt for men
Machine wash
Imported
P.O.V. style number DV912
A wardrobe essential to collect in every color, the cotton P.O.V. V-neck shirt features fine ribbing and a flattering body-conscious fit. An easy essential that looks great on its own or layered, this casual P.O.V. shirt for men is a versatile year-round favorite.
{ "variations": { "variants": [ {"id": "DV912_L_BLA", "attributes": { "color": "Black" , "size": "L" }, "avLevels": {"IN_STOCK": 1.0, "PREORDER": 0.0, "BACKORDER": 0.0, "NOT_AVAILABLE": 0.0}, "avStatus":"IN_STOCK", "inStock":true, "ATS": 10180.0, "inStockDate": "Sat May 24 12:00:00 GMT 2014" , "pricing": {"standard": "14.0", "sale": "14.0", "isPromoPrice": false, "quantities": [ {"unit": "", "value": "1.0"} ]} }, {"id": "DV912_L_GRE", "attributes": { "color": "Grey" , "size": "L" }, "avLevels": {"IN_STOCK": 1.0, "PREORDER": 0.0, "BACKORDER": 0.0, "NOT_AVAILABLE": 0.0}, "avStatus":"IN_STOCK", "inStock":true, "ATS": 10189.0, "inStockDate": "Sat May 24 12:00:00 GMT 2014" , "pricing": {"standard": "14.0", "sale": "14.0", "isPromoPrice": false, "quantities": [ {"unit": "", "value": "1.0"} ]} }, {"id": "DV912_L_ROY", "attributes": { "color": "Royal" , "size": "L" }, "avLevels": {"IN_STOCK": 1.0, "PREORDER": 0.0, "BACKORDER": 0.0, "NOT_AVAILABLE": 0.0}, "avStatus":"IN_STOCK", "inStock":true, "ATS": 10194.0, "inStockDate": "Sat May 24 12:00:00 GMT 2014" , "pricing": {"standard": "14.0", "sale": "14.0", "isPromoPrice": false, "quantities": [ {"unit": "", "value": "1.0"} ]} }, {"id": "DV912_L_WHI", "attributes": { "color": "White" , "size": "L" }, "avLevels": {"IN_STOCK": 1.0, "PREORDER": 0.0, "BACKORDER": 0.0, "NOT_AVAILABLE": 0.0}, "avStatus":"IN_STOCK", "inStock":true, "ATS": 10174.0, "inStockDate": "Sat May 24 12:00:00 GMT 2014" , "pricing": {"standard": "14.0", "sale": "14.0", "isPromoPrice": false, "quantities": [ {"unit": "", "value": "1.0"} ]} }, {"id": "DV912_M_BLA", "attributes": { "color": "Black" , "size": "M" }, "avLevels": {"IN_STOCK": 1.0, "PREORDER": 0.0, "BACKORDER": 0.0, "NOT_AVAILABLE": 0.0}, "avStatus":"IN_STOCK", "inStock":true, "ATS": 10160.0, "inStockDate": "Sat May 24 12:00:00 GMT 2014" , "pricing": {"standard": "14.0", "sale": "14.0", "isPromoPrice": false, "quantities": [ {"unit": "", "value": "1.0"} ]} }, {"id": "DV912_M_GRE", "attributes": { "color": "Grey" , "size": "M" }, "avLevels": {"IN_STOCK": 1.0, "PREORDER": 0.0, "BACKORDER": 0.0, "NOT_AVAILABLE": 0.0}, "avStatus":"IN_STOCK", "inStock":true, "ATS": 10150.0, "inStockDate": "Sat May 24 12:00:00 GMT 2014" , "pricing": {"standard": "14.0", "sale": "14.0", "isPromoPrice": false, "quantities": [ {"unit": "", "value": "1.0"} ]} }, {"id": "DV912_M_ROY", "attributes": { "color": "Royal" , "size": "M" }, "avLevels": {"IN_STOCK": 1.0, "PREORDER": 0.0, "BACKORDER": 0.0, "NOT_AVAILABLE": 0.0}, "avStatus":"IN_STOCK", "inStock":true, "ATS": 10159.0, "inStockDate": "Sat May 24 12:00:00 GMT 2014" , "pricing": {"standard": "14.0", "sale": "14.0", "isPromoPrice": false, "quantities": [ {"unit": "", "value": "1.0"} ]} }, {"id": "DV912_M_WHI", "attributes": { "color": "White" , "size": "M" }, "avLevels": {"IN_STOCK": 1.0, "PREORDER": 0.0, "BACKORDER": 0.0, "NOT_AVAILABLE": 0.0}, "avStatus":"IN_STOCK", "inStock":true, "ATS": 10161.0, "inStockDate": "Sat May 24 12:00:00 GMT 2014" , "pricing": {"standard": "14.0", "sale": "14.0", "isPromoPrice": false, "quantities": [ {"unit": "", "value": "1.0"} ]} }, {"id": "DV912_S_BLA", "attributes": { "color": "Black" , "size": "S" }, "avLevels": {"IN_STOCK": 1.0, "PREORDER": 0.0, "BACKORDER": 0.0, "NOT_AVAILABLE": 0.0}, "avStatus":"IN_STOCK", "inStock":true, "ATS": 10093.0, "inStockDate": "Sat May 24 12:00:00 GMT 2014" , "pricing": {"standard": "14.0", "sale": "14.0", "isPromoPrice": false, "quantities": [ {"unit": "", "value": "1.0"} ]} }, {"id": "DV912_S_GRE", "attributes": { "color": "Grey" , "size": "S" }, "avLevels": {"IN_STOCK": 1.0, "PREORDER": 0.0, "BACKORDER": 0.0, "NOT_AVAILABLE": 0.0}, "avStatus":"IN_STOCK", "inStock":true, "ATS": 10095.0, "inStockDate": "Sat May 24 12:00:00 GMT 2014" , "pricing": {"standard": "14.0", "sale": "14.0", "isPromoPrice": false, "quantities": [ {"unit": "", "value": "1.0"} ]} }, {"id": "DV912_S_ROY", "attributes": { "color": "Royal" , "size": "S" }, "avLevels": {"IN_STOCK": 1.0, "PREORDER": 0.0, "BACKORDER": 0.0, "NOT_AVAILABLE": 0.0}, "avStatus":"IN_STOCK", "inStock":true, "ATS": 10092.0, "inStockDate": "Sat May 24 12:00:00 GMT 2014" , "pricing": {"standard": "14.0", "sale": "14.0", "isPromoPrice": false, "quantities": [ {"unit": "", "value": "1.0"} ]} }, {"id": "DV912_S_WHI", "attributes": { "color": "White" , "size": "S" }, "avLevels": {"IN_STOCK": 1.0, "PREORDER": 0.0, "BACKORDER": 0.0, "NOT_AVAILABLE": 0.0}, "avStatus":"IN_STOCK", "inStock":true, "ATS": 10095.0, "inStockDate": "Sat May 24 12:00:00 GMT 2014" , "pricing": {"standard": "14.0", "sale": "14.0", "isPromoPrice": false, "quantities": [ {"unit": "", "value": "1.0"} ]} }, {"id": "DV912_XL_BLA", "attributes": { "color": "Black" , "size": "XL" }, "avLevels": {"IN_STOCK": 1.0, "PREORDER": 0.0, "BACKORDER": 0.0, "NOT_AVAILABLE": 0.0}, "avStatus":"IN_STOCK", "inStock":true, "ATS": 10118.0, "inStockDate": "Sat May 24 12:00:00 GMT 2014" , "pricing": {"standard": "14.0", "sale": "14.0", "isPromoPrice": false, "quantities": [ {"unit": "", "value": "1.0"} ]} }, {"id": "DV912_XL_GRE", "attributes": { "color": "Grey" , "size": "XL" }, "avLevels": {"IN_STOCK": 1.0, "PREORDER": 0.0, "BACKORDER": 0.0, "NOT_AVAILABLE": 0.0}, "avStatus":"IN_STOCK", "inStock":true, "ATS": 10125.0, "inStockDate": "Sat May 24 12:00:00 GMT 2014" , "pricing": {"standard": "14.0", "sale": "14.0", "isPromoPrice": false, "quantities": [ {"unit": "", "value": "1.0"} ]} }, {"id": "DV912_XL_ROY", "attributes": { "color": "Royal" , "size": "XL" }, "avLevels": {"IN_STOCK": 1.0, "PREORDER": 0.0, "BACKORDER": 0.0, "NOT_AVAILABLE": 0.0}, "avStatus":"IN_STOCK", "inStock":true, "ATS": 10127.0, "inStockDate": "Sat May 24 12:00:00 GMT 2014" , "pricing": {"standard": "14.0", "sale": "14.0", "isPromoPrice": false, "quantities": [ {"unit": "", "value": "1.0"} ]} }, {"id": "DV912_XL_WHI", "attributes": { "color": "White" , "size": "XL" }, "avLevels": {"IN_STOCK": 1.0, "PREORDER": 0.0, "BACKORDER": 0.0, "NOT_AVAILABLE": 0.0}, "avStatus":"IN_STOCK", "inStock":true, "ATS": 10113.0, "inStockDate": "Sat May 24 12:00:00 GMT 2014" , "pricing": {"standard": "14.0", "sale": "14.0", "isPromoPrice": false, "quantities": [ {"unit": "", "value": "1.0"} ]} } ] }}