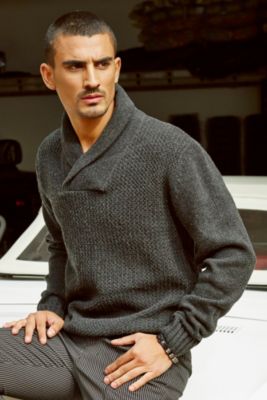 P.O.V.® Mesh Shawl Collar Sweater
UG # GA248
Special Offer:
20% OFF 3 OR MORE ITEMS (Details)
Select Quantity
Print
Men's sweater
Warm wool blend sweater for men
Dry clean
Imported
The versatile sweater every guy needs. A new layering favorite, this P.O.V. Mesh men's sweater features a sophisticated shawl collar and mixed textures for a modern update to the classic look. Wear the essential P.O.V. sweater for men with dark denim, pinstriped pants, chinos and more.
{ "variations": { "variants": [ {"id": "GA248_L_CHA", "attributes": { "color": "Charcoal" , "size": "L" }, "avLevels": {"IN_STOCK": 1.0, "PREORDER": 0.0, "BACKORDER": 0.0, "NOT_AVAILABLE": 0.0}, "avStatus":"IN_STOCK", "inStock":true, "ATS": 137.0, "inStockDate": "Fri May 09 12:00:00 GMT 2014" , "pricing": {"standard": "89.0", "sale": "39.99", "isPromoPrice": false, "quantities": [ {"unit": "", "value": "1.0"} ]} }, {"id": "GA248_L_CRE", "attributes": { "color": "Cream" , "size": "L" }, "avLevels": {"IN_STOCK": 1.0, "PREORDER": 0.0, "BACKORDER": 0.0, "NOT_AVAILABLE": 0.0}, "avStatus":"IN_STOCK", "inStock":true, "ATS": 146.0, "inStockDate": "Fri May 09 12:00:00 GMT 2014" , "pricing": {"standard": "89.0", "sale": "39.99", "isPromoPrice": false, "quantities": [ {"unit": "", "value": "1.0"} ]} }, {"id": "GA248_M_CHA", "attributes": { "color": "Charcoal" , "size": "M" }, "avLevels": {"IN_STOCK": 1.0, "PREORDER": 0.0, "BACKORDER": 0.0, "NOT_AVAILABLE": 0.0}, "avStatus":"IN_STOCK", "inStock":true, "ATS": 120.0, "inStockDate": "Fri May 09 12:00:00 GMT 2014" , "pricing": {"standard": "89.0", "sale": "39.99", "isPromoPrice": false, "quantities": [ {"unit": "", "value": "1.0"} ]} }, {"id": "GA248_M_CRE", "attributes": { "color": "Cream" , "size": "M" }, "avLevels": {"IN_STOCK": 1.0, "PREORDER": 0.0, "BACKORDER": 0.0, "NOT_AVAILABLE": 0.0}, "avStatus":"IN_STOCK", "inStock":true, "ATS": 126.0, "inStockDate": "Fri May 09 12:00:00 GMT 2014" , "pricing": {"standard": "89.0", "sale": "39.99", "isPromoPrice": false, "quantities": [ {"unit": "", "value": "1.0"} ]} }, {"id": "GA248_S_CHA", "attributes": { "color": "Charcoal" , "size": "S" }, "avLevels": {"IN_STOCK": 1.0, "PREORDER": 0.0, "BACKORDER": 0.0, "NOT_AVAILABLE": 0.0}, "avStatus":"IN_STOCK", "inStock":true, "ATS": 36.0, "inStockDate": "Fri May 09 12:00:00 GMT 2014" , "pricing": {"standard": "89.0", "sale": "39.99", "isPromoPrice": false, "quantities": [ {"unit": "", "value": "1.0"} ]} }, {"id": "GA248_S_CRE", "attributes": { "color": "Cream" , "size": "S" }, "avLevels": {"IN_STOCK": 1.0, "PREORDER": 0.0, "BACKORDER": 0.0, "NOT_AVAILABLE": 0.0}, "avStatus":"IN_STOCK", "inStock":true, "ATS": 40.0, "inStockDate": "Fri May 09 12:00:00 GMT 2014" , "pricing": {"standard": "89.0", "sale": "39.99", "isPromoPrice": false, "quantities": [ {"unit": "", "value": "1.0"} ]} }, {"id": "GA248_XL_CHA", "attributes": { "color": "Charcoal" , "size": "XL" }, "avLevels": {"IN_STOCK": 1.0, "PREORDER": 0.0, "BACKORDER": 0.0, "NOT_AVAILABLE": 0.0}, "avStatus":"IN_STOCK", "inStock":true, "ATS": 66.0, "inStockDate": "Fri May 09 12:00:00 GMT 2014" , "pricing": {"standard": "89.0", "sale": "39.99", "isPromoPrice": false, "quantities": [ {"unit": "", "value": "1.0"} ]} }, {"id": "GA248_XL_CRE", "attributes": { "color": "Cream" , "size": "XL" }, "avLevels": {"IN_STOCK": 1.0, "PREORDER": 0.0, "BACKORDER": 0.0, "NOT_AVAILABLE": 0.0}, "avStatus":"IN_STOCK", "inStock":true, "ATS": 76.0, "inStockDate": "Fri May 09 12:00:00 GMT 2014" , "pricing": {"standard": "89.0", "sale": "39.99", "isPromoPrice": false, "quantities": [ {"unit": "", "value": "1.0"} ]} } ] }}