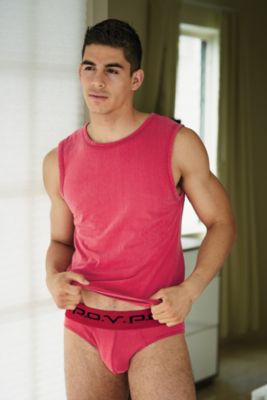 P.O.V.® Vintage Sleeveless Tee
UG # AM356
Special Offer:
20% OFF 3 OR MORE ITEMS (Details)
Select Quantity
Print
Sleeveless men's shirt
Cotton sleeveless undershirt for men
Machine wash
Imported
P.O.V. style number AM356
Made from soft washed cotton, this P.O.V. Vintage men's sleeveless tee has a slightly faded look for lived-in appeal. Available in red or blue, the comfortable crewneck men's undershirt coordinates with the men's trunks and briefs also in the P.O.V. Vintage collection. Combine both basics and start every day on a bright note.
{ "variations": { "variants": [ {"id": "AM356_L_BLU", "attributes": { "color": "Blue" , "size": "L" }, "avLevels": {"IN_STOCK": 1.0, "PREORDER": 0.0, "BACKORDER": 0.0, "NOT_AVAILABLE": 0.0}, "avStatus":"IN_STOCK", "inStock":true, "ATS": 130.0, "inStockDate": "Sat Dec 07 12:00:00 GMT 2013" , "pricing": {"standard": "24.0", "sale": "24.0", "isPromoPrice": false, "quantities": [ {"unit": "", "value": "1.0"} ]} }, {"id": "AM356_L_RED", "attributes": { "color": "Red" , "size": "L" }, "avLevels": {"IN_STOCK": 1.0, "PREORDER": 0.0, "BACKORDER": 0.0, "NOT_AVAILABLE": 0.0}, "avStatus":"IN_STOCK", "inStock":true, "ATS": 141.0, "inStockDate": "Sat Dec 07 12:00:00 GMT 2013" , "pricing": {"standard": "24.0", "sale": "24.0", "isPromoPrice": false, "quantities": [ {"unit": "", "value": "1.0"} ]} }, {"id": "AM356_M_BLU", "attributes": { "color": "Blue" , "size": "M" }, "avLevels": {"IN_STOCK": 1.0, "PREORDER": 0.0, "BACKORDER": 0.0, "NOT_AVAILABLE": 0.0}, "avStatus":"IN_STOCK", "inStock":true, "ATS": 266.0, "inStockDate": "Sat Dec 07 12:00:00 GMT 2013" , "pricing": {"standard": "24.0", "sale": "24.0", "isPromoPrice": false, "quantities": [ {"unit": "", "value": "1.0"} ]} }, {"id": "AM356_M_RED", "attributes": { "color": "Red" , "size": "M" }, "avLevels": {"IN_STOCK": 1.0, "PREORDER": 0.0, "BACKORDER": 0.0, "NOT_AVAILABLE": 0.0}, "avStatus":"IN_STOCK", "inStock":true, "ATS": 263.0, "inStockDate": "Sat Dec 07 12:00:00 GMT 2013" , "pricing": {"standard": "24.0", "sale": "24.0", "isPromoPrice": false, "quantities": [ {"unit": "", "value": "1.0"} ]} }, {"id": "AM356_S_BLU", "attributes": { "color": "Blue" , "size": "S" }, "avLevels": {"IN_STOCK": 1.0, "PREORDER": 0.0, "BACKORDER": 0.0, "NOT_AVAILABLE": 0.0}, "avStatus":"IN_STOCK", "inStock":true, "ATS": 88.0, "inStockDate": "Sat Dec 07 12:00:00 GMT 2013" , "pricing": {"standard": "24.0", "sale": "24.0", "isPromoPrice": false, "quantities": [ {"unit": "", "value": "1.0"} ]} }, {"id": "AM356_S_RED", "attributes": { "color": "Red" , "size": "S" }, "avLevels": {"IN_STOCK": 1.0, "PREORDER": 0.0, "BACKORDER": 0.0, "NOT_AVAILABLE": 0.0}, "avStatus":"IN_STOCK", "inStock":true, "ATS": 82.0, "inStockDate": "Sat Dec 07 12:00:00 GMT 2013" , "pricing": {"standard": "24.0", "sale": "24.0", "isPromoPrice": false, "quantities": [ {"unit": "", "value": "1.0"} ]} }, {"id": "AM356_XL_BLU", "attributes": { "color": "Blue" , "size": "XL" }, "avLevels": {"IN_STOCK": 1.0, "PREORDER": 0.0, "BACKORDER": 0.0, "NOT_AVAILABLE": 0.0}, "avStatus":"IN_STOCK", "inStock":true, "ATS": 83.0, "inStockDate": "Sat Dec 07 12:00:00 GMT 2013" , "pricing": {"standard": "24.0", "sale": "24.0", "isPromoPrice": false, "quantities": [ {"unit": "", "value": "1.0"} ]} }, {"id": "AM356_XL_RED", "attributes": { "color": "Red" , "size": "XL" }, "avLevels": {"IN_STOCK": 1.0, "PREORDER": 0.0, "BACKORDER": 0.0, "NOT_AVAILABLE": 0.0}, "avStatus":"IN_STOCK", "inStock":true, "ATS": 73.0, "inStockDate": "Sat Dec 07 12:00:00 GMT 2013" , "pricing": {"standard": "24.0", "sale": "24.0", "isPromoPrice": false, "quantities": [ {"unit": "", "value": "1.0"} ]} } ] }}