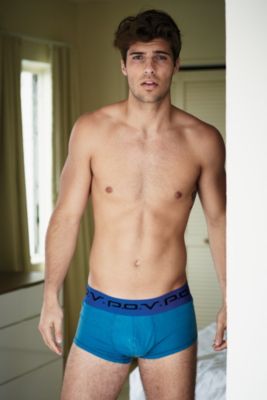 {"imageName":"http://s7d2.scene7.com/is/image/UnderGear/AM355_BUM_E13_2?$dwpp$"}
{"imageName":"http://s7d2.scene7.com/is/image/UnderGear/AM355_BUB_E13_2?$dwpp$"}
{"imageName":"http://s7d2.scene7.com/is/image/UnderGear/AM355_RD_E13?$dwpp$"}
{"imageName":"http://s7d2.scene7.com/is/image/UnderGear/AM355_RDB_E13_2?$dwpp$"}
P.O.V.® Vintage Trunk
UG # AM355
Special Offer:
20% OFF 3 OR MORE ITEMS (Details)
Select Quantity
Print
Men's trunks
Cotton trunk underwear for men
Machine wash
Imported
P.O.V. underwear style number AM355
For the guy that works and plays hard, P.O.V. Vintage trunks offer a comfortable fit in soft clingy cotton. Made with a slightly faded look for a cool update, Vintage men's trunks from P.O.V. offer 24/7 style and support. A large tonal P.O.V. logo waistband and contoured pouch complete the men's underwear must-have.
{ "variations": { "variants": [ {"id": "AM355_L_BLU", "attributes": { "color": "Blue" , "size": "L" }, "avLevels": {"IN_STOCK": 1.0, "PREORDER": 0.0, "BACKORDER": 0.0, "NOT_AVAILABLE": 0.0}, "avStatus":"IN_STOCK", "inStock":true, "ATS": 99.0, "inStockDate": "Sat Dec 07 12:00:00 GMT 2013" , "pricing": {"standard": "18.0", "sale": "18.0", "isPromoPrice": false, "quantities": [ {"unit": "", "value": "1.0"} ]} }, {"id": "AM355_L_RED", "attributes": { "color": "Red" , "size": "L" }, "avLevels": {"IN_STOCK": 1.0, "PREORDER": 0.0, "BACKORDER": 0.0, "NOT_AVAILABLE": 0.0}, "avStatus":"IN_STOCK", "inStock":true, "ATS": 153.0, "inStockDate": "Sat Dec 07 12:00:00 GMT 2013" , "pricing": {"standard": "18.0", "sale": "18.0", "isPromoPrice": false, "quantities": [ {"unit": "", "value": "1.0"} ]} }, {"id": "AM355_M_BLU", "attributes": { "color": "Blue" , "size": "M" }, "avLevels": {"IN_STOCK": 1.0, "PREORDER": 0.0, "BACKORDER": 0.0, "NOT_AVAILABLE": 0.0}, "avStatus":"IN_STOCK", "inStock":true, "ATS": 248.0, "inStockDate": "Sat Dec 07 12:00:00 GMT 2013" , "pricing": {"standard": "18.0", "sale": "18.0", "isPromoPrice": false, "quantities": [ {"unit": "", "value": "1.0"} ]} }, {"id": "AM355_M_RED", "attributes": { "color": "Red" , "size": "M" }, "avLevels": {"IN_STOCK": 1.0, "PREORDER": 0.0, "BACKORDER": 0.0, "NOT_AVAILABLE": 0.0}, "avStatus":"IN_STOCK", "inStock":true, "ATS": 256.0, "inStockDate": "Sat Dec 07 12:00:00 GMT 2013" , "pricing": {"standard": "18.0", "sale": "18.0", "isPromoPrice": false, "quantities": [ {"unit": "", "value": "1.0"} ]} }, {"id": "AM355_S_BLU", "attributes": { "color": "Blue" , "size": "S" }, "avLevels": {"IN_STOCK": 1.0, "PREORDER": 0.0, "BACKORDER": 0.0, "NOT_AVAILABLE": 0.0}, "avStatus":"IN_STOCK", "inStock":true, "ATS": 77.0, "inStockDate": "Sat Dec 07 12:00:00 GMT 2013" , "pricing": {"standard": "18.0", "sale": "18.0", "isPromoPrice": false, "quantities": [ {"unit": "", "value": "1.0"} ]} }, {"id": "AM355_S_RED", "attributes": { "color": "Red" , "size": "S" }, "avLevels": {"IN_STOCK": 1.0, "PREORDER": 0.0, "BACKORDER": 0.0, "NOT_AVAILABLE": 0.0}, "avStatus":"IN_STOCK", "inStock":true, "ATS": 96.0, "inStockDate": "Sat Dec 07 12:00:00 GMT 2013" , "pricing": {"standard": "18.0", "sale": "18.0", "isPromoPrice": false, "quantities": [ {"unit": "", "value": "1.0"} ]} }, {"id": "AM355_XL_BLU", "attributes": { "color": "Blue" , "size": "XL" }, "avLevels": {"IN_STOCK": 1.0, "PREORDER": 0.0, "BACKORDER": 0.0, "NOT_AVAILABLE": 0.0}, "avStatus":"IN_STOCK", "inStock":true, "ATS": 82.0, "inStockDate": "Sat Dec 07 12:00:00 GMT 2013" , "pricing": {"standard": "18.0", "sale": "18.0", "isPromoPrice": false, "quantities": [ {"unit": "", "value": "1.0"} ]} }, {"id": "AM355_XL_RED", "attributes": { "color": "Red" , "size": "XL" }, "avLevels": {"IN_STOCK": 1.0, "PREORDER": 0.0, "BACKORDER": 0.0, "NOT_AVAILABLE": 0.0}, "avStatus":"IN_STOCK", "inStock":true, "ATS": 77.0, "inStockDate": "Sat Dec 07 12:00:00 GMT 2013" , "pricing": {"standard": "18.0", "sale": "18.0", "isPromoPrice": false, "quantities": [ {"unit": "", "value": "1.0"} ]} } ] }}