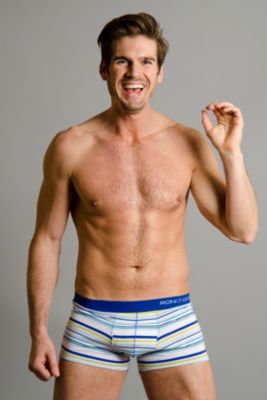 {"imageName":"http://s7d2.scene7.com/is/image/UnderGear/AM039_M_051013?$dwpp$"}
{"imageName":"http://s7d2.scene7.com/is/image/UnderGear/AM039_M1_051013?$dwpp$"}
{"imageName":"http://s7d2.scene7.com/is/image/UnderGear/AM039_F_051013?$dwpp$"}
{"imageName":"http://s7d2.scene7.com/is/image/UnderGear/AM039_NEWRD?$dwpp$"}
{"imageName":"http://s7d2.scene7.com/is/image/UnderGear/AM039_NEWRD1?$dwpp$"}
{"imageName":"http://s7d2.scene7.com/is/image/UnderGear/AM039_M_T12?$dwpp$"}
Ron Chereskin® Retro Stripe Trunk
UG # AM039
Special Offer:
20% OFF 3 OR MORE ITEMS (Details)
Select Quantity
Print
Men's trunks
Men's underwear made from cotton / spandex
Machine wash
Imported
Ron Chereskin style RCU1005O
Stripes go sensual in these slightly retro men's trunks from Ron Chereskin. In warm, earthy tones of tan and olive green, the Ron Chereskin Retro Stripe men's trunks combine vintage looks with of-the-moment edge. Fabricated from cotton and spandex. The Ron Chereskin men's trunks offer the perfect mix of softness and stretch, and a superb fit that showcases every curve.
{ "variations": { "variants": [ {"id": "AM039_L_OI", "attributes": { "color": "Olive" , "size": "L" }, "avLevels": {"IN_STOCK": 0.0, "PREORDER": 0.0, "BACKORDER": 0.0, "NOT_AVAILABLE": 1.0}, "avStatus":"NOT_AVAILABLE", "inStock":false, "ATS": 0.0, "inStockDate": "Tue Mar 26 12:00:00 GMT 2013" , "pricing": {"standard": "20.0", "sale": "11.97", "isPromoPrice": false, "quantities": [ {"unit": "", "value": "1.0"} ]} }, {"id": "AM039_M_OI", "attributes": { "color": "Olive" , "size": "M" }, "avLevels": {"IN_STOCK": 0.0, "PREORDER": 0.0, "BACKORDER": 0.0, "NOT_AVAILABLE": 1.0}, "avStatus":"NOT_AVAILABLE", "inStock":false, "ATS": 0.0, "inStockDate": "Tue Mar 26 12:00:00 GMT 2013" , "pricing": {"standard": "20.0", "sale": "11.97", "isPromoPrice": false, "quantities": [ {"unit": "", "value": "1.0"} ]} }, {"id": "AM039_S_OI", "attributes": { "color": "Olive" , "size": "S" }, "avLevels": {"IN_STOCK": 1.0, "PREORDER": 0.0, "BACKORDER": 0.0, "NOT_AVAILABLE": 0.0}, "avStatus":"IN_STOCK", "inStock":true, "ATS": 2.0, "inStockDate": "Tue Dec 31 12:00:00 GMT 2030" , "pricing": {"standard": "20.0", "sale": "11.97", "isPromoPrice": false, "quantities": [ {"unit": "", "value": "1.0"} ]} }, {"id": "AM039_XL_OI", "attributes": { "color": "Olive" , "size": "XL" }, "avLevels": {"IN_STOCK": 0.0, "PREORDER": 0.0, "BACKORDER": 0.0, "NOT_AVAILABLE": 1.0}, "avStatus":"NOT_AVAILABLE", "inStock":false, "ATS": 0.0, "inStockDate": "Fri Aug 10 12:00:00 GMT 2012" , "pricing": {"standard": "20.0", "sale": "11.97", "isPromoPrice": false, "quantities": [ {"unit": "", "value": "1.0"} ]} }, {"id": "AM039_S_RD", "attributes": { "color": "Red" , "size": "S" }, "avLevels": {"IN_STOCK": 0.0, "PREORDER": 0.0, "BACKORDER": 0.0, "NOT_AVAILABLE": 1.0}, "avStatus":"NOT_AVAILABLE", "inStock":false, "ATS": 0.0, "inStockDate": "Sun Dec 15 12:00:00 GMT 2013" , "pricing": {"standard": "20.0", "sale": "11.97", "isPromoPrice": false, "quantities": [ {"unit": "", "value": "1.0"} ]} }, {"id": "AM039_L_RD", "attributes": { "color": "Red" , "size": "L" }, "avLevels": {"IN_STOCK": 0.0, "PREORDER": 0.0, "BACKORDER": 0.0, "NOT_AVAILABLE": 1.0}, "avStatus":"NOT_AVAILABLE", "inStock":false, "ATS": 0.0, "inStockDate": "Sun Dec 15 12:00:00 GMT 2013" , "pricing": {"standard": "20.0", "sale": "11.97", "isPromoPrice": false, "quantities": [ {"unit": "", "value": "1.0"} ]} }, {"id": "AM039_M_CB", "attributes": { "color": "Cobalt" , "size": "M" }, "avLevels": {"IN_STOCK": 0.0, "PREORDER": 0.0, "BACKORDER": 0.0, "NOT_AVAILABLE": 1.0}, "avStatus":"NOT_AVAILABLE", "inStock":false, "ATS": 0.0, "inStockDate": "Sun Dec 15 12:00:00 GMT 2013" , "pricing": {"standard": "20.0", "sale": "11.97", "isPromoPrice": false, "quantities": [ {"unit": "", "value": "1.0"} ]} }, {"id": "AM039_S_CB", "attributes": { "color": "Cobalt" , "size": "S" }, "avLevels": {"IN_STOCK": 0.0, "PREORDER": 0.0, "BACKORDER": 0.0, "NOT_AVAILABLE": 1.0}, "avStatus":"NOT_AVAILABLE", "inStock":false, "ATS": 0.0, "inStockDate": "Sun Dec 15 12:00:00 GMT 2013" , "pricing": {"standard": "20.0", "sale": "11.97", "isPromoPrice": false, "quantities": [ {"unit": "", "value": "1.0"} ]} }, {"id": "AM039_M_RD", "attributes": { "color": "Red" , "size": "M" }, "avLevels": {"IN_STOCK": 0.0, "PREORDER": 0.0, "BACKORDER": 0.0, "NOT_AVAILABLE": 1.0}, "avStatus":"NOT_AVAILABLE", "inStock":false, "ATS": 0.0, "inStockDate": "Sun Dec 15 12:00:00 GMT 2013" , "pricing": {"standard": "20.0", "sale": "11.97", "isPromoPrice": false, "quantities": [ {"unit": "", "value": "1.0"} ]} }, {"id": "AM039_L_CB", "attributes": { "color": "Cobalt" , "size": "L" }, "avLevels": {"IN_STOCK": 0.0, "PREORDER": 0.0, "BACKORDER": 0.0, "NOT_AVAILABLE": 1.0}, "avStatus":"NOT_AVAILABLE", "inStock":false, "ATS": 0.0, "inStockDate": "Sun Dec 15 12:00:00 GMT 2013" , "pricing": {"standard": "20.0", "sale": "11.97", "isPromoPrice": false, "quantities": [ {"unit": "", "value": "1.0"} ]} } ] }}