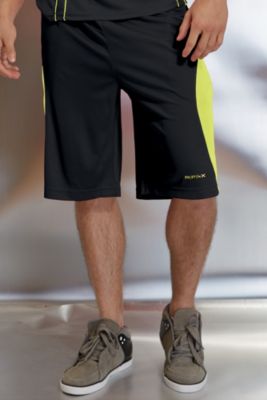 {"imageName":"http://s7d2.scene7.com/is/image/UnderGear/RX371_BFV_Q13?$dwpp$"}
{"imageName":"http://s7d2.scene7.com/is/image/UnderGear/RX371_BLFV_Q13?$dwpp$"}
{"imageName":"http://s7d2.scene7.com/is/image/UnderGear/RX371_GFV_Q13?$dwpp$"}
{"imageName":"http://s7d2.scene7.com/is/image/UnderGear/RX371_NGFV_Q13?$dwpp$"}
{"imageName":"http://s7d2.scene7.com/is/image/UnderGear/RX371_RFV_Q13?$dwpp$"}
{"imageName":"http://s7d2.scene7.com/is/image/UnderGear/RX371_WFV_Q13?$dwpp$"}
{"imageName":"http://s7d2.scene7.com/is/image/UnderGear/RX371_WSV_Q13?$dwpp$"}
Seduka® Active Short
UG # RX371
Special Offer:
20% OFF 3 OR MORE ITEMS (Details)
Select Quantity
Print
Men's workout shorts
Polyester athletic shorts for men
Machine wash
Imported
Seduka style RPX3003
Work out in style in these sporty men's athletic shorts from Seduka. Designed in quick-drying polyester, the Seduka Active shorts for men are a fashionable pick for running, lifting, wrestling or just hanging out. Available in an assortment of fun, sporty colors, including red, white, blue, grey, neon green and black, you'll want to stock up on as many of these workout shorts as you can!
{ "variations": { "variants": [ {"id": "RX371_XL_NGE", "attributes": { "color": "Neon Green" , "size": "XL" }, "avLevels": {"IN_STOCK": 1.0, "PREORDER": 0.0, "BACKORDER": 0.0, "NOT_AVAILABLE": 0.0}, "avStatus":"IN_STOCK", "inStock":true, "ATS": 2.0, "inStockDate": "Fri Nov 29 12:00:00 GMT 2013" , "pricing": {"standard": "24.0", "sale": "24.0", "isPromoPrice": false, "quantities": [ {"unit": "", "value": "1.0"} ]} }, {"id": "RX371_XXL_WHI", "attributes": { "color": "White" , "size": "XXL" }, "avLevels": {"IN_STOCK": 1.0, "PREORDER": 0.0, "BACKORDER": 0.0, "NOT_AVAILABLE": 0.0}, "avStatus":"IN_STOCK", "inStock":true, "ATS": 2.0, "inStockDate": "Fri Nov 29 12:00:00 GMT 2013" , "pricing": {"standard": "24.0", "sale": "24.0", "isPromoPrice": false, "quantities": [ {"unit": "", "value": "1.0"} ]} }, {"id": "RX371_M_BLU", "attributes": { "color": "Blue" , "size": "M" }, "avLevels": {"IN_STOCK": 1.0, "PREORDER": 0.0, "BACKORDER": 0.0, "NOT_AVAILABLE": 0.0}, "avStatus":"IN_STOCK", "inStock":true, "ATS": 1.0, "inStockDate": "Fri Nov 29 12:00:00 GMT 2013" , "pricing": {"standard": "24.0", "sale": "24.0", "isPromoPrice": false, "quantities": [ {"unit": "", "value": "1.0"} ]} }, {"id": "RX371_XXL_BLA", "attributes": { "color": "Black" , "size": "XXL" }, "avLevels": {"IN_STOCK": 1.0, "PREORDER": 0.0, "BACKORDER": 0.0, "NOT_AVAILABLE": 0.0}, "avStatus":"IN_STOCK", "inStock":true, "ATS": 3.0, "inStockDate": "Fri Nov 29 12:00:00 GMT 2013" , "pricing": {"standard": "24.0", "sale": "24.0", "isPromoPrice": false, "quantities": [ {"unit": "", "value": "1.0"} ]} }, {"id": "RX371_L_WHI", "attributes": { "color": "White" , "size": "L" }, "avLevels": {"IN_STOCK": 1.0, "PREORDER": 0.0, "BACKORDER": 0.0, "NOT_AVAILABLE": 0.0}, "avStatus":"IN_STOCK", "inStock":true, "ATS": 11.0, "inStockDate": "Fri Nov 29 12:00:00 GMT 2013" , "pricing": {"standard": "24.0", "sale": "24.0", "isPromoPrice": false, "quantities": [ {"unit": "", "value": "1.0"} ]} }, {"id": "RX371_XL_WHI", "attributes": { "color": "White" , "size": "XL" }, "avLevels": {"IN_STOCK": 1.0, "PREORDER": 0.0, "BACKORDER": 0.0, "NOT_AVAILABLE": 0.0}, "avStatus":"IN_STOCK", "inStock":true, "ATS": 7.0, "inStockDate": "Fri Nov 29 12:00:00 GMT 2013" , "pricing": {"standard": "24.0", "sale": "24.0", "isPromoPrice": false, "quantities": [ {"unit": "", "value": "1.0"} ]} }, {"id": "RX371_L_BLA", "attributes": { "color": "Black" , "size": "L" }, "avLevels": {"IN_STOCK": 1.0, "PREORDER": 0.0, "BACKORDER": 0.0, "NOT_AVAILABLE": 0.0}, "avStatus":"IN_STOCK", "inStock":true, "ATS": 13.0, "inStockDate": "Fri Nov 29 12:00:00 GMT 2013" , "pricing": {"standard": "24.0", "sale": "24.0", "isPromoPrice": false, "quantities": [ {"unit": "", "value": "1.0"} ]} }, {"id": "RX371_S_BLU", "attributes": { "color": "Blue" , "size": "S" }, "avLevels": {"IN_STOCK": 1.0, "PREORDER": 0.0, "BACKORDER": 0.0, "NOT_AVAILABLE": 0.0}, "avStatus":"IN_STOCK", "inStock":true, "ATS": 7.0, "inStockDate": "Fri Nov 29 12:00:00 GMT 2013" , "pricing": {"standard": "24.0", "sale": "24.0", "isPromoPrice": false, "quantities": [ {"unit": "", "value": "1.0"} ]} }, {"id": "RX371_S_GRY", "attributes": { "color": "Grey" , "size": "S" }, "avLevels": {"IN_STOCK": 0.0, "PREORDER": 0.0, "BACKORDER": 0.0, "NOT_AVAILABLE": 1.0}, "avStatus":"NOT_AVAILABLE", "inStock":false, "ATS": 0.0, "inStockDate": "Fri Nov 29 12:00:00 GMT 2013" , "pricing": {"standard": "24.0", "sale": "24.0", "isPromoPrice": false, "quantities": [ {"unit": "", "value": "1.0"} ]} }, {"id": "RX371_S_NGE", "attributes": { "color": "Neon Green" , "size": "S" }, "avLevels": {"IN_STOCK": 1.0, "PREORDER": 0.0, "BACKORDER": 0.0, "NOT_AVAILABLE": 0.0}, "avStatus":"IN_STOCK", "inStock":true, "ATS": 3.0, "inStockDate": "Fri Nov 29 12:00:00 GMT 2013" , "pricing": {"standard": "24.0", "sale": "24.0", "isPromoPrice": false, "quantities": [ {"unit": "", "value": "1.0"} ]} }, {"id": "RX371_L_GRY", "attributes": { "color": "Grey" , "size": "L" }, "avLevels": {"IN_STOCK": 1.0, "PREORDER": 0.0, "BACKORDER": 0.0, "NOT_AVAILABLE": 0.0}, "avStatus":"IN_STOCK", "inStock":true, "ATS": 1.0, "inStockDate": "Fri Nov 29 12:00:00 GMT 2013" , "pricing": {"standard": "24.0", "sale": "24.0", "isPromoPrice": false, "quantities": [ {"unit": "", "value": "1.0"} ]} }, {"id": "RX371_M_NGE", "attributes": { "color": "Neon Green" , "size": "M" }, "avLevels": {"IN_STOCK": 0.0, "PREORDER": 0.0, "BACKORDER": 0.0, "NOT_AVAILABLE": 1.0}, "avStatus":"NOT_AVAILABLE", "inStock":false, "ATS": 0.0, "inStockDate": "Fri Dec 27 12:00:00 GMT 2013" , "pricing": {"standard": "24.0", "sale": "24.0", "isPromoPrice": false, "quantities": [ {"unit": "", "value": "1.0"} ]} }, {"id": "RX371_XXL_RED", "attributes": { "color": "Red" , "size": "XXL" }, "avLevels": {"IN_STOCK": 1.0, "PREORDER": 0.0, "BACKORDER": 0.0, "NOT_AVAILABLE": 0.0}, "avStatus":"IN_STOCK", "inStock":true, "ATS": 4.0, "inStockDate": "Fri Nov 29 12:00:00 GMT 2013" , "pricing": {"standard": "24.0", "sale": "24.0", "isPromoPrice": false, "quantities": [ {"unit": "", "value": "1.0"} ]} }, {"id": "RX371_M_GRY", "attributes": { "color": "Grey" , "size": "M" }, "avLevels": {"IN_STOCK": 0.0, "PREORDER": 0.0, "BACKORDER": 0.0, "NOT_AVAILABLE": 1.0}, "avStatus":"NOT_AVAILABLE", "inStock":false, "ATS": 0.0, "inStockDate": "Fri Dec 27 12:00:00 GMT 2013" , "pricing": {"standard": "24.0", "sale": "24.0", "isPromoPrice": false, "quantities": [ {"unit": "", "value": "1.0"} ]} }, {"id": "RX371_XL_RED", "attributes": { "color": "Red" , "size": "XL" }, "avLevels": {"IN_STOCK": 1.0, "PREORDER": 0.0, "BACKORDER": 0.0, "NOT_AVAILABLE": 0.0}, "avStatus":"IN_STOCK", "inStock":true, "ATS": 2.0, "inStockDate": "Fri Nov 29 12:00:00 GMT 2013" , "pricing": {"standard": "24.0", "sale": "24.0", "isPromoPrice": false, "quantities": [ {"unit": "", "value": "1.0"} ]} }, {"id": "RX371_M_RED", "attributes": { "color": "Red" , "size": "M" }, "avLevels": {"IN_STOCK": 1.0, "PREORDER": 0.0, "BACKORDER": 0.0, "NOT_AVAILABLE": 0.0}, "avStatus":"IN_STOCK", "inStock":true, "ATS": 4.0, "inStockDate": "Fri Nov 29 12:00:00 GMT 2013" , "pricing": {"standard": "24.0", "sale": "24.0", "isPromoPrice": false, "quantities": [ {"unit": "", "value": "1.0"} ]} }, {"id": "RX371_XXL_NGE", "attributes": { "color": "Neon Green" , "size": "XXL" }, "avLevels": {"IN_STOCK": 0.0, "PREORDER": 0.0, "BACKORDER": 0.0, "NOT_AVAILABLE": 1.0}, "avStatus":"NOT_AVAILABLE", "inStock":false, "ATS": 0.0, "inStockDate": "Fri Dec 27 12:00:00 GMT 2013" , "pricing": {"standard": "24.0", "sale": "24.0", "isPromoPrice": false, "quantities": [ {"unit": "", "value": "1.0"} ]} }, {"id": "RX371_S_WHI", "attributes": { "color": "White" , "size": "S" }, "avLevels": {"IN_STOCK": 1.0, "PREORDER": 0.0, "BACKORDER": 0.0, "NOT_AVAILABLE": 0.0}, "avStatus":"IN_STOCK", "inStock":true, "ATS": 6.0, "inStockDate": "Fri Nov 29 12:00:00 GMT 2013" , "pricing": {"standard": "24.0", "sale": "24.0", "isPromoPrice": false, "quantities": [ {"unit": "", "value": "1.0"} ]} }, {"id": "RX371_L_RED", "attributes": { "color": "Red" , "size": "L" }, "avLevels": {"IN_STOCK": 1.0, "PREORDER": 0.0, "BACKORDER": 0.0, "NOT_AVAILABLE": 0.0}, "avStatus":"IN_STOCK", "inStock":true, "ATS": 11.0, "inStockDate": "Fri Nov 29 12:00:00 GMT 2013" , "pricing": {"standard": "24.0", "sale": "24.0", "isPromoPrice": false, "quantities": [ {"unit": "", "value": "1.0"} ]} }, {"id": "RX371_XL_GRY", "attributes": { "color": "Grey" , "size": "XL" }, "avLevels": {"IN_STOCK": 0.0, "PREORDER": 0.0, "BACKORDER": 0.0, "NOT_AVAILABLE": 1.0}, "avStatus":"NOT_AVAILABLE", "inStock":false, "ATS": 0.0, "inStockDate": "Fri Dec 27 12:00:00 GMT 2013" , "pricing": {"standard": "24.0", "sale": "24.0", "isPromoPrice": false, "quantities": [ {"unit": "", "value": "1.0"} ]} }, {"id": "RX371_L_BLU", "attributes": { "color": "Blue" , "size": "L" }, "avLevels": {"IN_STOCK": 1.0, "PREORDER": 0.0, "BACKORDER": 0.0, "NOT_AVAILABLE": 0.0}, "avStatus":"IN_STOCK", "inStock":true, "ATS": 11.0, "inStockDate": "Fri Nov 29 12:00:00 GMT 2013" , "pricing": {"standard": "24.0", "sale": "24.0", "isPromoPrice": false, "quantities": [ {"unit": "", "value": "1.0"} ]} }, {"id": "RX371_XXL_BLU", "attributes": { "color": "Blue" , "size": "XXL" }, "avLevels": {"IN_STOCK": 0.0, "PREORDER": 0.0, "BACKORDER": 0.0, "NOT_AVAILABLE": 1.0}, "avStatus":"NOT_AVAILABLE", "inStock":false, "ATS": 0.0, "inStockDate": "Fri Dec 27 12:00:00 GMT 2013" , "pricing": {"standard": "24.0", "sale": "24.0", "isPromoPrice": false, "quantities": [ {"unit": "", "value": "1.0"} ]} }, {"id": "RX371_L_NGE", "attributes": { "color": "Neon Green" , "size": "L" }, "avLevels": {"IN_STOCK": 1.0, "PREORDER": 0.0, "BACKORDER": 0.0, "NOT_AVAILABLE": 0.0}, "avStatus":"IN_STOCK", "inStock":true, "ATS": 11.0, "inStockDate": "Fri Nov 29 12:00:00 GMT 2013" , "pricing": {"standard": "24.0", "sale": "24.0", "isPromoPrice": false, "quantities": [ {"unit": "", "value": "1.0"} ]} }, {"id": "RX371_M_BLA", "attributes": { "color": "Black" , "size": "M" }, "avLevels": {"IN_STOCK": 1.0, "PREORDER": 0.0, "BACKORDER": 0.0, "NOT_AVAILABLE": 0.0}, "avStatus":"IN_STOCK", "inStock":true, "ATS": 2.0, "inStockDate": "Fri Nov 29 12:00:00 GMT 2013" , "pricing": {"standard": "24.0", "sale": "24.0", "isPromoPrice": false, "quantities": [ {"unit": "", "value": "1.0"} ]} }, {"id": "RX371_XL_BLA", "attributes": { "color": "Black" , "size": "XL" }, "avLevels": {"IN_STOCK": 1.0, "PREORDER": 0.0, "BACKORDER": 0.0, "NOT_AVAILABLE": 0.0}, "avStatus":"IN_STOCK", "inStock":true, "ATS": 6.0, "inStockDate": "Fri Nov 29 12:00:00 GMT 2013" , "pricing": {"standard": "24.0", "sale": "24.0", "isPromoPrice": false, "quantities": [ {"unit": "", "value": "1.0"} ]} }, {"id": "RX371_XL_BLU", "attributes": { "color": "Blue" , "size": "XL" }, "avLevels": {"IN_STOCK": 1.0, "PREORDER": 0.0, "BACKORDER": 0.0, "NOT_AVAILABLE": 0.0}, "avStatus":"IN_STOCK", "inStock":true, "ATS": 1.0, "inStockDate": "Fri Nov 29 12:00:00 GMT 2013" , "pricing": {"standard": "24.0", "sale": "24.0", "isPromoPrice": false, "quantities": [ {"unit": "", "value": "1.0"} ]} }, {"id": "RX371_S_RED", "attributes": { "color": "Red" , "size": "S" }, "avLevels": {"IN_STOCK": 1.0, "PREORDER": 0.0, "BACKORDER": 0.0, "NOT_AVAILABLE": 0.0}, "avStatus":"IN_STOCK", "inStock":true, "ATS": 6.0, "inStockDate": "Fri Nov 29 12:00:00 GMT 2013" , "pricing": {"standard": "24.0", "sale": "24.0", "isPromoPrice": false, "quantities": [ {"unit": "", "value": "1.0"} ]} }, {"id": "RX371_M_WHI", "attributes": { "color": "White" , "size": "M" }, "avLevels": {"IN_STOCK": 0.0, "PREORDER": 0.0, "BACKORDER": 0.0, "NOT_AVAILABLE": 1.0}, "avStatus":"NOT_AVAILABLE", "inStock":false, "ATS": 0.0, "inStockDate": "Fri Nov 29 12:00:00 GMT 2013" , "pricing": {"standard": "24.0", "sale": "24.0", "isPromoPrice": false, "quantities": [ {"unit": "", "value": "1.0"} ]} }, {"id": "RX371_XXL_GRY", "attributes": { "color": "Grey" , "size": "XXL" }, "avLevels": {"IN_STOCK": 0.0, "PREORDER": 0.0, "BACKORDER": 0.0, "NOT_AVAILABLE": 1.0}, "avStatus":"NOT_AVAILABLE", "inStock":false, "ATS": 0.0, "inStockDate": "Fri Dec 27 12:00:00 GMT 2013" , "pricing": {"standard": "24.0", "sale": "24.0", "isPromoPrice": false, "quantities": [ {"unit": "", "value": "1.0"} ]} }, {"id": "RX371_S_BLA", "attributes": { "color": "Black" , "size": "S" }, "avLevels": {"IN_STOCK": 1.0, "PREORDER": 0.0, "BACKORDER": 0.0, "NOT_AVAILABLE": 0.0}, "avStatus":"IN_STOCK", "inStock":true, "ATS": 7.0, "inStockDate": "Fri Nov 29 12:00:00 GMT 2013" , "pricing": {"standard": "24.0", "sale": "24.0", "isPromoPrice": false, "quantities": [ {"unit": "", "value": "1.0"} ]} } ] }}