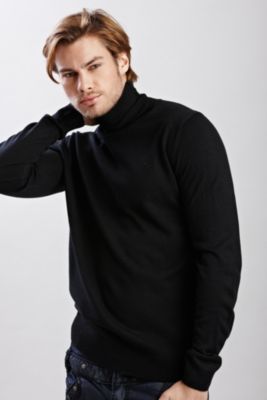 {"imageName":"http://s7d2.scene7.com/is/image/UnderGear/GA223_BL_B13?$dwpp$"}
{"imageName":"http://s7d2.scene7.com/is/image/UnderGear/GA223_CH_B13?$dwpp$"}
{"imageName":"http://s7d2.scene7.com/is/image/UnderGear/GA223_CM_B13?$dwpp$"}
{"imageName":"http://s7d2.scene7.com/is/image/UnderGear/GA223_NV_B13?$dwpp$"}
{"imageName":"http://s7d2.scene7.com/is/image/UnderGear/GA223_RD_B13?$dwpp$"}
Soul Star® Dagenham Turtleneck Sweater
UG # GA223
Special Offer:
20% OFF 3 OR MORE ITEMS (Details)
Select Quantity
Print
Men's sweater
Cotton / polyester turtleneck sweater for men
Machine wash
Imported
Soul Star style MKDAGENHAMPKA
This great-looking turtleneck sweater from Soul Star is a lightweight version of a classic wardrobe builder. Essential over jeans and under jackets, the Soul Star Dagenham men's turtleneck sweater brings après ski style to your closet. Made from a mix of cotton and polyester, the Soul Star Ribbed turtleneck also features a ribbed neck, cuffs and hem, and a tonal embroidered chest logo.
{ "variations": { "variants": [ {"id": "GA223_L_BLA", "attributes": { "color": "Black" , "size": "L" }, "avLevels": {"IN_STOCK": 1.0, "PREORDER": 0.0, "BACKORDER": 0.0, "NOT_AVAILABLE": 0.0}, "avStatus":"IN_STOCK", "inStock":true, "ATS": 1.0, "inStockDate": "Sat Dec 21 12:00:00 GMT 2013" , "pricing": {"standard": "35.0", "sale": "16.97", "isPromoPrice": false, "quantities": [ {"unit": "", "value": "1.0"} ]} }, {"id": "GA223_L_CAM", "attributes": { "color": "Camel" , "size": "L" }, "avLevels": {"IN_STOCK": 0.0, "PREORDER": 0.0, "BACKORDER": 0.0, "NOT_AVAILABLE": 1.0}, "avStatus":"NOT_AVAILABLE", "inStock":false, "ATS": 0.0, "inStockDate": "Sat Dec 21 12:00:00 GMT 2013" , "pricing": {"standard": "35.0", "sale": "16.97", "isPromoPrice": false, "quantities": [ {"unit": "", "value": "1.0"} ]} }, {"id": "GA223_L_CHA", "attributes": { "color": "Charcoal" , "size": "L" }, "avLevels": {"IN_STOCK": 0.0, "PREORDER": 0.0, "BACKORDER": 0.0, "NOT_AVAILABLE": 1.0}, "avStatus":"NOT_AVAILABLE", "inStock":false, "ATS": 0.0, "inStockDate": "Sat Dec 21 12:00:00 GMT 2013" , "pricing": {"standard": "35.0", "sale": "16.97", "isPromoPrice": false, "quantities": [ {"unit": "", "value": "1.0"} ]} }, {"id": "GA223_L_GRE", "attributes": { "color": "Grey" , "size": "L" }, "avLevels": {"IN_STOCK": 0.0, "PREORDER": 0.0, "BACKORDER": 0.0, "NOT_AVAILABLE": 1.0}, "avStatus":"NOT_AVAILABLE", "inStock":false, "ATS": 0.0, "inStockDate": "Sat Dec 21 12:00:00 GMT 2013" , "pricing": {"standard": "35.0", "sale": "16.97", "isPromoPrice": false, "quantities": [ {"unit": "", "value": "1.0"} ]} }, {"id": "GA223_L_NAV", "attributes": { "color": "Navy" , "size": "L" }, "avLevels": {"IN_STOCK": 0.0, "PREORDER": 0.0, "BACKORDER": 0.0, "NOT_AVAILABLE": 1.0}, "avStatus":"NOT_AVAILABLE", "inStock":false, "ATS": 0.0, "inStockDate": "Sat Dec 21 12:00:00 GMT 2013" , "pricing": {"standard": "35.0", "sale": "16.97", "isPromoPrice": false, "quantities": [ {"unit": "", "value": "1.0"} ]} }, {"id": "GA223_L_RED", "attributes": { "color": "Red" , "size": "L" }, "avLevels": {"IN_STOCK": 0.0, "PREORDER": 0.0, "BACKORDER": 0.0, "NOT_AVAILABLE": 1.0}, "avStatus":"NOT_AVAILABLE", "inStock":false, "ATS": 0.0, "inStockDate": "Sat Dec 21 12:00:00 GMT 2013" , "pricing": {"standard": "35.0", "sale": "16.97", "isPromoPrice": false, "quantities": [ {"unit": "", "value": "1.0"} ]} }, {"id": "GA223_M_BLA", "attributes": { "color": "Black" , "size": "M" }, "avLevels": {"IN_STOCK": 0.0, "PREORDER": 0.0, "BACKORDER": 0.0, "NOT_AVAILABLE": 1.0}, "avStatus":"NOT_AVAILABLE", "inStock":false, "ATS": 0.0, "inStockDate": "Sat Dec 21 12:00:00 GMT 2013" , "pricing": {"standard": "35.0", "sale": "16.97", "isPromoPrice": false, "quantities": [ {"unit": "", "value": "1.0"} ]} }, {"id": "GA223_M_CAM", "attributes": { "color": "Camel" , "size": "M" }, "avLevels": {"IN_STOCK": 0.0, "PREORDER": 0.0, "BACKORDER": 0.0, "NOT_AVAILABLE": 1.0}, "avStatus":"NOT_AVAILABLE", "inStock":false, "ATS": 0.0, "inStockDate": "Sat Dec 21 12:00:00 GMT 2013" , "pricing": {"standard": "35.0", "sale": "16.97", "isPromoPrice": false, "quantities": [ {"unit": "", "value": "1.0"} ]} }, {"id": "GA223_M_CHA", "attributes": { "color": "Charcoal" , "size": "M" }, "avLevels": {"IN_STOCK": 0.0, "PREORDER": 0.0, "BACKORDER": 0.0, "NOT_AVAILABLE": 1.0}, "avStatus":"NOT_AVAILABLE", "inStock":false, "ATS": 0.0, "inStockDate": "Sat Dec 21 12:00:00 GMT 2013" , "pricing": {"standard": "35.0", "sale": "16.97", "isPromoPrice": false, "quantities": [ {"unit": "", "value": "1.0"} ]} }, {"id": "GA223_M_GRE", "attributes": { "color": "Grey" , "size": "M" }, "avLevels": {"IN_STOCK": 1.0, "PREORDER": 0.0, "BACKORDER": 0.0, "NOT_AVAILABLE": 0.0}, "avStatus":"IN_STOCK", "inStock":true, "ATS": 1.0, "inStockDate": "Sat Dec 21 12:00:00 GMT 2013" , "pricing": {"standard": "35.0", "sale": "16.97", "isPromoPrice": false, "quantities": [ {"unit": "", "value": "1.0"} ]} }, {"id": "GA223_M_NAV", "attributes": { "color": "Navy" , "size": "M" }, "avLevels": {"IN_STOCK": 0.0, "PREORDER": 0.0, "BACKORDER": 0.0, "NOT_AVAILABLE": 1.0}, "avStatus":"NOT_AVAILABLE", "inStock":false, "ATS": 0.0, "inStockDate": "Sat Dec 21 12:00:00 GMT 2013" , "pricing": {"standard": "35.0", "sale": "16.97", "isPromoPrice": false, "quantities": [ {"unit": "", "value": "1.0"} ]} }, {"id": "GA223_M_RED", "attributes": { "color": "Red" , "size": "M" }, "avLevels": {"IN_STOCK": 0.0, "PREORDER": 0.0, "BACKORDER": 0.0, "NOT_AVAILABLE": 1.0}, "avStatus":"NOT_AVAILABLE", "inStock":false, "ATS": 0.0, "inStockDate": "Sat Dec 21 12:00:00 GMT 2013" , "pricing": {"standard": "35.0", "sale": "16.97", "isPromoPrice": false, "quantities": [ {"unit": "", "value": "1.0"} ]} }, {"id": "GA223_S_BLA", "attributes": { "color": "Black" , "size": "S" }, "avLevels": {"IN_STOCK": 0.0, "PREORDER": 0.0, "BACKORDER": 0.0, "NOT_AVAILABLE": 1.0}, "avStatus":"NOT_AVAILABLE", "inStock":false, "ATS": 0.0, "inStockDate": "Sat Dec 21 12:00:00 GMT 2013" , "pricing": {"standard": "35.0", "sale": "16.97", "isPromoPrice": false, "quantities": [ {"unit": "", "value": "1.0"} ]} }, {"id": "GA223_S_CAM", "attributes": { "color": "Camel" , "size": "S" }, "avLevels": {"IN_STOCK": 0.0, "PREORDER": 0.0, "BACKORDER": 0.0, "NOT_AVAILABLE": 1.0}, "avStatus":"NOT_AVAILABLE", "inStock":false, "ATS": 0.0, "inStockDate": "Sat Dec 21 12:00:00 GMT 2013" , "pricing": {"standard": "35.0", "sale": "16.97", "isPromoPrice": false, "quantities": [ {"unit": "", "value": "1.0"} ]} }, {"id": "GA223_S_CHA", "attributes": { "color": "Charcoal" , "size": "S" }, "avLevels": {"IN_STOCK": 0.0, "PREORDER": 0.0, "BACKORDER": 0.0, "NOT_AVAILABLE": 1.0}, "avStatus":"NOT_AVAILABLE", "inStock":false, "ATS": 0.0, "inStockDate": "Sat Dec 21 12:00:00 GMT 2013" , "pricing": {"standard": "35.0", "sale": "16.97", "isPromoPrice": false, "quantities": [ {"unit": "", "value": "1.0"} ]} }, {"id": "GA223_S_GRE", "attributes": { "color": "Grey" , "size": "S" }, "avLevels": {"IN_STOCK": 0.0, "PREORDER": 0.0, "BACKORDER": 0.0, "NOT_AVAILABLE": 1.0}, "avStatus":"NOT_AVAILABLE", "inStock":false, "ATS": 0.0, "inStockDate": "Sat Dec 21 12:00:00 GMT 2013" , "pricing": {"standard": "35.0", "sale": "16.97", "isPromoPrice": false, "quantities": [ {"unit": "", "value": "1.0"} ]} }, {"id": "GA223_S_NAV", "attributes": { "color": "Navy" , "size": "S" }, "avLevels": {"IN_STOCK": 0.0, "PREORDER": 0.0, "BACKORDER": 0.0, "NOT_AVAILABLE": 1.0}, "avStatus":"NOT_AVAILABLE", "inStock":false, "ATS": 0.0, "inStockDate": "Sat Dec 21 12:00:00 GMT 2013" , "pricing": {"standard": "35.0", "sale": "16.97", "isPromoPrice": false, "quantities": [ {"unit": "", "value": "1.0"} ]} }, {"id": "GA223_S_RED", "attributes": { "color": "Red" , "size": "S" }, "avLevels": {"IN_STOCK": 0.0, "PREORDER": 0.0, "BACKORDER": 0.0, "NOT_AVAILABLE": 1.0}, "avStatus":"NOT_AVAILABLE", "inStock":false, "ATS": 0.0, "inStockDate": "Sat Dec 21 12:00:00 GMT 2013" , "pricing": {"standard": "35.0", "sale": "16.97", "isPromoPrice": false, "quantities": [ {"unit": "", "value": "1.0"} ]} }, {"id": "GA223_XL_BLA", "attributes": { "color": "Black" , "size": "XL" }, "avLevels": {"IN_STOCK": 0.0, "PREORDER": 0.0, "BACKORDER": 0.0, "NOT_AVAILABLE": 1.0}, "avStatus":"NOT_AVAILABLE", "inStock":false, "ATS": 0.0, "inStockDate": "Sat Dec 21 12:00:00 GMT 2013" , "pricing": {"standard": "35.0", "sale": "16.97", "isPromoPrice": false, "quantities": [ {"unit": "", "value": "1.0"} ]} }, {"id": "GA223_XL_CAM", "attributes": { "color": "Camel" , "size": "XL" }, "avLevels": {"IN_STOCK": 1.0, "PREORDER": 0.0, "BACKORDER": 0.0, "NOT_AVAILABLE": 0.0}, "avStatus":"IN_STOCK", "inStock":true, "ATS": 1.0, "inStockDate": "Sat Dec 21 12:00:00 GMT 2013" , "pricing": {"standard": "35.0", "sale": "16.97", "isPromoPrice": false, "quantities": [ {"unit": "", "value": "1.0"} ]} }, {"id": "GA223_XL_CHA", "attributes": { "color": "Charcoal" , "size": "XL" }, "avLevels": {"IN_STOCK": 0.0, "PREORDER": 0.0, "BACKORDER": 0.0, "NOT_AVAILABLE": 1.0}, "avStatus":"NOT_AVAILABLE", "inStock":false, "ATS": 0.0, "inStockDate": "Sat Dec 21 12:00:00 GMT 2013" , "pricing": {"standard": "35.0", "sale": "16.97", "isPromoPrice": false, "quantities": [ {"unit": "", "value": "1.0"} ]} }, {"id": "GA223_XL_GRE", "attributes": { "color": "Grey" , "size": "XL" }, "avLevels": {"IN_STOCK": 1.0, "PREORDER": 0.0, "BACKORDER": 0.0, "NOT_AVAILABLE": 0.0}, "avStatus":"IN_STOCK", "inStock":true, "ATS": 1.0, "inStockDate": "Sat Dec 21 12:00:00 GMT 2013" , "pricing": {"standard": "35.0", "sale": "16.97", "isPromoPrice": false, "quantities": [ {"unit": "", "value": "1.0"} ]} }, {"id": "GA223_XL_NAV", "attributes": { "color": "Navy" , "size": "XL" }, "avLevels": {"IN_STOCK": 0.0, "PREORDER": 0.0, "BACKORDER": 0.0, "NOT_AVAILABLE": 1.0}, "avStatus":"NOT_AVAILABLE", "inStock":false, "ATS": 0.0, "inStockDate": "Sat Dec 21 12:00:00 GMT 2013" , "pricing": {"standard": "35.0", "sale": "16.97", "isPromoPrice": false, "quantities": [ {"unit": "", "value": "1.0"} ]} }, {"id": "GA223_XL_RED", "attributes": { "color": "Red" , "size": "XL" }, "avLevels": {"IN_STOCK": 0.0, "PREORDER": 0.0, "BACKORDER": 0.0, "NOT_AVAILABLE": 1.0}, "avStatus":"NOT_AVAILABLE", "inStock":false, "ATS": 0.0, "inStockDate": "Sat Dec 21 12:00:00 GMT 2013" , "pricing": {"standard": "35.0", "sale": "16.97", "isPromoPrice": false, "quantities": [ {"unit": "", "value": "1.0"} ]} } ] }}