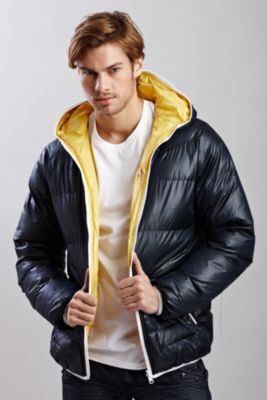 {"imageName":"http://s7d2.scene7.com/is/image/UnderGear/H989_N2_B13?$dwpp$"}
{"imageName":"http://s7d2.scene7.com/is/image/UnderGear/H989_N1_B13?$dwpp$"}
{"imageName":"http://s7d2.scene7.com/is/image/UnderGear/H989_NV_B13?$dwpp$"}
{"imageName":"http://s7d2.scene7.com/is/image/UnderGear/H989_RD_B13?$dwpp$"}
{"imageName":"http://s7d2.scene7.com/is/image/UnderGear/H989_N3_B13?$dwpp$"}
{"imageName":"http://s7d2.scene7.com/is/image/UnderGear/H989_WH_B13?$dwpp$"}
{"imageName":"http://s7d2.scene7.com/is/image/UnderGear/H989_WH1_B13?$dwpp$"}
Soul Star® Reversible Puffer Jacket
UG # H989
Special Offer:
20% OFF 3 OR MORE ITEMS (Details)
Select Quantity
Print
Men's reversible puffer jacket
Puffer coat for men made from polyester shell and fill
Machine wash
Imported
Soul Star style MJREVERSE12
Two puffer jackets in one: both light, both warm, both smartly shaped for cold-weather style. From the famed men's fashion designers at Soul Star, this versatile men's puffer coat lets you choose the color that fits your mood (or your outfit). The Soul Star puffer jacket is available in three reversible palettes of Navy/Yellow, Red/Ecru, or Dark Red/Plum. Made with a polyester shell and fill, the Soul Star Reversible Puffer Jacket also has an attached hood, zip front, chest logo on one side, and angled front pockets on both sides.
{ "variations": { "variants": [ {"id": "H989_L_DRP", "attributes": { "color": "Dark Red/Plum" , "size": "L" }, "avLevels": {"IN_STOCK": 0.0, "PREORDER": 0.0, "BACKORDER": 0.0, "NOT_AVAILABLE": 1.0}, "avStatus":"NOT_AVAILABLE", "inStock":false, "ATS": 0.0, "inStockDate": "Fri Dec 20 12:00:00 GMT 2013" , "pricing": {"standard": "99.0", "sale": "48.97", "isPromoPrice": false, "quantities": [ {"unit": "", "value": "1.0"} ]} }, {"id": "H989_L_NYE", "attributes": { "color": "Navy/Yellow" , "size": "L" }, "avLevels": {"IN_STOCK": 1.0, "PREORDER": 0.0, "BACKORDER": 0.0, "NOT_AVAILABLE": 0.0}, "avStatus":"IN_STOCK", "inStock":true, "ATS": 1.0, "inStockDate": "Fri Dec 20 12:00:00 GMT 2013" , "pricing": {"standard": "99.0", "sale": "48.97", "isPromoPrice": false, "quantities": [ {"unit": "", "value": "1.0"} ]} }, {"id": "H989_L_REC", "attributes": { "color": "Red/Ecru" , "size": "L" }, "avLevels": {"IN_STOCK": 1.0, "PREORDER": 0.0, "BACKORDER": 0.0, "NOT_AVAILABLE": 0.0}, "avStatus":"IN_STOCK", "inStock":true, "ATS": 1.0, "inStockDate": "Fri Dec 20 12:00:00 GMT 2013" , "pricing": {"standard": "99.0", "sale": "48.97", "isPromoPrice": false, "quantities": [ {"unit": "", "value": "1.0"} ]} }, {"id": "H989_M_DRP", "attributes": { "color": "Dark Red/Plum" , "size": "M" }, "avLevels": {"IN_STOCK": 0.0, "PREORDER": 0.0, "BACKORDER": 0.0, "NOT_AVAILABLE": 1.0}, "avStatus":"NOT_AVAILABLE", "inStock":false, "ATS": 0.0, "inStockDate": "Fri Dec 20 12:00:00 GMT 2013" , "pricing": {"standard": "99.0", "sale": "48.97", "isPromoPrice": false, "quantities": [ {"unit": "", "value": "1.0"} ]} }, {"id": "H989_M_NYE", "attributes": { "color": "Navy/Yellow" , "size": "M" }, "avLevels": {"IN_STOCK": 0.0, "PREORDER": 0.0, "BACKORDER": 0.0, "NOT_AVAILABLE": 1.0}, "avStatus":"NOT_AVAILABLE", "inStock":false, "ATS": 0.0, "inStockDate": "Fri Dec 20 12:00:00 GMT 2013" , "pricing": {"standard": "99.0", "sale": "48.97", "isPromoPrice": false, "quantities": [ {"unit": "", "value": "1.0"} ]} }, {"id": "H989_M_REC", "attributes": { "color": "Red/Ecru" , "size": "M" }, "avLevels": {"IN_STOCK": 1.0, "PREORDER": 0.0, "BACKORDER": 0.0, "NOT_AVAILABLE": 0.0}, "avStatus":"IN_STOCK", "inStock":true, "ATS": 1.0, "inStockDate": "Fri Dec 20 12:00:00 GMT 2013" , "pricing": {"standard": "99.0", "sale": "48.97", "isPromoPrice": false, "quantities": [ {"unit": "", "value": "1.0"} ]} }, {"id": "H989_S_DRP", "attributes": { "color": "Dark Red/Plum" , "size": "S" }, "avLevels": {"IN_STOCK": 0.0, "PREORDER": 0.0, "BACKORDER": 0.0, "NOT_AVAILABLE": 1.0}, "avStatus":"NOT_AVAILABLE", "inStock":false, "ATS": 0.0, "inStockDate": "Fri Dec 20 12:00:00 GMT 2013" , "pricing": {"standard": "99.0", "sale": "48.97", "isPromoPrice": false, "quantities": [ {"unit": "", "value": "1.0"} ]} }, {"id": "H989_S_NYE", "attributes": { "color": "Navy/Yellow" , "size": "S" }, "avLevels": {"IN_STOCK": 1.0, "PREORDER": 0.0, "BACKORDER": 0.0, "NOT_AVAILABLE": 0.0}, "avStatus":"IN_STOCK", "inStock":true, "ATS": 1.0, "inStockDate": "Fri Dec 20 12:00:00 GMT 2013" , "pricing": {"standard": "99.0", "sale": "48.97", "isPromoPrice": false, "quantities": [ {"unit": "", "value": "1.0"} ]} }, {"id": "H989_S_REC", "attributes": { "color": "Red/Ecru" , "size": "S" }, "avLevels": {"IN_STOCK": 0.0, "PREORDER": 0.0, "BACKORDER": 0.0, "NOT_AVAILABLE": 1.0}, "avStatus":"NOT_AVAILABLE", "inStock":false, "ATS": 0.0, "inStockDate": "Fri Dec 20 12:00:00 GMT 2013" , "pricing": {"standard": "99.0", "sale": "48.97", "isPromoPrice": false, "quantities": [ {"unit": "", "value": "1.0"} ]} }, {"id": "H989_XL_DRP", "attributes": { "color": "Dark Red/Plum" , "size": "XL" }, "avLevels": {"IN_STOCK": 0.0, "PREORDER": 0.0, "BACKORDER": 0.0, "NOT_AVAILABLE": 1.0}, "avStatus":"NOT_AVAILABLE", "inStock":false, "ATS": 0.0, "inStockDate": "Fri Dec 20 12:00:00 GMT 2013" , "pricing": {"standard": "99.0", "sale": "48.97", "isPromoPrice": false, "quantities": [ {"unit": "", "value": "1.0"} ]} }, {"id": "H989_XL_NYE", "attributes": { "color": "Navy/Yellow" , "size": "XL" }, "avLevels": {"IN_STOCK": 0.0, "PREORDER": 0.0, "BACKORDER": 0.0, "NOT_AVAILABLE": 1.0}, "avStatus":"NOT_AVAILABLE", "inStock":false, "ATS": 0.0, "inStockDate": "Fri Dec 20 12:00:00 GMT 2013" , "pricing": {"standard": "99.0", "sale": "48.97", "isPromoPrice": false, "quantities": [ {"unit": "", "value": "1.0"} ]} }, {"id": "H989_XL_REC", "attributes": { "color": "Red/Ecru" , "size": "XL" }, "avLevels": {"IN_STOCK": 0.0, "PREORDER": 0.0, "BACKORDER": 0.0, "NOT_AVAILABLE": 1.0}, "avStatus":"NOT_AVAILABLE", "inStock":false, "ATS": 0.0, "inStockDate": "Fri Dec 20 12:00:00 GMT 2013" , "pricing": {"standard": "99.0", "sale": "48.97", "isPromoPrice": false, "quantities": [ {"unit": "", "value": "1.0"} ]} } ] }}