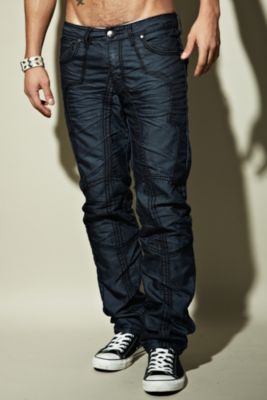 VIP Crossfire Jean
UG # J863
Special Offer:
20% OFF 3 OR MORE ITEMS (Details)
Select Quantity
Print
Men's jeans
Cotton jeans for men
33-1/2" inseam; even waist sizes 30-40
Machine wash
Imported
VIP style V22-DB
A subtle sheen adds sizzle to the VIP Crossfire men's jeans. Crafted from pure cotton, these VIP jeans for men boast a sleek and modern fit, tonal embroidery, lots of whiskering, oversized snaps and an eagle medallion. A trendy look for day and night, the Crossfire men's jeans from VIP keep you on the cutting-edge of fashion.
{ "variations": { "variants": [ {"id": "J863_30_DBL", "attributes": { "color": "Dark Blue" , "size": "30" }, "avLevels": {"IN_STOCK": 1.0, "PREORDER": 0.0, "BACKORDER": 0.0, "NOT_AVAILABLE": 0.0}, "avStatus":"IN_STOCK", "inStock":true, "ATS": 13.0, "inStockDate": "Sat May 24 12:00:00 GMT 2014" , "pricing": {"standard": "69.0", "sale": "49.99", "isPromoPrice": false, "quantities": [ {"unit": "", "value": "1.0"} ]} }, {"id": "J863_32_DBL", "attributes": { "color": "Dark Blue" , "size": "32" }, "avLevels": {"IN_STOCK": 1.0, "PREORDER": 0.0, "BACKORDER": 0.0, "NOT_AVAILABLE": 0.0}, "avStatus":"IN_STOCK", "inStock":true, "ATS": 8.0, "inStockDate": "Sat May 24 12:00:00 GMT 2014" , "pricing": {"standard": "69.0", "sale": "49.99", "isPromoPrice": false, "quantities": [ {"unit": "", "value": "1.0"} ]} }, {"id": "J863_34_DBL", "attributes": { "color": "Dark Blue" , "size": "34" }, "avLevels": {"IN_STOCK": 1.0, "PREORDER": 0.0, "BACKORDER": 0.0, "NOT_AVAILABLE": 0.0}, "avStatus":"IN_STOCK", "inStock":true, "ATS": 33.0, "inStockDate": "Fri May 09 12:00:00 GMT 2014" , "pricing": {"standard": "69.0", "sale": "49.99", "isPromoPrice": false, "quantities": [ {"unit": "", "value": "1.0"} ]} }, {"id": "J863_36_DBL", "attributes": { "color": "Dark Blue" , "size": "36" }, "avLevels": {"IN_STOCK": 1.0, "PREORDER": 0.0, "BACKORDER": 0.0, "NOT_AVAILABLE": 0.0}, "avStatus":"IN_STOCK", "inStock":true, "ATS": 24.0, "inStockDate": "Fri May 09 12:00:00 GMT 2014" , "pricing": {"standard": "69.0", "sale": "49.99", "isPromoPrice": false, "quantities": [ {"unit": "", "value": "1.0"} ]} }, {"id": "J863_38_DBL", "attributes": { "color": "Dark Blue" , "size": "38" }, "avLevels": {"IN_STOCK": 1.0, "PREORDER": 0.0, "BACKORDER": 0.0, "NOT_AVAILABLE": 0.0}, "avStatus":"IN_STOCK", "inStock":true, "ATS": 16.0, "inStockDate": "Sat May 24 12:00:00 GMT 2014" , "pricing": {"standard": "69.0", "sale": "49.99", "isPromoPrice": false, "quantities": [ {"unit": "", "value": "1.0"} ]} }, {"id": "J863_40_DBL", "attributes": { "color": "Dark Blue" , "size": "40" }, "avLevels": {"IN_STOCK": 0.0, "PREORDER": 0.0, "BACKORDER": 0.0, "NOT_AVAILABLE": 1.0}, "avStatus":"NOT_AVAILABLE", "inStock":false, "ATS": 0.0, "inStockDate": "Thu Mar 13 12:00:00 GMT 2014" , "pricing": {"standard": "69.0", "sale": "49.99", "isPromoPrice": false, "quantities": [ {"unit": "", "value": "1.0"} ]} } ] }}