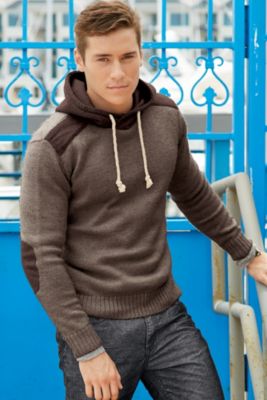 X-RAY® Hoodie Sweater
UG # GA252
Special Offer:
20% OFF 3 OR MORE ITEMS (Details)
Select Quantity
Print
Men's hoodie sweater
Wool blend sweater for men
Machine wash
Dry clean
X-Ray style XMW-3360
If this hoodie from X-Ray looks comfy to you now, wait 'til to you try it on! Made from a super-cozy wool blend, the X-Ray Hoodie Sweater takes comfort to a new level this season. The hoodie also features a boiled wool hood and trim, making it not only warm and comfortable, but also incredibly sexy.
{ "variations": { "variants": [ {"id": "GA252_M_OATMEAL", "attributes": { "color": "Oatmeal" , "size": "M" }, "avLevels": {"IN_STOCK": 0.0, "PREORDER": 0.0, "BACKORDER": 0.0, "NOT_AVAILABLE": 1.0}, "avStatus":"NOT_AVAILABLE", "inStock":false, "ATS": 0.0, "inStockDate": "Sat May 24 12:00:00 GMT 2014" , "pricing": {"standard": "82.0", "sale": "82.0", "isPromoPrice": false, "quantities": [ {"unit": "", "value": "1.0"} ]} }, {"id": "GA252_XL_OATMEAL", "attributes": { "color": "Oatmeal" , "size": "XL" }, "avLevels": {"IN_STOCK": 0.0, "PREORDER": 0.0, "BACKORDER": 0.0, "NOT_AVAILABLE": 1.0}, "avStatus":"NOT_AVAILABLE", "inStock":false, "ATS": 0.0, "inStockDate": "Fri Dec 20 12:00:00 GMT 2013" , "pricing": {"standard": "82.0", "sale": "82.0", "isPromoPrice": false, "quantities": [ {"unit": "", "value": "1.0"} ]} }, {"id": "GA252_XL_COFFEE", "attributes": { "color": "Coffee" , "size": "XL" }, "avLevels": {"IN_STOCK": 0.0, "PREORDER": 0.0, "BACKORDER": 0.0, "NOT_AVAILABLE": 1.0}, "avStatus":"NOT_AVAILABLE", "inStock":false, "ATS": 0.0, "inStockDate": "Sat May 24 12:00:00 GMT 2014" , "pricing": {"standard": "82.0", "sale": "82.0", "isPromoPrice": false, "quantities": [ {"unit": "", "value": "1.0"} ]} }, {"id": "GA252_S_OATMEAL", "attributes": { "color": "Oatmeal" , "size": "S" }, "avLevels": {"IN_STOCK": 0.0, "PREORDER": 0.0, "BACKORDER": 0.0, "NOT_AVAILABLE": 1.0}, "avStatus":"NOT_AVAILABLE", "inStock":false, "ATS": 0.0, "inStockDate": "Sat May 24 12:00:00 GMT 2014" , "pricing": {"standard": "82.0", "sale": "82.0", "isPromoPrice": false, "quantities": [ {"unit": "", "value": "1.0"} ]} }, {"id": "GA252_M_COFFEE", "attributes": { "color": "Coffee" , "size": "M" }, "avLevels": {"IN_STOCK": 0.0, "PREORDER": 0.0, "BACKORDER": 0.0, "NOT_AVAILABLE": 1.0}, "avStatus":"NOT_AVAILABLE", "inStock":false, "ATS": 0.0, "inStockDate": "Fri Dec 20 12:00:00 GMT 2013" , "pricing": {"standard": "82.0", "sale": "82.0", "isPromoPrice": false, "quantities": [ {"unit": "", "value": "1.0"} ]} }, {"id": "GA252_L_COFFEE", "attributes": { "color": "Coffee" , "size": "L" }, "avLevels": {"IN_STOCK": 0.0, "PREORDER": 0.0, "BACKORDER": 0.0, "NOT_AVAILABLE": 1.0}, "avStatus":"NOT_AVAILABLE", "inStock":false, "ATS": 0.0, "inStockDate": "Sat May 24 12:00:00 GMT 2014" , "pricing": {"standard": "82.0", "sale": "82.0", "isPromoPrice": false, "quantities": [ {"unit": "", "value": "1.0"} ]} }, {"id": "GA252_L_OATMEAL", "attributes": { "color": "Oatmeal" , "size": "L" }, "avLevels": {"IN_STOCK": 0.0, "PREORDER": 0.0, "BACKORDER": 0.0, "NOT_AVAILABLE": 1.0}, "avStatus":"NOT_AVAILABLE", "inStock":false, "ATS": 0.0, "inStockDate": "Sat May 24 12:00:00 GMT 2014" , "pricing": {"standard": "82.0", "sale": "82.0", "isPromoPrice": false, "quantities": [ {"unit": "", "value": "1.0"} ]} }, {"id": "GA252_S_COFFEE", "attributes": { "color": "Coffee" , "size": "S" }, "avLevels": {"IN_STOCK": 0.0, "PREORDER": 0.0, "BACKORDER": 0.0, "NOT_AVAILABLE": 1.0}, "avStatus":"NOT_AVAILABLE", "inStock":false, "ATS": 0.0, "inStockDate": "Sat May 24 12:00:00 GMT 2014" , "pricing": {"standard": "82.0", "sale": "82.0", "isPromoPrice": false, "quantities": [ {"unit": "", "value": "1.0"} ]} } ] }}