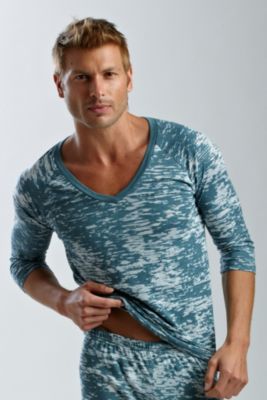 YMLA® Burnout V-neck Tee
UG # PE134
Special Offer:
20% OFF 3 OR MORE ITEMS (Details)
Select Quantity
Print
Men's lounge shirt
Men's pajama top / loungewear made from cotton/polyester
Machine wash
Made in USA
YMLA style MB210
Guys: this edgy burnout lounge shirt from YMLA may look sexy and stylish, but make no mistake – this tee is all about comfort. Made from a super soft cotton blend, the YMLA Burnout V-Neck lounge shirt for men feels so amazing, it's like sleeping in a cloud. The deep and rich fall colors are an added bonus, making this pajama top not only cozy, but fashionable too.
{ "variations": { "variants": [ {"id": "PE134_L_DA", "attributes": { "color": "Dragon Fly" , "size": "L" }, "avLevels": {"IN_STOCK": 0.0, "PREORDER": 0.0, "BACKORDER": 0.0, "NOT_AVAILABLE": 1.0}, "avStatus":"NOT_AVAILABLE", "inStock":false, "ATS": 0.0, "inStockDate": "Wed Feb 27 12:00:00 GMT 2013" , "pricing": {"standard": "27.0", "sale": "27.0", "isPromoPrice": false, "quantities": [ {"unit": "", "value": "1.0"} ]} }, {"id": "PE134_L_SA", "attributes": { "color": "Sparrow" , "size": "L" }, "avLevels": {"IN_STOCK": 0.0, "PREORDER": 0.0, "BACKORDER": 0.0, "NOT_AVAILABLE": 1.0}, "avStatus":"NOT_AVAILABLE", "inStock":false, "ATS": 0.0, "inStockDate": "Wed Feb 27 12:00:00 GMT 2013" , "pricing": {"standard": "27.0", "sale": "27.0", "isPromoPrice": false, "quantities": [ {"unit": "", "value": "1.0"} ]} }, {"id": "PE134_M_DA", "attributes": { "color": "Dragon Fly" , "size": "M" }, "avLevels": {"IN_STOCK": 0.0, "PREORDER": 0.0, "BACKORDER": 0.0, "NOT_AVAILABLE": 1.0}, "avStatus":"NOT_AVAILABLE", "inStock":false, "ATS": 0.0, "inStockDate": "Wed Feb 27 12:00:00 GMT 2013" , "pricing": {"standard": "27.0", "sale": "27.0", "isPromoPrice": false, "quantities": [ {"unit": "", "value": "1.0"} ]} }, {"id": "PE134_M_SA", "attributes": { "color": "Sparrow" , "size": "M" }, "avLevels": {"IN_STOCK": 0.0, "PREORDER": 0.0, "BACKORDER": 0.0, "NOT_AVAILABLE": 1.0}, "avStatus":"NOT_AVAILABLE", "inStock":false, "ATS": 0.0, "inStockDate": "Tue Dec 31 12:00:00 GMT 2030" , "pricing": {"standard": "27.0", "sale": "27.0", "isPromoPrice": false, "quantities": [ {"unit": "", "value": "1.0"} ]} }, {"id": "PE134_S_DA", "attributes": { "color": "Dragon Fly" , "size": "S" }, "avLevels": {"IN_STOCK": 0.0, "PREORDER": 0.0, "BACKORDER": 0.0, "NOT_AVAILABLE": 1.0}, "avStatus":"NOT_AVAILABLE", "inStock":false, "ATS": 0.0, "inStockDate": "Wed Feb 27 12:00:00 GMT 2013" , "pricing": {"standard": "27.0", "sale": "27.0", "isPromoPrice": false, "quantities": [ {"unit": "", "value": "1.0"} ]} }, {"id": "PE134_S_SA", "attributes": { "color": "Sparrow" , "size": "S" }, "avLevels": {"IN_STOCK": 1.0, "PREORDER": 0.0, "BACKORDER": 0.0, "NOT_AVAILABLE": 0.0}, "avStatus":"IN_STOCK", "inStock":true, "ATS": 3.0, "inStockDate": "Tue Dec 31 12:00:00 GMT 2030" , "pricing": {"standard": "27.0", "sale": "27.0", "isPromoPrice": false, "quantities": [ {"unit": "", "value": "1.0"} ]} }, {"id": "PE134_XL_DA", "attributes": { "color": "Dragon Fly" , "size": "XL" }, "avLevels": {"IN_STOCK": 0.0, "PREORDER": 0.0, "BACKORDER": 0.0, "NOT_AVAILABLE": 1.0}, "avStatus":"NOT_AVAILABLE", "inStock":false, "ATS": 0.0, "inStockDate": "Wed Feb 27 12:00:00 GMT 2013" , "pricing": {"standard": "27.0", "sale": "27.0", "isPromoPrice": false, "quantities": [ {"unit": "", "value": "1.0"} ]} }, {"id": "PE134_XL_SA", "attributes": { "color": "Sparrow" , "size": "XL" }, "avLevels": {"IN_STOCK": 0.0, "PREORDER": 0.0, "BACKORDER": 0.0, "NOT_AVAILABLE": 1.0}, "avStatus":"NOT_AVAILABLE", "inStock":false, "ATS": 0.0, "inStockDate": "Wed Feb 27 12:00:00 GMT 2013" , "pricing": {"standard": "27.0", "sale": "27.0", "isPromoPrice": false, "quantities": [ {"unit": "", "value": "1.0"} ]} } ] }}