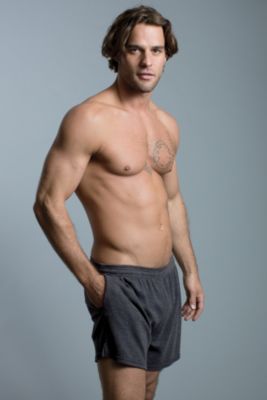 {"imageName":"http://s7d2.scene7.com/is/image/UnderGear/PE209_GFV_UGP13?$dwpp$"}
{"imageName":"http://s7d2.scene7.com/is/image/UnderGear/PE209_GBV_UGP13?$dwpp$"}
{"imageName":"http://s7d2.scene7.com/is/image/UnderGear/PE209_WNFV_UGP13?$dwpp$"}
{"imageName":"http://s7d2.scene7.com/is/image/UnderGear/PE209_WNBV_UGP13?$dwpp$"}
YMLA® Thermal Short
UG # PE209
Special Offer:
20% OFF 3 OR MORE ITEMS (Details)
Select Quantity
Print
Men's shorts
Cotton/polyester drawstring shorts for men
Machine wash
Made in USA
The ones you'll want to live in. YMLA Thermal men's shorts offer easy-going style at its best. Soft and lightweight with a comfortable drawstring waistband, these YMLA shorts for men feature subtle thermal knit texture and stylish seamed detailing. Choose the casual favorites in two essential colors: Charcoal and Rumba.
{ "variations": { "variants": [ {"id": "PE209_L_CHA", "attributes": { "color": "Charcoal" , "size": "L" }, "avLevels": {"IN_STOCK": 1.0, "PREORDER": 0.0, "BACKORDER": 0.0, "NOT_AVAILABLE": 0.0}, "avStatus":"IN_STOCK", "inStock":true, "ATS": 10005.0, "inStockDate": "Sat May 24 12:00:00 GMT 2014" , "pricing": {"standard": "32.0", "sale": "32.0", "isPromoPrice": false, "quantities": [ {"unit": "", "value": "1.0"} ]} }, {"id": "PE209_L_RUM", "attributes": { "color": "Rumba" , "size": "L" }, "avLevels": {"IN_STOCK": 1.0, "PREORDER": 0.0, "BACKORDER": 0.0, "NOT_AVAILABLE": 0.0}, "avStatus":"IN_STOCK", "inStock":true, "ATS": 10002.0, "inStockDate": "Sat May 24 12:00:00 GMT 2014" , "pricing": {"standard": "32.0", "sale": "32.0", "isPromoPrice": false, "quantities": [ {"unit": "", "value": "1.0"} ]} }, {"id": "PE209_M_CHA", "attributes": { "color": "Charcoal" , "size": "M" }, "avLevels": {"IN_STOCK": 1.0, "PREORDER": 0.0, "BACKORDER": 0.0, "NOT_AVAILABLE": 0.0}, "avStatus":"IN_STOCK", "inStock":true, "ATS": 10010.0, "inStockDate": "Sat May 24 12:00:00 GMT 2014" , "pricing": {"standard": "32.0", "sale": "32.0", "isPromoPrice": false, "quantities": [ {"unit": "", "value": "1.0"} ]} }, {"id": "PE209_M_RUM", "attributes": { "color": "Rumba" , "size": "M" }, "avLevels": {"IN_STOCK": 1.0, "PREORDER": 0.0, "BACKORDER": 0.0, "NOT_AVAILABLE": 0.0}, "avStatus":"IN_STOCK", "inStock":true, "ATS": 10009.0, "inStockDate": "Sat May 24 12:00:00 GMT 2014" , "pricing": {"standard": "32.0", "sale": "32.0", "isPromoPrice": false, "quantities": [ {"unit": "", "value": "1.0"} ]} }, {"id": "PE209_S_CHA", "attributes": { "color": "Charcoal" , "size": "S" }, "avLevels": {"IN_STOCK": 1.0, "PREORDER": 0.0, "BACKORDER": 0.0, "NOT_AVAILABLE": 0.0}, "avStatus":"IN_STOCK", "inStock":true, "ATS": 10021.0, "inStockDate": "Sat May 24 12:00:00 GMT 2014" , "pricing": {"standard": "32.0", "sale": "32.0", "isPromoPrice": false, "quantities": [ {"unit": "", "value": "1.0"} ]} }, {"id": "PE209_S_RUM", "attributes": { "color": "Rumba" , "size": "S" }, "avLevels": {"IN_STOCK": 1.0, "PREORDER": 0.0, "BACKORDER": 0.0, "NOT_AVAILABLE": 0.0}, "avStatus":"IN_STOCK", "inStock":true, "ATS": 10016.0, "inStockDate": "Sat May 24 12:00:00 GMT 2014" , "pricing": {"standard": "32.0", "sale": "32.0", "isPromoPrice": false, "quantities": [ {"unit": "", "value": "1.0"} ]} }, {"id": "PE209_XL_CHA", "attributes": { "color": "Charcoal" , "size": "XL" }, "avLevels": {"IN_STOCK": 1.0, "PREORDER": 0.0, "BACKORDER": 0.0, "NOT_AVAILABLE": 0.0}, "avStatus":"IN_STOCK", "inStock":true, "ATS": 10009.0, "inStockDate": "Sat May 24 12:00:00 GMT 2014" , "pricing": {"standard": "32.0", "sale": "32.0", "isPromoPrice": false, "quantities": [ {"unit": "", "value": "1.0"} ]} }, {"id": "PE209_XL_RUM", "attributes": { "color": "Rumba" , "size": "XL" }, "avLevels": {"IN_STOCK": 1.0, "PREORDER": 0.0, "BACKORDER": 0.0, "NOT_AVAILABLE": 0.0}, "avStatus":"IN_STOCK", "inStock":true, "ATS": 10009.0, "inStockDate": "Sat May 24 12:00:00 GMT 2014" , "pricing": {"standard": "32.0", "sale": "32.0", "isPromoPrice": false, "quantities": [ {"unit": "", "value": "1.0"} ]} } ] }}