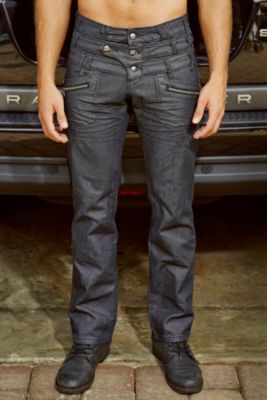 {"imageName":"http://s7d2.scene7.com/is/image/UnderGear/J922_FV_T13?$dwpp$"}
{"imageName":"http://s7d2.scene7.com/is/image/UnderGear/J922_SV_T13?$dwpp$"}
{"imageName":"http://s7d2.scene7.com/is/image/UnderGear/J922_BV_T13?$dwpp$"}
{"imageName":"http://s7d2.scene7.com/is/image/UnderGear/J922_FDV_T13?$dwpp$"}
Young Republic® Triple Waist Jean
UG # J922
Special Offer:
20% OFF 3 OR MORE ITEMS (Details)
Select Quantity
Print
Men's jeans
Cotton / denim jeans for men
Machine wash
Imported
Young Republic style KJ-0134
An edgy, unique triple-waist look separates these Young Republic jeans from your ordinary denim. Sleek and slim-fitting in a dark blue hue, the Young Republic Triple Waist Jeans make any outfit more interesting, unique and on-trend. Sizes: 30-34, 36, 38.
{ "variations": { "variants": [ {"id": "J922_33_NAVY", "attributes": { "color": "Navy" , "size": "33" }, "avLevels": {"IN_STOCK": 1.0, "PREORDER": 0.0, "BACKORDER": 0.0, "NOT_AVAILABLE": 0.0}, "avStatus":"IN_STOCK", "inStock":true, "ATS": 9.0, "inStockDate": "Fri May 09 12:00:00 GMT 2014" , "pricing": {"standard": "89.0", "sale": "49.99", "isPromoPrice": false, "quantities": [ {"unit": "", "value": "1.0"} ]} }, {"id": "J922_34_NAVY", "attributes": { "color": "Navy" , "size": "34" }, "avLevels": {"IN_STOCK": 0.0, "PREORDER": 0.0, "BACKORDER": 0.0, "NOT_AVAILABLE": 1.0}, "avStatus":"NOT_AVAILABLE", "inStock":false, "ATS": 0.0, "inStockDate": "Fri May 09 12:00:00 GMT 2014" , "pricing": {"standard": "89.0", "sale": "49.99", "isPromoPrice": false, "quantities": [ {"unit": "", "value": "1.0"} ]} }, {"id": "J922_30_NAVY", "attributes": { "color": "Navy" , "size": "30" }, "avLevels": {"IN_STOCK": 0.0, "PREORDER": 0.0, "BACKORDER": 0.0, "NOT_AVAILABLE": 1.0}, "avStatus":"NOT_AVAILABLE", "inStock":false, "ATS": 0.0, "inStockDate": "Sat May 24 12:00:00 GMT 2014" , "pricing": {"standard": "89.0", "sale": "49.99", "isPromoPrice": false, "quantities": [ {"unit": "", "value": "1.0"} ]} }, {"id": "J922_36_NAVY", "attributes": { "color": "Navy" , "size": "36" }, "avLevels": {"IN_STOCK": 1.0, "PREORDER": 0.0, "BACKORDER": 0.0, "NOT_AVAILABLE": 0.0}, "avStatus":"IN_STOCK", "inStock":true, "ATS": 6.0, "inStockDate": "Fri May 09 12:00:00 GMT 2014" , "pricing": {"standard": "89.0", "sale": "49.99", "isPromoPrice": false, "quantities": [ {"unit": "", "value": "1.0"} ]} }, {"id": "J922_32_NAVY", "attributes": { "color": "Navy" , "size": "32" }, "avLevels": {"IN_STOCK": 1.0, "PREORDER": 0.0, "BACKORDER": 0.0, "NOT_AVAILABLE": 0.0}, "avStatus":"IN_STOCK", "inStock":true, "ATS": 1.0, "inStockDate": "Fri May 09 12:00:00 GMT 2014" , "pricing": {"standard": "89.0", "sale": "49.99", "isPromoPrice": false, "quantities": [ {"unit": "", "value": "1.0"} ]} }, {"id": "J922_38_NAVY", "attributes": { "color": "Navy" , "size": "38" }, "avLevels": {"IN_STOCK": 0.0, "PREORDER": 0.0, "BACKORDER": 0.0, "NOT_AVAILABLE": 1.0}, "avStatus":"NOT_AVAILABLE", "inStock":false, "ATS": 0.0, "inStockDate": "Sat May 24 12:00:00 GMT 2014" , "pricing": {"standard": "89.0", "sale": "49.99", "isPromoPrice": false, "quantities": [ {"unit": "", "value": "1.0"} ]} }, {"id": "J922_31_NAVY", "attributes": { "color": "Navy" , "size": "31" }, "avLevels": {"IN_STOCK": 1.0, "PREORDER": 0.0, "BACKORDER": 0.0, "NOT_AVAILABLE": 0.0}, "avStatus":"IN_STOCK", "inStock":true, "ATS": 4.0, "inStockDate": "Fri May 09 12:00:00 GMT 2014" , "pricing": {"standard": "89.0", "sale": "49.99", "isPromoPrice": false, "quantities": [ {"unit": "", "value": "1.0"} ]} } ] }}