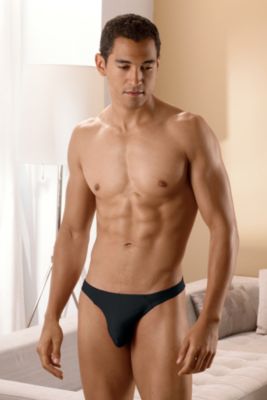 Contour Thong
UG # A773
Special Offer:
Buy 2 or more and Save $2 each (Details)
Select Quantity
Print
Men's thong underwear
Men's underwear made from cotton jersey
Machine wash
Imported
Contour style A773
The Contour collection offers a wide range of men's underwear styles. The most seductive? The famous Contour men's thong. Designed in a sleek thong silhouette, this men's thong features a front V-seam pouch for fantastic, flattering support. Made from a soft cotton jersey, this Contour men's thong puts a modern spin on everyday underwear. A great pick for tight-fitting pants and jeans.
{ "variations": { "variants": [ {"id": "A773_S_GY", "attributes": { "color": "Grey" , "size": "S" }, "avLevels": {"IN_STOCK": 1.0, "PREORDER": 0.0, "BACKORDER": 0.0, "NOT_AVAILABLE": 0.0}, "avStatus":"IN_STOCK", "inStock":true, "ATS": 171.0, "inStockDate": "Wed Jun 18 12:00:00 GMT 2014" , "pricing": {"standard": "10.0", "sale": "10.0", "isPromoPrice": false, "quantities": [ {"unit": "", "value": "1.0"} ]} }, {"id": "A773_L_GY", "attributes": { "color": "Grey" , "size": "L" }, "avLevels": {"IN_STOCK": 1.0, "PREORDER": 0.0, "BACKORDER": 0.0, "NOT_AVAILABLE": 0.0}, "avStatus":"IN_STOCK", "inStock":true, "ATS": 182.0, "inStockDate": "Wed Jun 18 12:00:00 GMT 2014" , "pricing": {"standard": "10.0", "sale": "10.0", "isPromoPrice": false, "quantities": [ {"unit": "", "value": "1.0"} ]} }, {"id": "A773_XL_WHITE", "attributes": { "color": "White" , "size": "XL" }, "avLevels": {"IN_STOCK": 1.0, "PREORDER": 0.0, "BACKORDER": 0.0, "NOT_AVAILABLE": 0.0}, "avStatus":"IN_STOCK", "inStock":true, "ATS": 106.0, "inStockDate": "Wed Jun 18 12:00:00 GMT 2014" , "pricing": {"standard": "10.0", "sale": "10.0", "isPromoPrice": false, "quantities": [ {"unit": "", "value": "1.0"} ]} }, {"id": "A773_M_WHITE", "attributes": { "color": "White" , "size": "M" }, "avLevels": {"IN_STOCK": 1.0, "PREORDER": 0.0, "BACKORDER": 0.0, "NOT_AVAILABLE": 0.0}, "avStatus":"IN_STOCK", "inStock":true, "ATS": 273.0, "inStockDate": "Wed Jun 18 12:00:00 GMT 2014" , "pricing": {"standard": "10.0", "sale": "10.0", "isPromoPrice": false, "quantities": [ {"unit": "", "value": "1.0"} ]} }, {"id": "A773_M_GY", "attributes": { "color": "Grey" , "size": "M" }, "avLevels": {"IN_STOCK": 1.0, "PREORDER": 0.0, "BACKORDER": 0.0, "NOT_AVAILABLE": 0.0}, "avStatus":"IN_STOCK", "inStock":true, "ATS": 116.0, "inStockDate": "Wed Jun 18 12:00:00 GMT 2014" , "pricing": {"standard": "10.0", "sale": "10.0", "isPromoPrice": false, "quantities": [ {"unit": "", "value": "1.0"} ]} }, {"id": "A773_XL_BLACK", "attributes": { "color": "Black" , "size": "XL" }, "avLevels": {"IN_STOCK": 1.0, "PREORDER": 0.0, "BACKORDER": 0.0, "NOT_AVAILABLE": 0.0}, "avStatus":"IN_STOCK", "inStock":true, "ATS": 10031.0, "inStockDate": "Thu Apr 02 12:00:00 GMT 2015" , "pricing": {"standard": "10.0", "sale": "10.0", "isPromoPrice": false, "quantities": [ {"unit": "", "value": "1.0"} ]} }, {"id": "A773_L_BLACK", "attributes": { "color": "Black" , "size": "L" }, "avLevels": {"IN_STOCK": 0.0, "PREORDER": 0.0, "BACKORDER": 0.0, "NOT_AVAILABLE": 1.0}, "avStatus":"NOT_AVAILABLE", "inStock":false, "ATS": 0.0, "inStockDate": "Wed Jun 18 12:00:00 GMT 2014" , "pricing": {"standard": "10.0", "sale": "10.0", "isPromoPrice": false, "quantities": [ {"unit": "", "value": "1.0"} ]} }, {"id": "A773_L_WHITE", "attributes": { "color": "White" , "size": "L" }, "avLevels": {"IN_STOCK": 1.0, "PREORDER": 0.0, "BACKORDER": 0.0, "NOT_AVAILABLE": 0.0}, "avStatus":"IN_STOCK", "inStock":true, "ATS": 490.0, "inStockDate": "Wed Jun 18 12:00:00 GMT 2014" , "pricing": {"standard": "10.0", "sale": "10.0", "isPromoPrice": false, "quantities": [ {"unit": "", "value": "1.0"} ]} }, {"id": "A773_S_WHITE", "attributes": { "color": "White" , "size": "S" }, "avLevels": {"IN_STOCK": 1.0, "PREORDER": 0.0, "BACKORDER": 0.0, "NOT_AVAILABLE": 0.0}, "avStatus":"IN_STOCK", "inStock":true, "ATS": 85.0, "inStockDate": "Wed Jun 18 12:00:00 GMT 2014" , "pricing": {"standard": "10.0", "sale": "10.0", "isPromoPrice": false, "quantities": [ {"unit": "", "value": "1.0"} ]} }, {"id": "A773_S_BLACK", "attributes": { "color": "Black" , "size": "S" }, "avLevels": {"IN_STOCK": 1.0, "PREORDER": 0.0, "BACKORDER": 0.0, "NOT_AVAILABLE": 0.0}, "avStatus":"IN_STOCK", "inStock":true, "ATS": 82.0, "inStockDate": "Wed Jun 18 12:00:00 GMT 2014" , "pricing": {"standard": "10.0", "sale": "10.0", "isPromoPrice": false, "quantities": [ {"unit": "", "value": "1.0"} ]} }, {"id": "A773_XL_GY", "attributes": { "color": "Grey" , "size": "XL" }, "avLevels": {"IN_STOCK": 0.0, "PREORDER": 0.0, "BACKORDER": 0.0, "NOT_AVAILABLE": 1.0}, "avStatus":"NOT_AVAILABLE", "inStock":false, "ATS": 0.0, "inStockDate": "Wed Jun 18 12:00:00 GMT 2014" , "pricing": {"standard": "10.0", "sale": "10.0", "isPromoPrice": false, "quantities": [ {"unit": "", "value": "1.0"} ]} }, {"id": "A773_M_BLACK", "attributes": { "color": "Black" , "size": "M" }, "avLevels": {"IN_STOCK": 1.0, "PREORDER": 0.0, "BACKORDER": 0.0, "NOT_AVAILABLE": 0.0}, "avStatus":"IN_STOCK", "inStock":true, "ATS": 50.0, "inStockDate": "Wed Jun 18 12:00:00 GMT 2014" , "pricing": {"standard": "10.0", "sale": "10.0", "isPromoPrice": false, "quantities": [ {"unit": "", "value": "1.0"} ]} } ] }}